5 Best weed maps apps for Android & iOS
Weed these days is an incredibly affordable and relatively inexpensive way to relax. It is especially worth considering that in some parts of the world it is legalized and available nowadays.
Anyone can find marijuana in any form convenient for them – cigarettes, powder, infusions, chewing gum and so on. For example, in Amsterdam you can easily find muffins with grass or even pies.
Want to try a new way to have fun? Then we suggest you find your nearest coffee shop, bring a friend or even go there in a company and have some fun!
By the way, you can not only use grass as relaxation but also as a cure – if you remember, some time ago marijuana was a drug and sold in pharmacies!
Here are 5 of the best apps for you to use to find marijuana near your location.
Greenery Map: Cannabis Search Engine
Not all cannabis products are easy to find, especially since you do not always know exactly what you need.
The Greenery Map also allows users to find certain herbal products that are of interest to you depending on your mood or the doctor's prescriptions. A small guide, which will be on your smartphone, will always be able to tell you who you should contact or where to go.
Depending on your needs, you will get advice on how to use marijuana. The Greenery Map itself generates the proportions and percentages that you need, and you don't need to spend time in the dispensary explaining.
This way, you will find the dispensaries in the area where you can buy the strain. The program will apply your filters to all found places and filter out those that will be useless to you.
You can even choose the disease you want to get rid of with marijuana – migraines, headaches or even seizures, and Greenery Map will immediately find you a place with the desired product. Discover a whole bright world of weed and its possible applications.
Weedmaps Find Marijuana Cannabis Weed Reviews CBD
Are you looking for a real cannabis world guide? Then we suggest you pay attention to Weedmaps. This is a real guide and a marijuana expert in your pocket.
Here you'll find out about a variety of brands and types of weed, see where you can buy it in your area or even order home delivery. Something new and unusual is happening all the time in the cannabis world, so you'll keep up with the latest news and events.
Weedmaps was founded back in 2008 and since then it has been one of the main news sources in this area. Even if you need medical advice, Weedmaps will easily find the right specialist for you.
Marijuana maps are designed for many countries where marijuana use is legalized – the United States, Canada, Europe and other parts of the world.
At Weedmaps you can also find out about discounts, prices and laboratory rates for individual herbal samples. All information in the application is up to date, which is very convenient for users. Discover the whole world of weed and immerse yourself in it a little deeper.
Leafly: Find your cannabis and CBD
Leafly is a great application that gives you a lot of information about marijuana and its varieties. Here you can learn about weed and drug from a whole new side, explore its beneficial properties and even discover something new.
Tinctures, concentrates, infusions and more are created by people around the world and they are ready to share their recipes and knowledge with other enthusiasts at Leafly.
In the app, you can easily find many products for making marijuana or CBD that you will need during the cooking process. In Leafly you will find integrated maps of the weed that show you exactly where they are.
Not only can you find the ingredients, but you can also find doctors, dispensaries with points of sale, and retail stores for enthusiasts and amateurs like you. Do not want to go out of the house? Then Leafly will even find you a weed delivery!
Leafly also has a news section. Here you will find out about discounts and special offers from dispensaries, get the opinions of other users, and receive notifications from your favorite pharmacies.
Not experienced enough? Watch Leafly videos and they will surely give you a lot of visual information.
You may also like: 11 Best weed game apps for Android & iOS
Smokeout – Coffeeshop Map
A coffeeshop is a place where you can legally and freely enjoy marijuana in the Netherlands. Don't be fooled by the name, you are unlikely to find a cappuccino here!
Most likely, you can taste the aromatic muffin with marijuana or just make some nice puffs. Smokeout is an app that will be your guide to places with marijuana in the Netherlands.
Tourists come to Amsterdam for marijuana very often. Do not know where you can smoke some weed? Then install Smokeout on your smartphone and you'll immediately find a store near you – one of the seven hundred in the Netherlands.
In order to find the closest coffeeshop, you will need to allow the app to access your GPS. All marijuana places are shown based on Google Maps, so you'll probably see the familiar interface and won't be surprised by the signs.
Smokeout was created so that smokers will have no problem finding a place to relax. If you are planning to smoke some weed and don't know where to do it in the Netherlands, then Smokeout is what you need.
Medical Marijuana Maps for Recreational & Medical
The application name itself already gives users a direct concept. Here you can not only find a place to sell marijuana but also find a professional doctor to help you solve your problems.
Here, patients can easily locate the nearest marijuana health center and therefore the necessary specialist.
The application communicates on a two-way basis. That is, if you run your own business in this area, here you will have the opportunity to find companies that will later become your partners.
You can also easily improve the structure of your business – and the marijuana market is one of the fastest-growing in the United States. Whether you're a doctor, a marijuana manufacturer or a regular consumer, this app will be useful to you anyway.
Dispensaries can keep in touch with their customers, and patients receive timely notification or weekly news on price and many other aspects of the weed.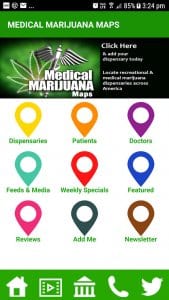 You can download any of the apps that we have shown you on your smartphone. Before starting your search, make sure that marijuana is indeed legal in your area and that using it will not harm your health or mental well-being.
If you are a fan of weed and know how to enjoy it, you can now find a place where you can buy it in just a few minutes. Your marijuana experience must be safe and we will make it more comfortable and enjoyable.