Weed these days is an incredibly affordable and relatively inexpensive way to relax. It is especially worth considering that in some parts of the world it is legalized and available nowadays.
Anyone can find marijuana in any form convenient for them – cigarettes, powder, infusions, chewing gum and so on. For example, in Amsterdam you can easily find muffins with grass or even pies.
Want to try a new way to have fun? Then we suggest you find your nearest coffee shop, bring a friend or even go there in a company and have some fun!
By the way, you can not only use grass as relaxation but also as a cure – if you remember, some time ago marijuana was a drug and sold in pharmacies!
Here are 5 of the best apps for you to use to find marijuana near your location.
You may also like: 11 Best weed game apps for Android & iOS
Eaze Cannabis Delivery app is a convenient and reliable option for those looking to purchase cannabis products.
This app has become increasingly popular among cannabis enthusiasts who want the convenience of having their favorite products delivered to their doorsteps.
The Eaze app includes features such as search filters, product reviews, and order tracking, all designed to enhance the user experience. The app also offers a rewards program that incentivizes users to keep using the app and earn points toward future purchases.
However, some users faced such a problem as delivery times, which can be longer than expected.
Advantages:
Convenient cannabis delivery to your doorstep.
User-friendly interface with search filters and order tracking.
Rewards program for frequent users.
Drawbacks:
Some users have reported long delivery times.
The app has been known to crash or freeze during use.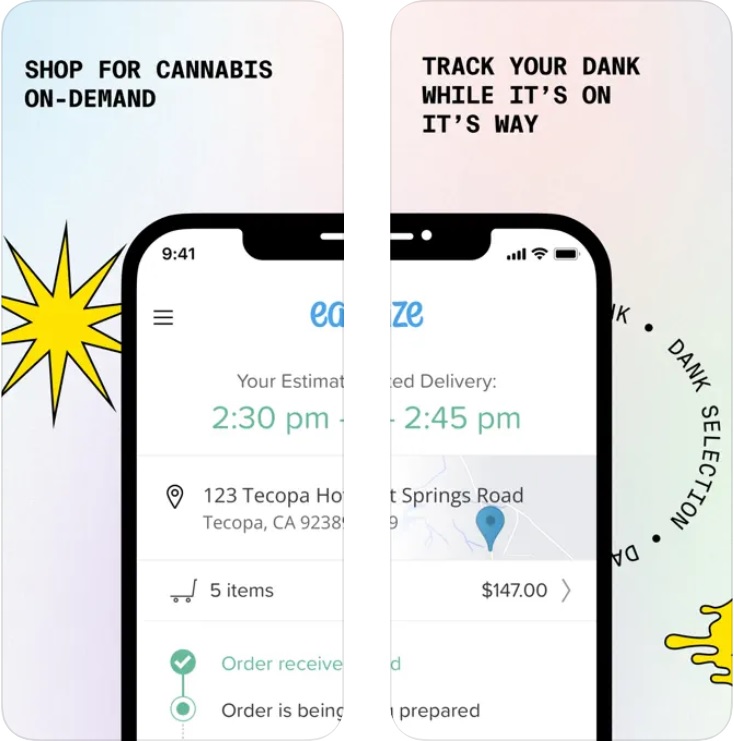 You may also like: 11 Best Lawn Mowing Apps for the USA (Android & iOS)
Weedmaps Find Marijuana Cannabis Weed Reviews CBD
Are you looking for a real cannabis world guide? Then we suggest you pay attention to Weedmaps. This is a real guide and a marijuana expert in your pocket.
Here you'll find out about a variety of brands and types of weed, see where you can buy it in your area or even order home delivery. Something new and unusual is happening all the time in the cannabis world, so you'll keep up with the latest news and events.
Weedmaps was founded back in 2008 and since then it has been one of the main news sources in this area. Even if you need medical advice, Weedmaps will easily find the right specialist for you.
Marijuana maps are designed for many countries where marijuana use is legalized – the United States, Canada, Europe and other parts of the world.
At Weedmaps you can also find out about discounts, prices and laboratory rates for individual herbal samples. All information in the application is up to date, which is very convenient for users. Discover the whole world of weed and immerse yourself in it a little deeper.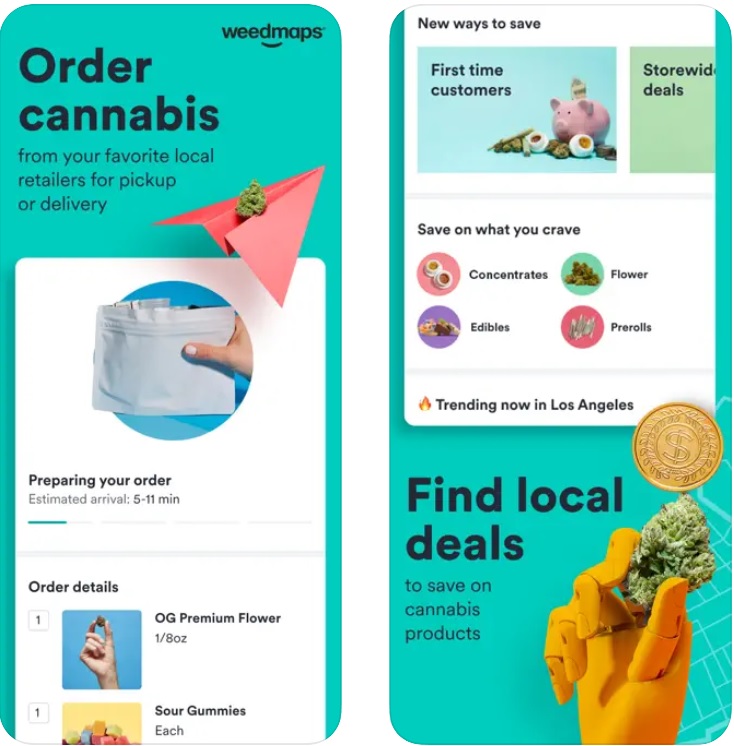 Leafly: Find your cannabis and CBD
Leafly is a great application that gives you a lot of information about marijuana and its varieties. Here you can learn about weed and drug from a whole new side, explore its beneficial properties and even discover something new.
Tinctures, concentrates, infusions and more are created by people around the world and they are ready to share their recipes and knowledge with other enthusiasts at Leafly.
In the app, you can easily find many products for making marijuana or CBD that you will need during the cooking process. In Leafly you will find integrated maps of the weed that show you exactly where they are.
Not only can you find the ingredients, but you can also find doctors, dispensaries with points of sale, and retail stores for enthusiasts and amateurs like you. Do not want to go out of the house? Then Leafly will even find you a weed delivery!
Leafly also has a news section. Here you will find out about discounts and special offers from dispensaries, get the opinions of other users, and receive notifications from your favorite pharmacies.
Not experienced enough? Watch Leafly videos and they will surely give you a lot of visual information.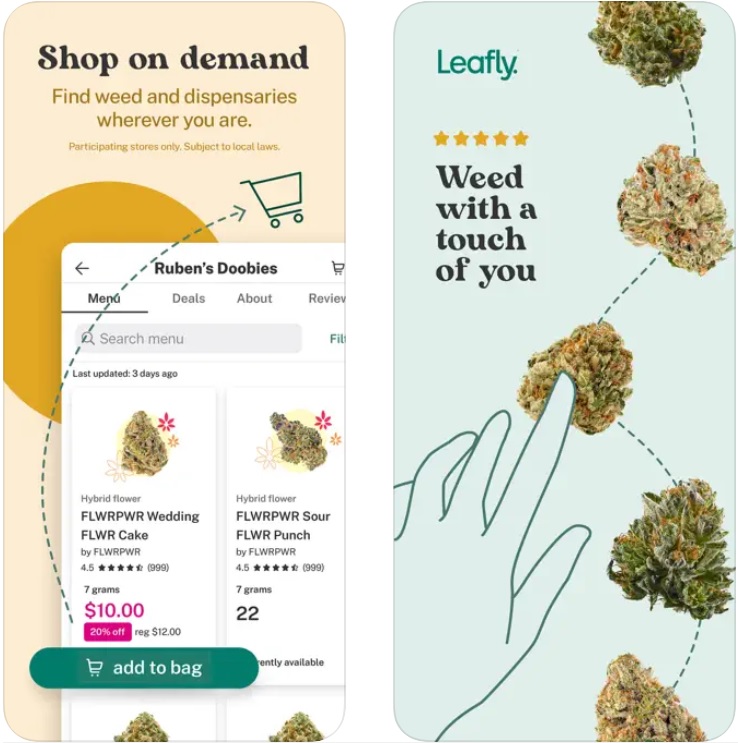 Emjay Weed
Emjay Weed Delivery is a popular app that allows users to easily order cannabis products for delivery.
Users can browse through a selection of cannabis products, including flowers, edibles, concentrates, and more. They can then add items to their cart and place an order for delivery.
The app also offers a tracking feature so that users can see the progress of their delivery in real time.
In terms of graphics, the app is sleek and modern. The color scheme is primarily green, which fits with the app's theme. The app is also well-designed, making it easy for users to navigate and find what they are looking for.
There is some negative feedback from users who have experienced issues with the app. However, many of these comments are from users who are unable to use the app due to their location.
For those who are able to use the app, the majority of comments are positive and praise the app for its ease of use and convenience.
Overall, Emjay Weed Delivery is a worthwhile app for those who are able to use it. Its ease of use and convenience make it a great option for anyone who wants to order cannabis products for delivery.
However, if you are not located in one of the areas where the app is available, you will not be able to use it.
Advantages:
Easy to use.
Convenient.
Modern graphics.
Real-time delivery tracking.
Drawbacks:
Limited availability in select cities.
Occasional issues with crashes or functionality.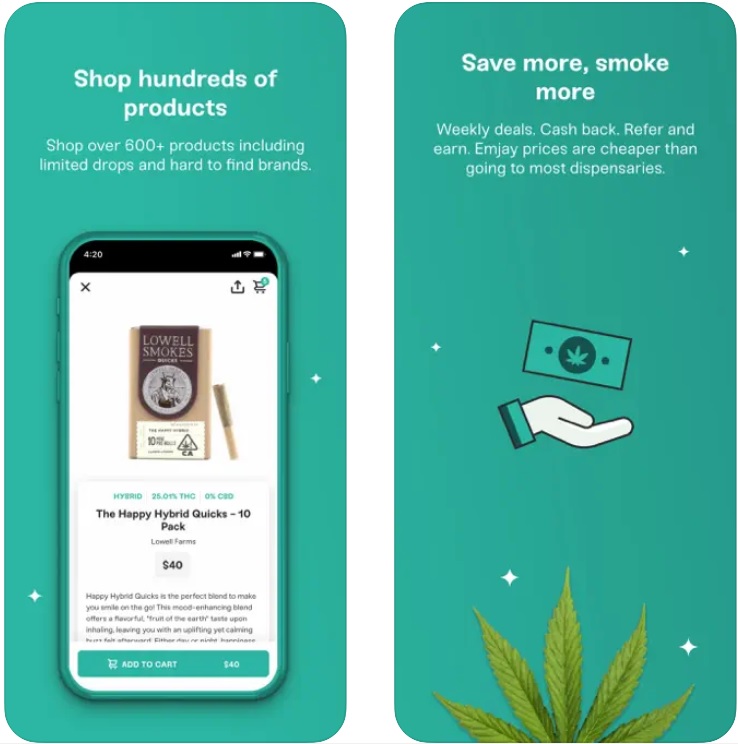 You may also like: 11 Best gardening apps for Android & iOS
CannaMaps
CannaMaps is an app developed for those interested in cannabis and its legalization.
With a focus on providing users with information on dispensaries, strains, and cannabis events, the app has become increasingly popular among the cannabis community.
Upon opening the app, users are presented with a map that displays the nearest dispensaries, making it easy for users to locate their preferred strain. The app also offers a filter option that allows users to sort dispensaries by distance, rating, and price.
Also, this app offers users the option to choose between light and dark modes, which is a nice touch.
The service gas high-quality images of the cannabis strains and dispensary storefronts, giving users a clear idea of what they can expect before visiting.
However, there are some issues in the app that are worth mentioning. Some users have reported bugs and glitches when using the app, which can be frustrating for those trying to find their preferred cannabis product.
Moreover, some users have expressed disappointment with the limited information provided about each dispensary, as well as the lack of reviews for some dispensaries.
Advantages:
Easy-to-use interface.
Filter options for dispensaries.
High-quality graphics.
Drawbacks:
Reported bugs and glitches.
Limited information about some dispensaries.
Lack of reviews for some dispensaries.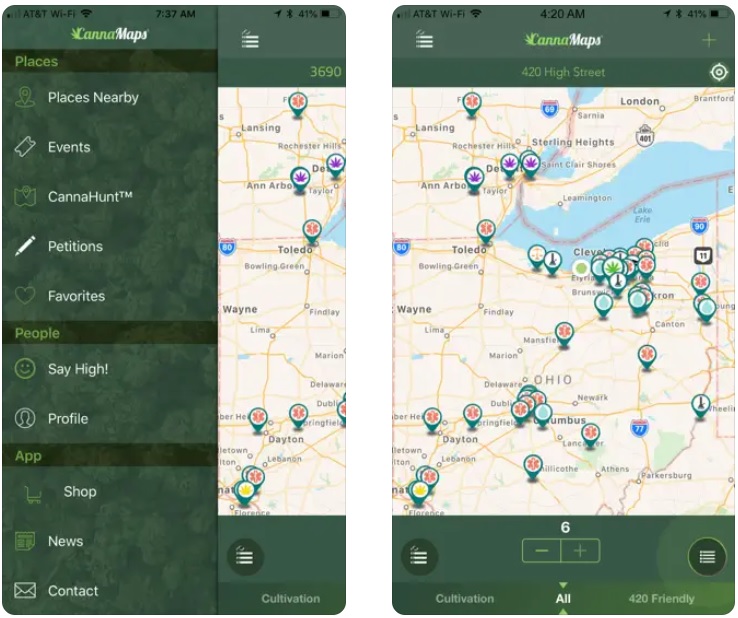 Cannacopia
Cannacopia is a mobile app that provides users with information on different strains of marijuana and cannabis.
One of the standout features of the Cannacopia app is the ability to filter strains by their desired effects.
Users can select from a range of options, such as "energizing," "relaxing," or "creative," and the app will provide a list of strains that fit those criteria. This makes it easy for users to find the right strain for their needs.
The interface is simple, but some users may find it a bit outdated. The strain images are clear and informative, but the overall design could use some modernization.
One issue with the app is that some users have reported difficulty logging in or staying logged in. Others have complained about the lack of updated strain information.
While the app does provide a lot of useful information, some users have noted that the strain library could be more comprehensive.
Despite these issues, the majority of user feedback has been positive. Users have praised the app's ability to help them find the right strain for their needs, as well as its informative articles and reviews.
In conclusion, the Cannacopia Marijuana Cannabis app is worth using for anyone looking to learn more about different strains of marijuana and cannabis.
Advantages:
Easy to use.
Helpful strain filtering options.
Informative articles and reviews.
Drawbacks:
Outdated graphics.
Login issues were reported by some users.
Strain library could be more comprehensive.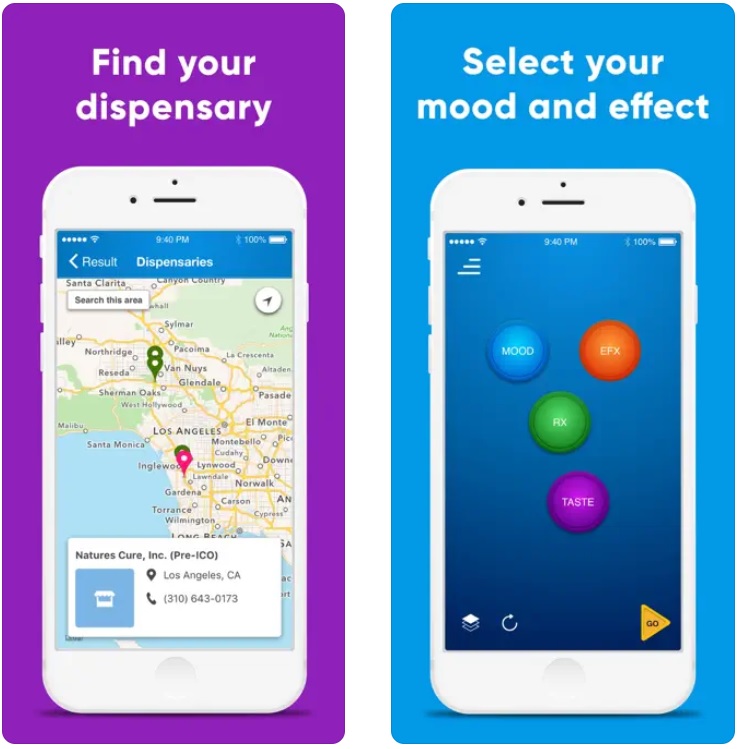 You may also like: 16 Best Plant Identification Apps for Android & iOS
Budwatcher
Webviewgold Budwatcher is a cannabis-tracking app. The app is gaining popularity among cannabis enthusiasts as it offers a simple and easy way to track and manage cannabis consumption.
This service allows users to track the amount of cannabis they consume each day and keep a record of their usage. The app also provides users with a daily limit that can be adjusted according to their needs.
In this app, it is also possible to find stores where you can purchase some weeds for yourself. Just pick one from the list and go shopping.
This feature helps users manage their consumption and stay within their limits.
The interface is user-friendly and easy to navigate, but the graphics could be improved. The app could benefit from more vibrant colors and more detailed icons. Nevertheless, the app's functionality makes up for its less-than-stellar graphics.
One major drawback of the app is that it lacks certain features that other cannabis-tracking apps provide. For example, the app does not offer any strain recommendations or provide information about the effects of different strains.
In addition, the app does not have any social features that allow users to connect with other cannabis enthusiasts.
Overall, if you are looking for a straightforward cannabis-tracking app, Budwatcher is worth considering.
Advantages:
Simple and easy-to-use interface.
Helps users track and manage cannabis consumption.
Provides daily limit feature for managing consumption.
Drawbacks:
Lacks certain features like strain recommendations and social features.
Graphics could be improved.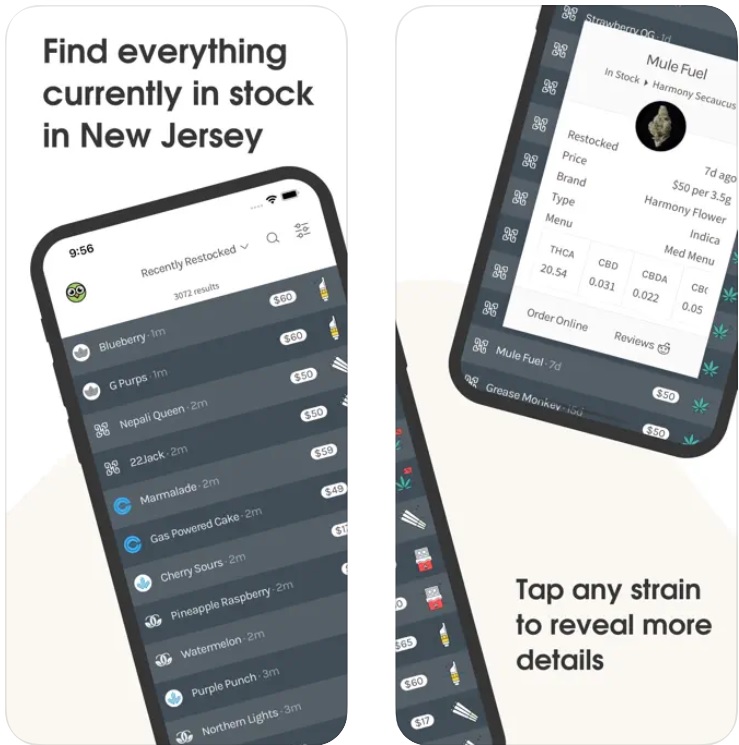 You can download any of the apps that we have shown you on your smartphone. Before starting your search, make sure that marijuana is indeed legal in your area and that using it will not harm your health or mental well-being.
If you are a fan of weed and know how to enjoy it, you can now find a place where you can buy it in just a few minutes. Your marijuana experience must be safe and we will make it more comfortable and enjoyable.