The world is crazy about cats. Cats become fetish – people set up cat's restaurant and barbershops, bequeath a legacy to their pets, draw paintings, dedicate songs and that kind of thing.
Today it is all about cats and technology! Not everyone knows that AppStore and Google Play Store presents some collections of apps, developed especially for your fluffy purring pets.
We have inspired by the new trend and decided to create a collection of 10 unbelievable apps, where your pets will have fun, trying to chase fishes, butterflies or mice and a lot more.
You may also like: 7 Best Pet Adoption Apps (Android & iOS)
Game for cats
The world-famous app for cats that is downloaded thousands of time per day. With this fast-action game, your cat and all guests in your house will be kept entertained for hours.
By the way, the level with chasing a laser is free, while chasing a mouse has in-app purchases.
Speaking about its modes, you can choose for your pet several levels: " Chase a laser", "Chase a mouse", "Chase a butterfly" and The traditional laser pointer: everyone loves letting their cat chase a laser pointer, right? Well, now you can keep your cat entertained without having to exert any effort! Game for Cats will pick random paths that keep your cat's attention.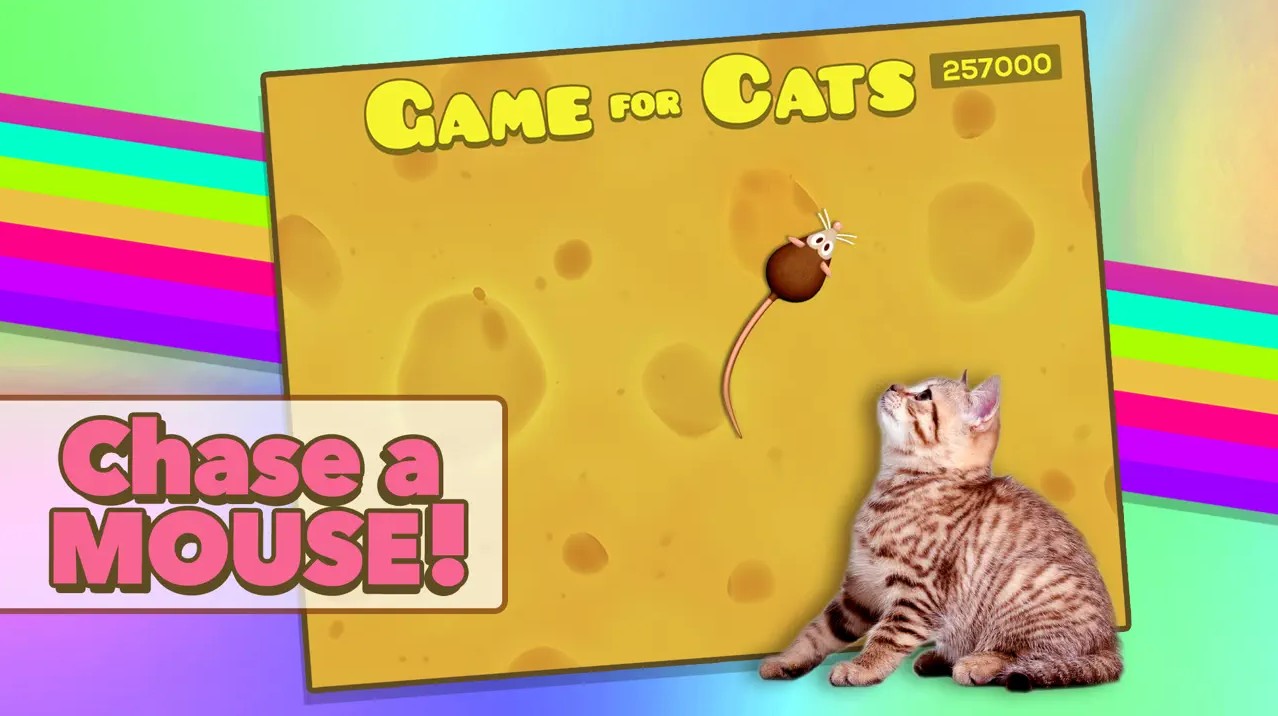 You may also like: 11 Best GPS Pet Trackers (Android & iOS)
HappyCats Games for Cats
This is a fun and interactive app designed specifically for our feline friends. It offers a variety of games and activities that are sure to keep your cat entertained and engaged for hours on end.
Your cat can chase after virtual mice, insects, and other critters as they scurry across the screen, using their paws to try and catch them.
HappyCats also offers a variety of sound-based games that use realistic sounds to capture your cat's attention. Your cat can listen to and hunt down chirping birds, buzzing bees, and rustling leaves, among other things.
The app also includes a feature that allows you to record your cat's reactions to the various games and share them on social media, adding an extra layer of entertainment for both you and your furry companion.
Advantages:
Provides a variety of interactive games and activities to keep cats entertained.
Offers touch-based and sound-based games.
Allows for recording and sharing of cat's reactions.
Drawbacks:
May not be engaging for all cats.
Limited game options compared to other cat apps.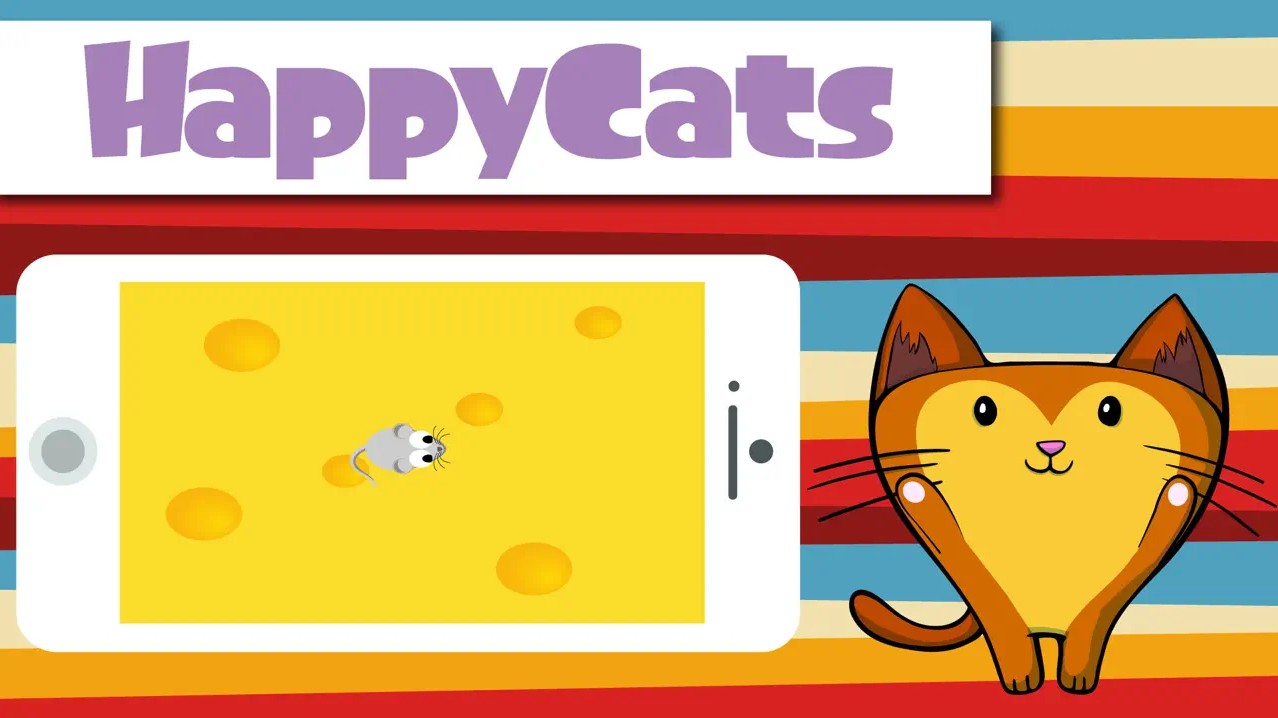 Cat Fishing Adventure
Cat Fishing Adventure is a delightful and entertaining game designed exclusively for cat lovers.
Let your cat be a real hunter. Your pet should look at the screen in order to find fish. As cats progress through the levels, they will encounter different types of fish, each with varying levels of rarity and point value.
But beware, fishing can be challenging! Your cat has to be very attentive. Additionally, you'll need to keep an eye on your cat buddies, who will get hungry and require a steady stream of fish to keep them happy and healthy.
Advantages:
Fun and engaging gameplay.
Cute and colorful graphics.
Drawbacks:
Limited replay value.
Can become repetitive over time.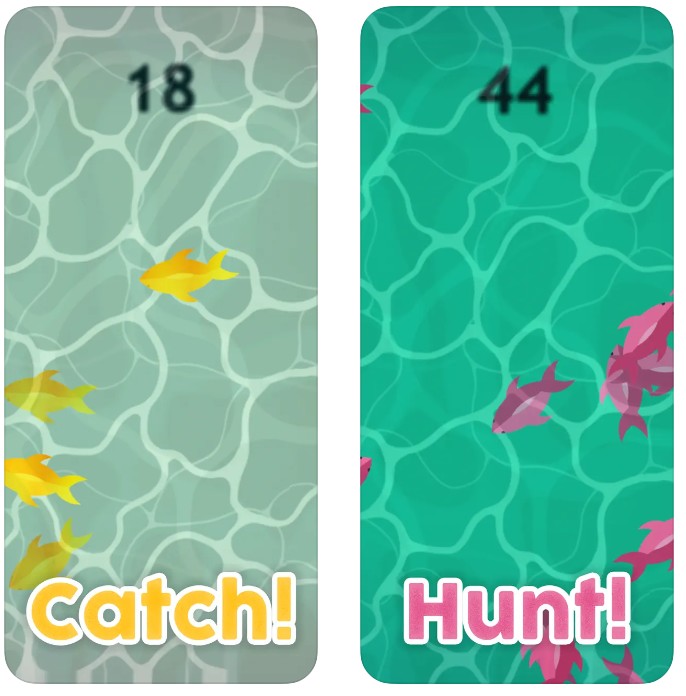 Cat Fishing 2
The new version of Cat Fishing means more fishes in the app! We know that cats adore to chase fishes and eat them but sometimes you can't go to a lake or take your pet with yourself.
In this case, the iPad is a good entertainment provider for your lovely cat. the main features, that a cat sees a usual fish, swimming not in the water, but your iPad display. Tapping on it, a pet gets scores and every time, when a cat is distracted by something or stop playing, the app automatically says "meow' to attract his attention.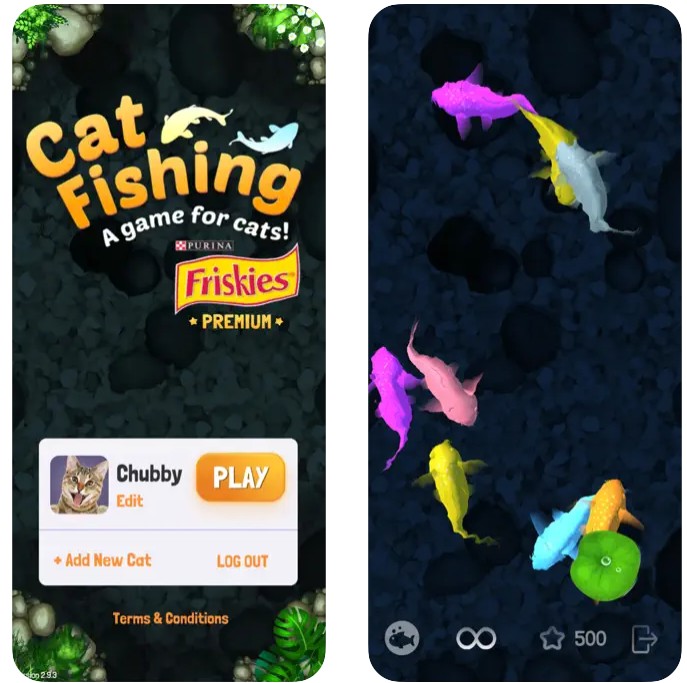 Cat Game
I will not believe if you say that you have never played with your cat, using a laser and navigating it on a wall. Your cat adores little red dots, isn't it? So now your pet can do it in a special app and you don't need to search for a laser.
The game enjoyed by ages by everyone, whether you are or your pet. The process is pretty simple, your cat has to chase a laser dot. A cat gets scores every time he chases a red dot. But I think if you and your cat are competitors, it will be a dishonest game.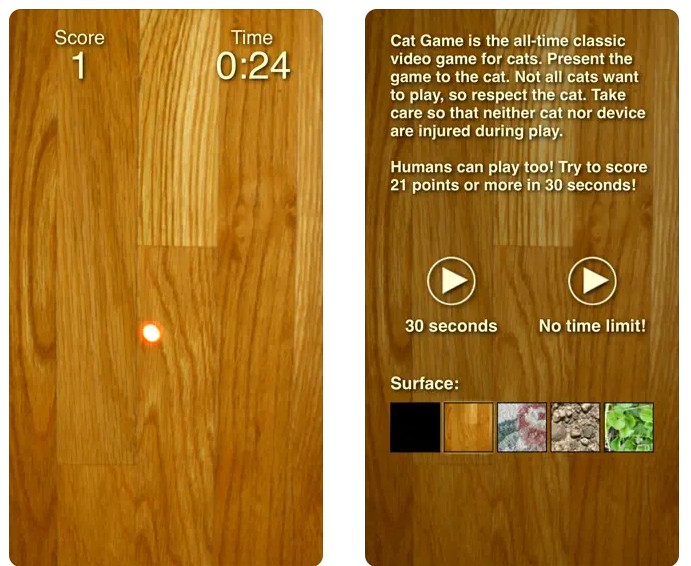 You may also like: 7 Best Pet Sitter Job Apps & Websites
Cat Laser Toy
This is an interactive game designed specifically for cats.
The game revolves around a laser pointer that moves around the screen in various directions, enticing a pet to chase and catch it.
As your cat touches the red point on the screen, it produces a realistic light and sound effect.
The app also features different modes, which add variety and excitement to the gameplay.
Moreover, Cat Laser Toy boasts colorful and vibrant graphics, making it visually appealing to both cats and their human companions.
Advantages:
There are different modes.
It is visually appealing.
Drawbacks:
Limited gameplay.
May not hold cat's attention for extended periods.
Can drain battery.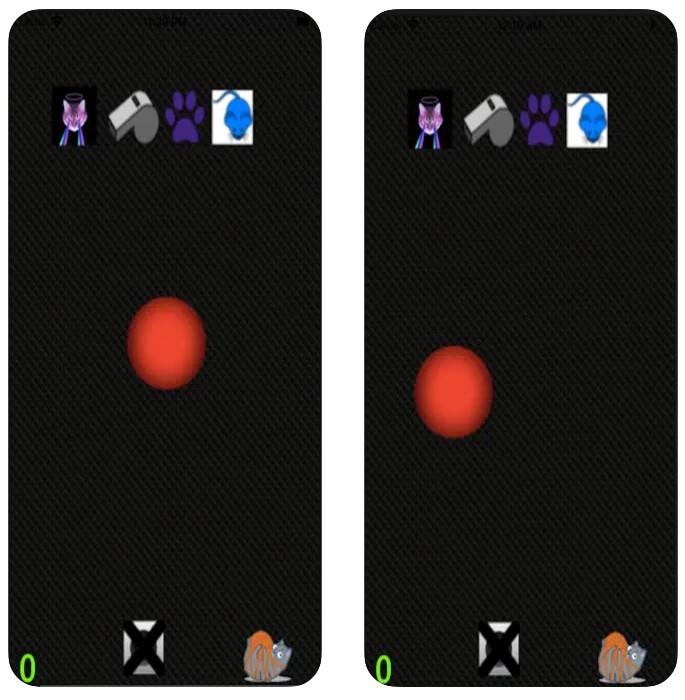 Best Game for Cats
The cutest app among the others. Everything is in pleasant colors and designed well. When you see this app, you immediately want to make your cat happy.
Speaking about its features, mice catching, cat bells catching, wool balls catching, laser catching, endless game to allow you to let your cat play as long as he/she wants, sound effects allow you to know how well your cat is playing while you are watching TV. Your cat will be kept entertained for a long time, we promise.

Mouse for Cats
It is a legendary 2D game for cats in HD Graphics, compatible with iPad and iPhone. The main feature that the app was developed, optimized and timed only for cats, not humans.
There are eight interesting exciting levels with moving mice that your cat has to chase, tap on and get scores to go to the next level! Mice are all different colors so your cat pays serious attention to the game.


Petcube
This is one of the most popular apps for playing with your pets on the market. One of its best advantages is that Petcube available everywhere – on iOS, Android and all the tablets, including iPad.
Petcube works in such a way that it creates a laser ray from the camera of your gadget. When you launch the app, you can see the world through the Pet Camera with the indicator of the laser. Swipe your finger on the screen of your smartphone to manipulate the ray. Your cat will probably be amazed.
Another cool bonus is that you can record a video with your playing cat and later share it with the rest of the world.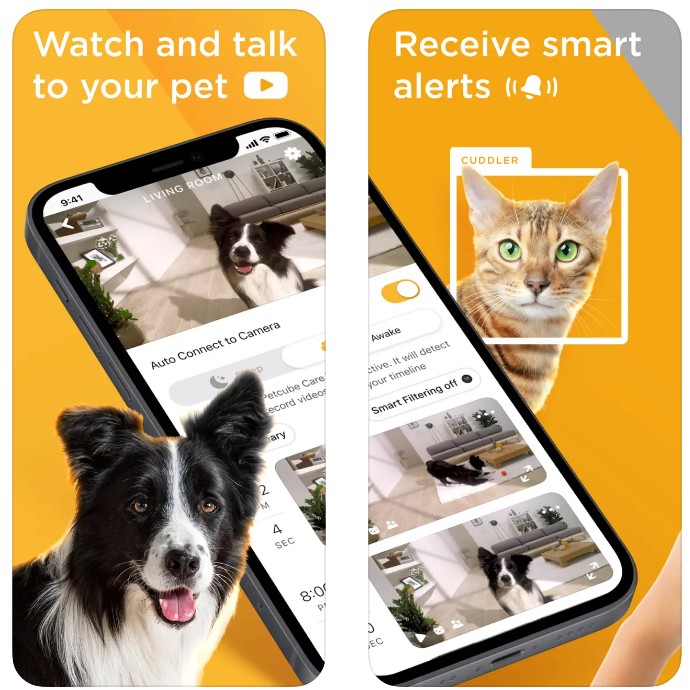 Ninja Cat Game for Cats
This app helps you to keep your feline friend entertained and engaged for hours on end.
Your cat will be greeted with a range of different game modes, each with their unique set of challenges and obstacles.
The gameplay is simple yet stimulating, with various objects and characters moving around the screen, encouraging your cat to tap, swipe and pounce in pursuit of their targets.
Also, the app can detect the touch of a cat's paw on the screen, registering their movements and reactions in real-time.
Moreover, it includes calming background music and various sound effects to keep your cat engaged and stimulated. The app is designed to be user-friendly and easy to navigate.
Advantages:
Engaging gameplay.
Interactive features.
User-friendly design.
Drawbacks:
Limited content.
May not work for all cats.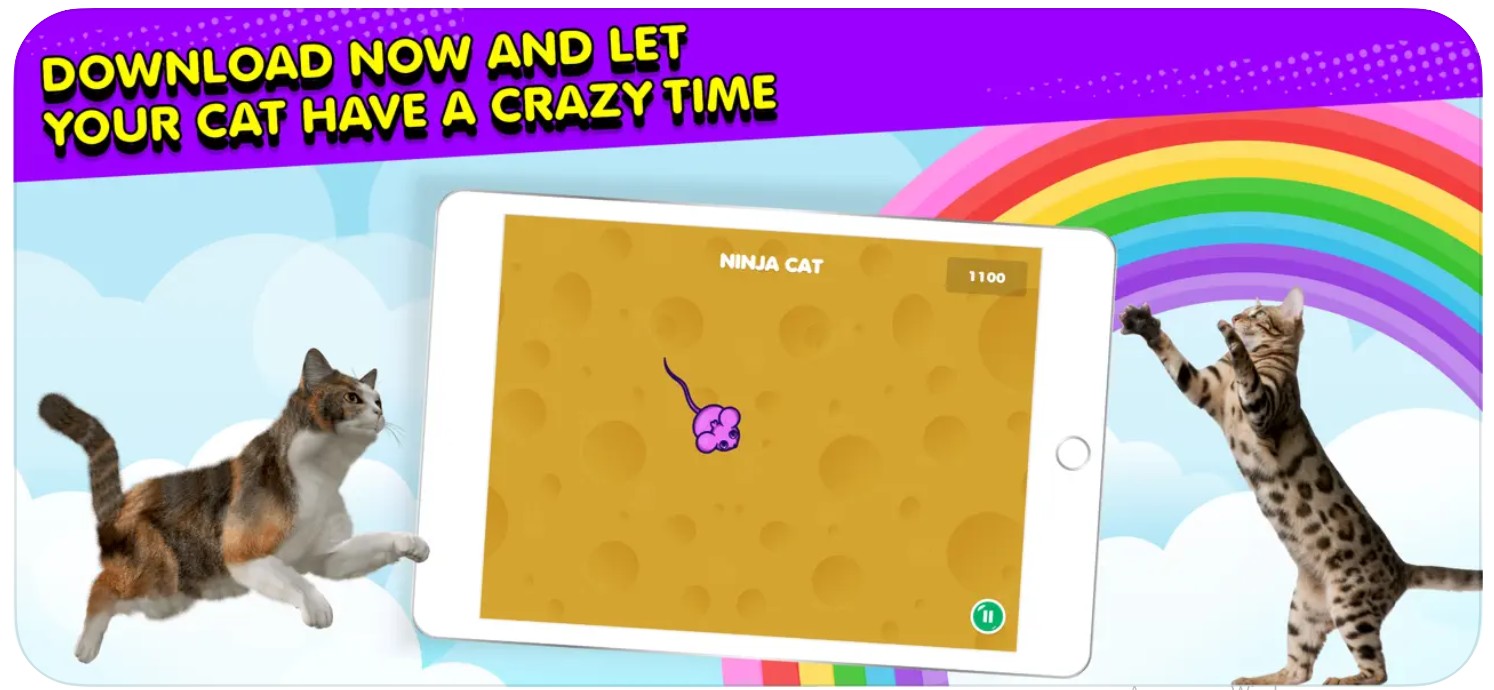 You may also like: 7 Best Lost & Found Pet Apps In The USA
Free Lasers for Cats
It is a mobile app that promises endless entertainment for your feline friends.
The concept of the game is simple – lasers are emitted from various points on the screen, and your kitty can chase them around by tapping on the screen.
As your cat hits the lasers, they disappear and reappear elsewhere. It allows your pet stay active.
The app features a bright and colorful design with fun sound effects, making it visually appealing for cats and humans alike. It also includes a variety of laser colors and patterns, so your cat won't get bored with the same old red dot.
Free Lasers for Cats is easy to use and requires no prior training for your cat.
The game is designed to encourage your cat's natural hunting instincts, keeping them active and engaged for extended periods.
Advantages:
Free to download.
Encourages natural hunting instincts in cats.
Easy to use.
Drawbacks:
Limited gameplay.
May cause frustration or obsession in some cats.