SMS messages are the traditional messaging system that carriers use to transmit across the cell phone network. SMS messages are text only and are limited to 140 letters.
They are not an example of real-time communication. Additionally, SMS messaging can become expensive. That's why an SMS alternative has appeared. And this is a free texting app. Nowadays free texting application is on the peak of popularity.
They leverage the advantages of the mobile Internet. They are real-time and interactive. They can also deliver multimedia messages. They are more versatile, too: for example, you can see your friend typing a reply. Texting apps are also completely free of charge.
Have you already got your favorite free texting app? If not, so we have made an overview of the BEST free texting apps for you to choose from. Here are texting apps for iPhone as for Android devices. Have a look!
WhatsApp Messenger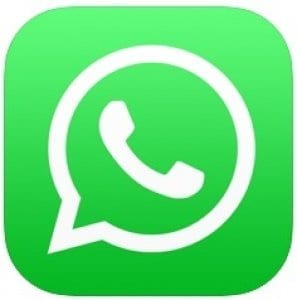 If you've never heard of this app, then you must be probably living on another planet. Moreover, you might even be living there if you don't have it on your phone. Nowadays EVERYONE uses this app more or less. It was first launched in 2009 offering a new innovative way of sending texts, media and making calls.
As we can see, that was the first step to the technical revolution. WhatsApp was eventually acquired by Facebook in 2014. After that, it has gained its first billion users in 2017. Nowadays, the app counts around 2 billion users which is basically 2/7 of our planet.
Can any other app brag with such results? Only a few others can do that actually. The secret of such a success of WhatsApp is not really a secret – simplicity, and innovation that was introduced early enough to conquer the market.
You can send media files here which weight up to 100 MB. The only drawback is that all those files will be saved in the internal memory of your phone – so be careful if you have a little memory space.
Of course, such a mass usage of WhatsApp has caused a lot of issues and questions in recent years. One of them is privacy. This software cooperates with governments and security services, so keep that in mind while using this app – all the content that you send can be monitored by 3rd parties.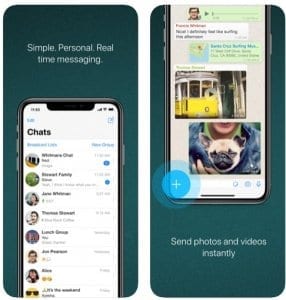 You may also like: 13 Great Free Calling Apps for iPhone & Android & Windows
Telegram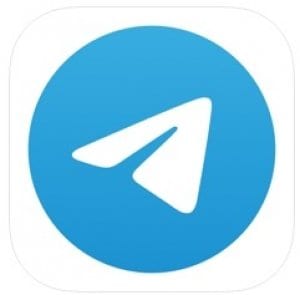 Continuing the theme of the previous app, it is possible to say that modern markets work in a way that if one product can't provide something to you, then it will be provided by another. Telegram was created as an alternative for the WhatsApp, compensating all the drawbacks of the latter.
Telegram was created by the developer of Russian Facebook analog – vk.com – Pavel Durov. Moreover, this app has caused lots of noise and scandals in the media in 2017. If you're curious, you can check it out.
First of all, the number of people that you can invite to a conversation here is truly unlimited. It has lead to the occurrence of micro-blogs on Telegram which are becoming more and more popular.
Secondly, the size of the media files that you can send is unlimited as well. That's a significant advantage of Telegram compared to WhatsApp.
And lastly and most importantly, Telegram actually grants you PRIVACY. It doesn't cooperate with any governments or military services so all the data that you send is encrypted and can't be used by 3rd parties.
Of course, the app has some drawbacks as well. Because of the microblogs, sometimes your messages list turns into a big spam channel. It is really uncomfortable when they mix with your private messages.
Moreover, it is not so popular, so fewer people are going to use it. That created serious problems for connection if you have Telegram only.
In general, this app is nice to have to send some big media files to your friends, to conduct private conversations and for fun stickers that it has!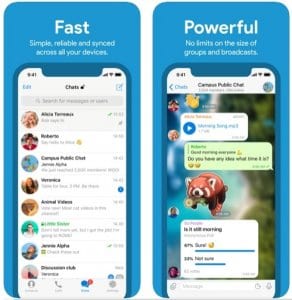 Viber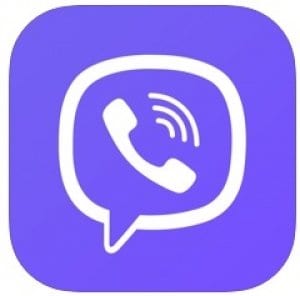 The popularity of this messenger has decreased during the last couple of years, however, it is still a good free texting app. One really good advantage of it is that it's good for group chats. It has gained bigger popularity in such countries as India, the U.S., Russia, and Brazil.
Basically, it provides all the functions just like WhatsApp  – here you can send free messages and make free calls, video calls and send voice messages. You can send media files as well, including stickers. An interesting feature of Viber is that it allows making video calls even to those who don't currently have this app on their phones.
Here you can create group chats up to 250 participants. Apart from sending regular voice messages (if you feel lazy to text) you can even send video messages. Plus, GIFs and stickers are built into your chats to help liven up conversations.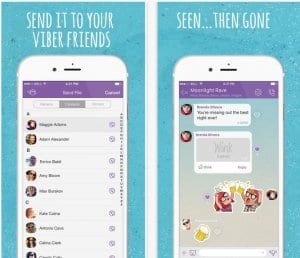 Wickr Me – Private Messenger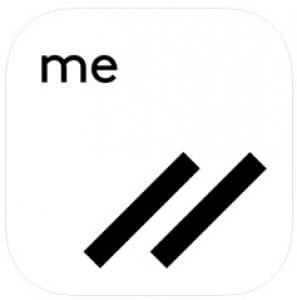 If you want to get a messaging app with the maximum privacy ad security – Wickr Me is a perfect choice. The main idea of this messenger is to provide the maximum private communication of users. In this sense, it is really the most innovative app even compared to Telegram.
You can't create very large groups here – the number of participants is limited down to 10 people. You can send text, video, images, and files of less than 10MB securely and privately. The encryption standards are at the highest level and each new message is sent with a new encryption code.
All the messages are erased automatically after 6 days they were sent. Moreover, to start using this app you don't need to register with your email or phone number. This makes the process of identifying your information even more impossible. You just create your username is account.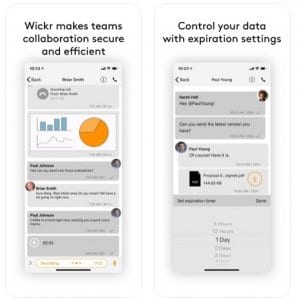 Dingtone:  Free Text Messaging App
Are you seeking an alternative messaging app for free? Here you are! Dingtone is a new way for you to talk, text and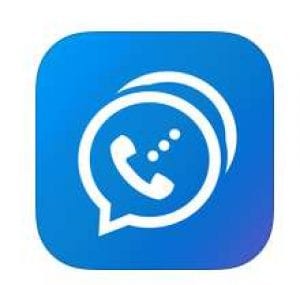 share. It is a mobile application available for both iPhone and Android devices. All communication is free between Dingtone users no matter where they are now!
How to find out friends using Dingtone
If your friends are in your address book and they have the Dingtone app installed on their phones, you will be able to see them in your Dingtone friends list. Also, the Facebook integration feature allows you to see Facebook friends in the Dingtone App.
You can also search for your friends via a phone number or an email address.
If your friend hasn't try the Dingtone app yet you can invite him/her sending an invitation via SMS or email. Or you can post the information about your using Dingtone to your Facebook wall or Twitter and your friends will join too if they wish.
Walkie Talkie (Push to Tak)
If both you and your contact are active on Dingtone, you have the option to push a button to talk. Your friend will immediately hear you and he can reply to you by pushing the same button in his Dingtone app…just like a real Walkie Talkie.
The Dingtone Walkie Talkie even works after you lock your phone.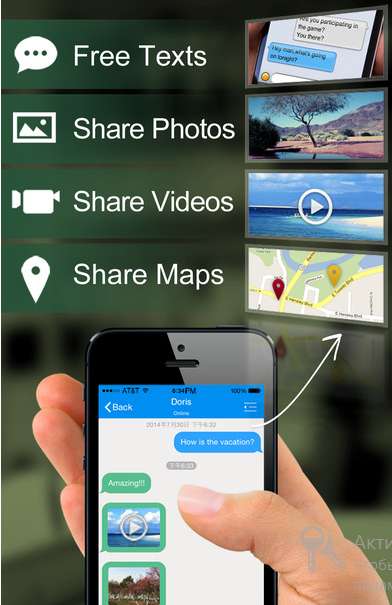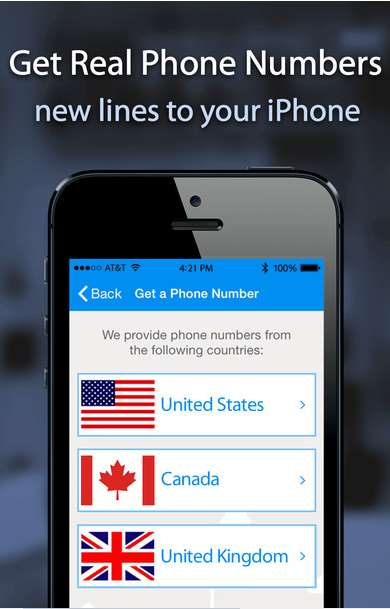 Do you gonna having this app on your device? Don't delay! Download it right now.
Antox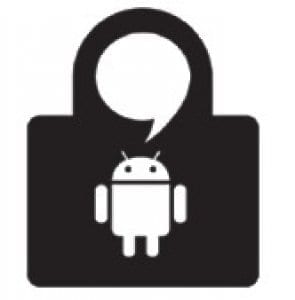 This is not exactly the app, but messaging service that is run and maintained by the people using it. This is a great example of open-source software. And just like the Wickr Me app, this one also guarantees you the total privacy. Initially, it is a web site that has adopted apps for any platform.
These apps are not official, but the user-contributed projects. Sounds interesting, right? At least this app is worth trying. Apart from that, regular text messaging, voice and video messaging are possible with this app. All communications are encrypted on both ends, and there are no central servers that can be shut down.
The last part means that the app literally will never stop working. One of the best parts of this app is that it is totally free. The only thing you have t keep in mind is because it's open-source, it is developing 24/7 and sometimes it can be difficult to keep up with all the updates.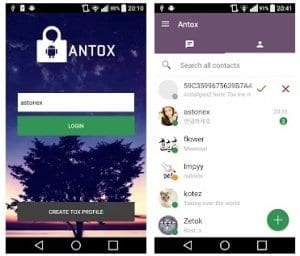 Hangouts
Do you want to keep in touch with friends for free? It's simple. Use Hangouts! Message friends, start free video or voice calls and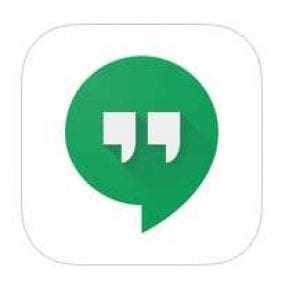 hop on a conversation with one person or a group. Say more with photos, stickers, and emoji.
Benefits of using Hangouts:
* You are able to create group chats for up to 150 people
*You can connect your Google Voice account for a phone number, SMS, and voicemail integration
*You can share photos, add emoji, stickers, animated GIFs and more to make your conversation colorful and more emotional
*You will keep in touch with friends across all your devices using Hangouts
*You can message friends anytime, even if they're offline.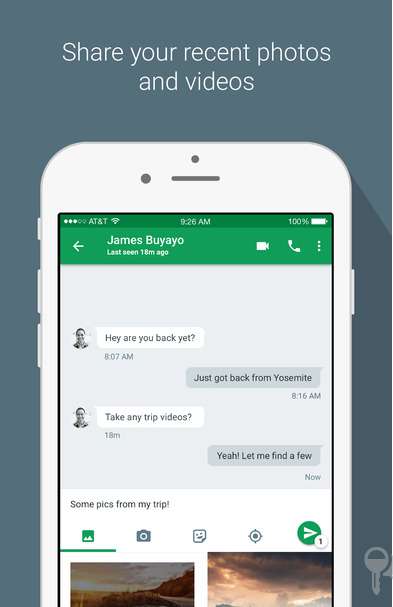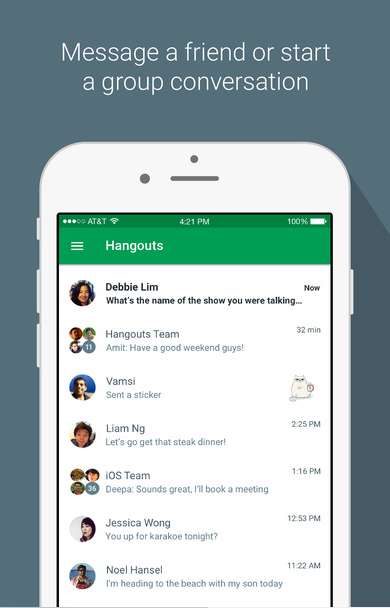 Kakao Talk
Saying about Kakao Talk, we should notice that it is a smart texting app for smartphones chosen by more than 150
million users worldwide.
It was launched on March 18, 2010, and is currently available on iOS, Android and other devices. It is easy to use, a multifaceted messaging app with no cost. For messages, you can use it as 3G as a WiFi Internet connection.
Key features of Kakao Talk:
FAST: Kakao Talk is speedy & reliable messaging no matter what your network
FREE CHATS: FREE messages & multimedia (photos, videos, voice notes)
EMOTICONS: You can express it all with included emoticons PLUS select from endless sticker collections in Item Store. Make chatting extra fun!
GROUP CHAT: You are able to chat with an unlimited number of friends using this application
PLUS FRIEND: Get coupons & deals from your favorite brands
Also using Kakao Talk you can share your location.
Kakaotalk is among the few best messenger apps that have all distinct features that make them unique and vibrant. It is a fast, fun and easy way to communicate with friends and family.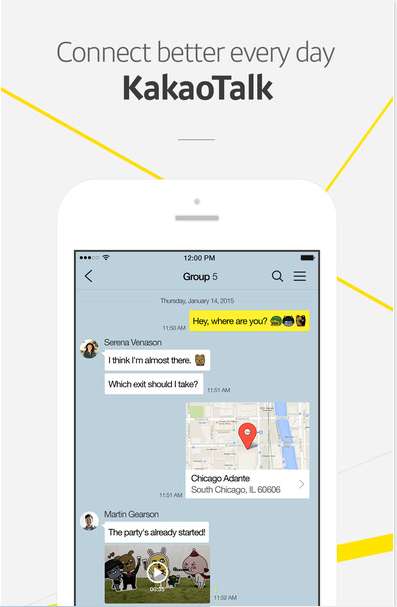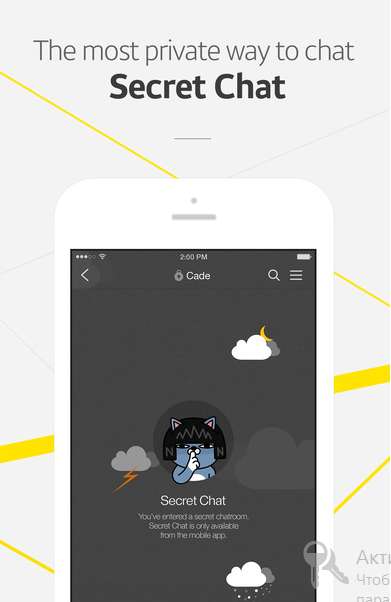 LINE
The line is a proprietary application for instant communications on smartphones and other electronic devices.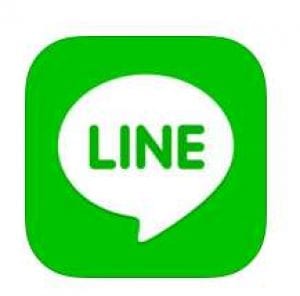 Line users exchange texts, images, video, and audio.
It worth noting that Line reshapes communication around the globe, bringing you closer to your family, friends, and loved ones. And all these goodies are free.
You will be able to express yourself in ways that you've never thought possible with voice and video calls, messages, and a limitless variety of exciting stickers.
Line's main features:
You can store messages, photos, and videos using Keep and share them easily.
There is a huge collection of exciting stickers which make your conversation more colorful and bright and let you express yourself just the way you want to.
You can let your friends know where you are with GPS coordinates.
You have a chance to post your day-to-day activities to your Timeline or comment on your friends' posts.
Group chats are available with Line: Share important information with your co-workers or talk about mutual interests with your closest friends.
In popular culture
It should be noted that there are over 600 million people using Line worldwide already. And Line is a constantly expanding platform that will continue to provide exciting new experiences and convenience.
In 2012 Line was shown in Far East Movement's music video, featuring Sidney Samson, for the song Change Your Life. DJ Virman is seen chatting with Sidney Samson in the middle of the music video.
Also, the same year Line application was shown in rap artist Big Sean's music video for the song "Guap".
In 2014 Warner Music Italy released the music video for Italian singer Annalisa's "Sento solo il presente", in which the recording artist is seen using the Line application at the beginning of the video.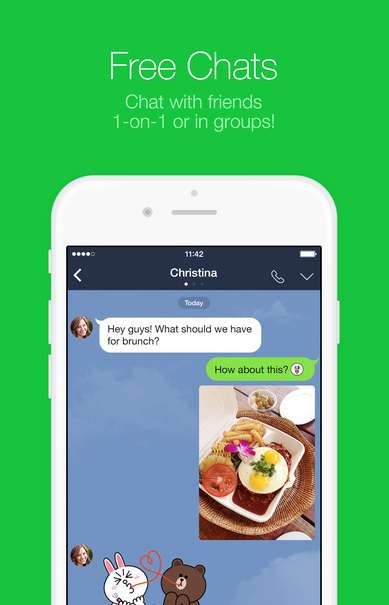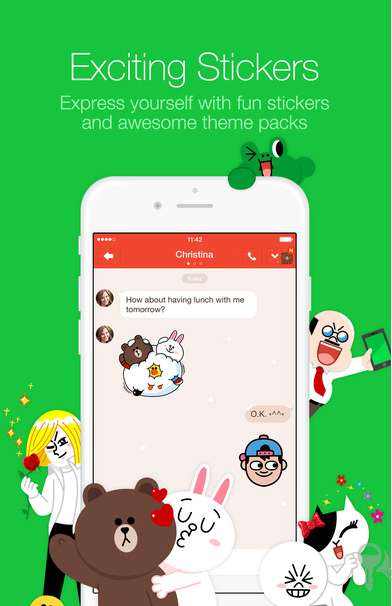 Facebook Messenger
Have you already found a perfect app to stay connected with friends, relatives or co-workers? If not, try Facebook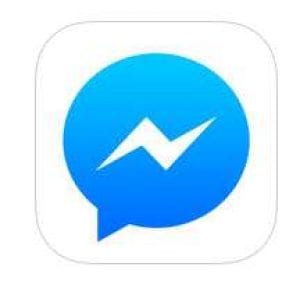 Messenger right now! So you will instantly reach the people in your life. Moreover, it is free. You haven't to pay for every message because it works with your data plan.
What is Facebook Messenger?
Facebook Messenger  (sometimes abbreviated as Messenger) is an instant messaging service and software application that provides text and voice communication.
Integrated with Facebook's web-based Chat feature and built on the open MQTT protocol, Messenger lets Facebook users chat with friends both on mobile and on the main website.
Facebook has currently reported that Facebook Messenger has reached 1 billion monthly active users already.
Features
Messenger is not just for Facebook friends. You can communicate with friends on your phone book. You should just enter a phone number to add a new contact.
You can create group chats, name them, set group photos.
Using Messenger you can make videos and photos right from the app and add them in your conversations. You can preview your camera roll photos and videos without leaving the conversation and then choose the perfect ones to send.
Bring your conversations to life with stickers!
Extra features
With Messenger, you will know when your friend has seen your message
With geolocation function, you will let people know where you are
When you are busy, sleep or working you can turn off notifications
Communicating on the phone has never been simpler and more pleasant!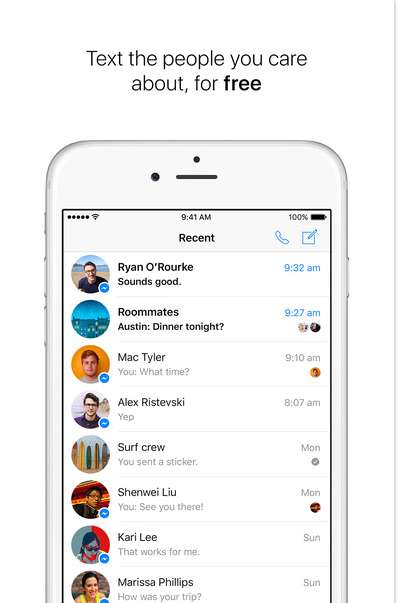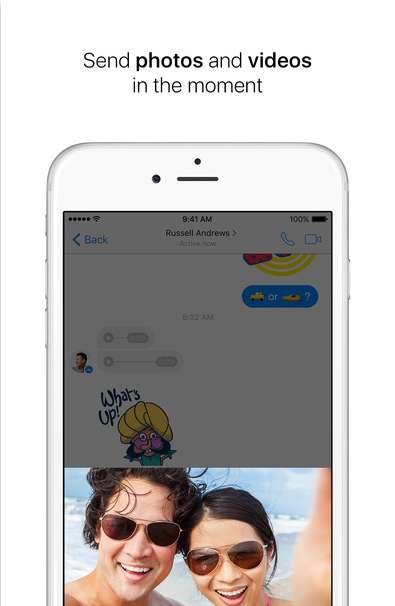 Signal Private Messenger
Signal Private Messenger is one of the most widely respected encrypted communication apps.
Signal Private Messenger makes communication between friends, relatives, and co-workers easier. This texting app is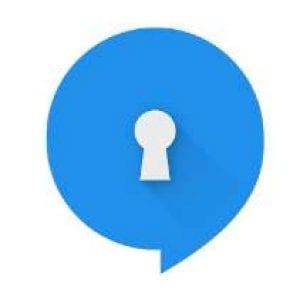 like many other ones: Hangouts, Facebook Messenger, TextMe. On the other hand, it has its own specific features:
*It uses end-to-end encryption to secure all communications to other Signal users.
* It also works on a phone number system and if your contact doesn't have the app then it simply sends a text message which we really liked.
Using this application you will communicate freely. You can create group chats, share videos and photos with provided privacy.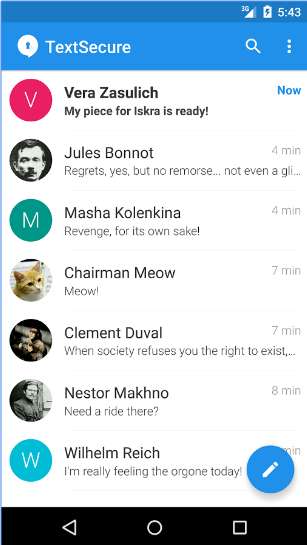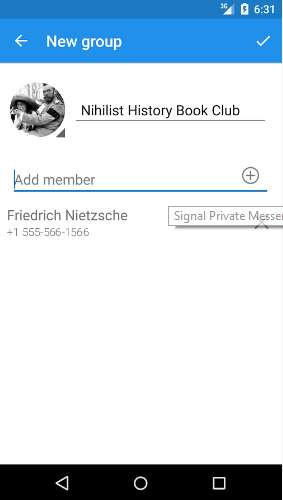 Chomp SMS
The antidote to boring texting… Chomp SMS!!! It is a souped-up ultra-customizable alternative to the boring stock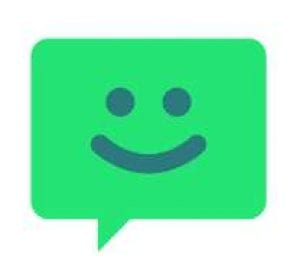 messaging app.
Chomp SMS app was one of the first high-quality messengers for Android devices. Nowadays it is still widely used.
Downloading this app you will enjoy its superiority. You will enjoy using emojis, group chat. You will be able to use one of 100 themes or even create your own one!
Other features:
*SMS blocking is available with Chomp SMS
*Quick reply in the notifications is a useful function
*Stop a text mid-send if needed
*Scheduled SMS sender (reminders, birthday wishes) is a useful thing of Chomp SMS only
*Group messaging feature
Give Chomp SMS a try today! It's pretty special.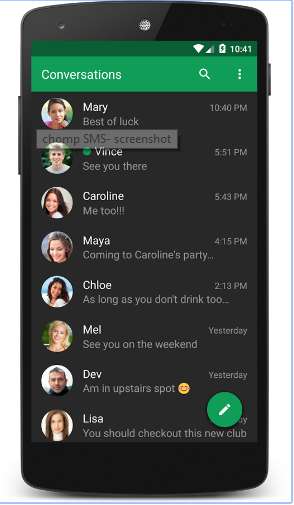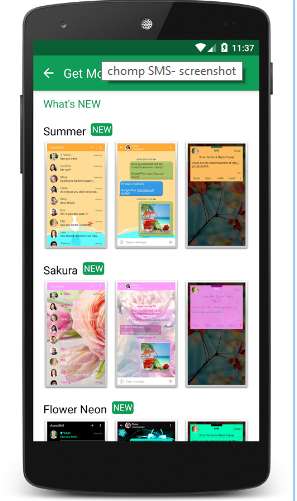 Price: Free with in-app purchases
Textra SMS
Simple. Beautiful. Fast. Textra is a seriously beautiful, feature-rich SMS and MMS app.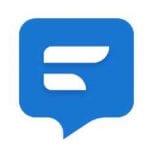 This outstanding app is highly rated and widely used because of its simplicity and great features:
*You can choose from over 100 material design theme, bubble & app icon colors. Here are dark, light & auto-night modes also.
*Quick reply pop up window is a smart function for faster noticing and answering the message
*Textra SMS has a great picture gallery
*Quick voice memos, GIFs, 21 text sizes, blocker/blacklisting, auto video & picture compression and even more useful features.
Textra SMS is highly customizable and looks great.
The combination of stability and options are a compelling mix that can meet the expectations of anyone who installs it.
It is free with in-app purchases.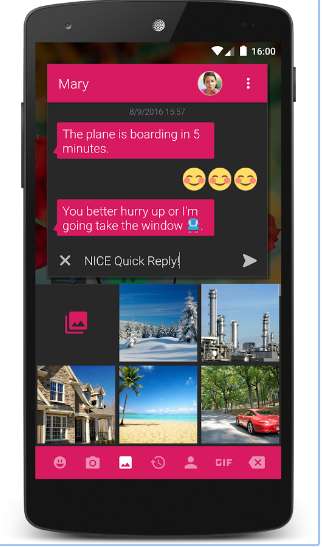 Tango
Tango is a FREE popular cross-platform texting application for smartphones. It was developed in 2009.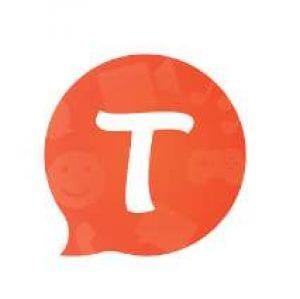 · ALL THE FEATURES – Send and receive text, stickers, photos, video, audio and location messages on Tango for free. Make voice calls and video calls anywhere in the world for free.
· FUN – Don't just video call, have fun while video calling. Use masks and avatars, send stickers, add filters, and play games all while in a call. Send stickers, photos and play games with your friends and family in a chat. Everything is free.
· GROUPS – Family, friends, roommates, co-workers, events. Use Tango to keep in touch with the groups of people that matter to you. Send text, photos, videos, stickers & more to a group. Groups are free on Tango.
· SOCIAL – Follow and interact with interesting people nearby and around the world. Share photos, videos with your followers and see updates from others. Chat with people 1:1 or join a casual conversation in Tango's public chat rooms.
If you have your family 1000 miles away this app has been nothing but excellent for being closer to each other.
There are over 350 million users already! Join it too!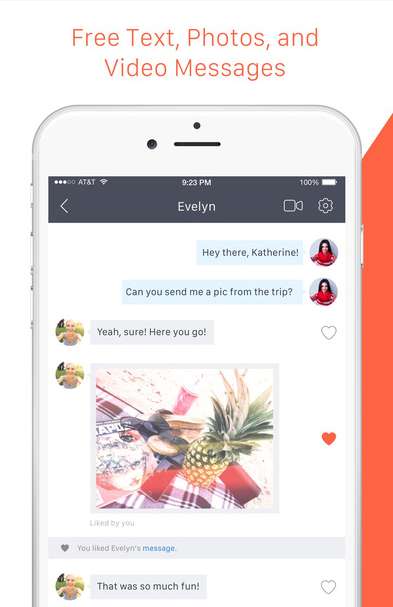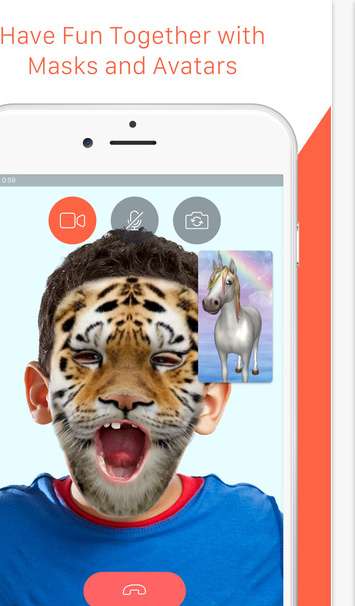 It is free with in-app purchases.

Privacy Messenger – Private SMS messages, Call app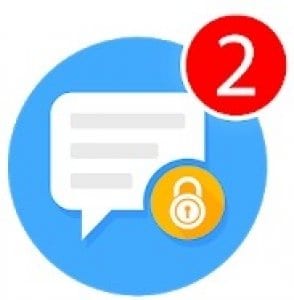 After the number of scandals in 2014 and 2016 about the mass infringement of privacy policies by large social networks and the most popular messengers, the issue of personal rights protection has been feeling extremely sharp.
That has become the starting point of occurring of the new generation messengers granting total encryption all of your messages and not involving 3rd parties, even if it's a government.
Here we have another response to those events – the main idea of this messenger is security. Moreover, here no one can even take a screenshot of the messages – all that happens in this messenger stays in this messenger. The app supports even dual-sim gadgets, with the possibility to make direct phone calls.
The media options are also wide here. You can send media files via this app and use more than 3000 stickers and emojis. Another cool function of this app is that it can block all the spam messages. Here you don't need to create your account because the software uses your phone number.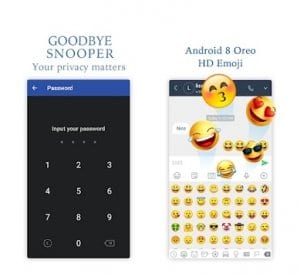 You may also like: 11 Best fake hair clipper apps for Android & iOS
So that was the top list of free messaging apps. It's up to you which one you will use because each of them has its special features and benefits.
Do you prefer calling to messaging? Glad to let you know that most of the listed texting apps are also used for free calling! If you have a wish, you can observe the full list of best free calling apps right here.