Sometimes you need to estimate a flat or a house. However, it's not that easy – you need to be a professional in this sphere. But what to do if you are not working in sales?
Well, you can still find a good way to sell your home at a good price. We have collected the best home value estimator applications to help you sell effectively and easily.
Some of the apps are free of charge, others have a trial period. There are application s for Android, as well as iOS users.
You may also like: 11 Best Apps to Sell Your Books
Trulia Real Estate: Find Homes for Sale & Rent
When you are about to buy or sell a house, you can hardly estimate how much you can ask for it. Nobody wants to get less money than they possibly could.
So the more you know, the more money you will get. This is why you need to scan the market and then sell your property.
The app is packed with cool features that will help you:
Many neighborhood maps

. Before you sell your home you need to analyze the town or the region. Is it heavily populated? What about the crime rate? How many schools, universities, shops are there? What do the locals think about it? These factors are vitally important, and they will determine the price.

If you are anxious to sell (or to rent) as soon as possible, you can use the l

istings sourced from huge databases

. There are many filters that will make the search easy and fast. Browse through the app's listings and add the best houses to the 'favorite' section.

Once you have found a good option, you can watch it and

set notifications

so that you know what is going on. If the house is about to be bought, you will be sent an alert.

If you need to find out if you have enough money, feel free to use affordability calculators. You will be able to count if you have enough money or you need to take a mortgage.
The application will be equally good for those who wanna rent and buy, as well as for those who are going to sell the property.
The app is free with ads. There are no in-app purchases, all the stuff is available right after the download.
You will need to create an account and then you can enjoy all the functions provided by the app.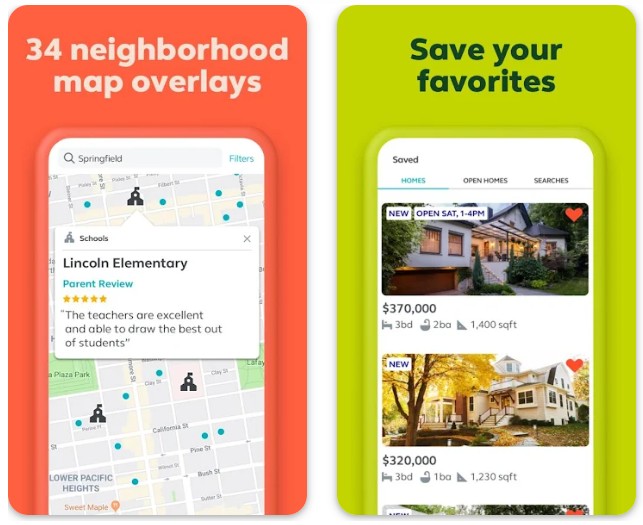 You may also like: 11 Best Apps to Sell Video Games
Zillow Real Estate & Rentals
This one of the most universal apps on the list. In Zillow, you will find answers to almost all of your questions connected to the property.
Why is Zillow so good? Well, it's packed with functions and at the same time, it is extremely easy to use. The interface is friendly and down-to-earth.
If you have always thought that buying/selling is too hard for you, Zillow will help you become a real expert. You will analyze the dynamics of the market and see its trends clearly. This will help you start a new chapter of your life and buy a new house (or sell it).
Here are the best functions you will discover:
If you are about to buy a house, Zillow will be a perfect tool. The app will show you many options illustrated by pictures and descriptions. You can check the crime rates of the neighborhood, see how many schools and universities are there. For some houses, you can enjoy a 3D home tour to see if you like it or not.

If you wanna sell, Zillow will also be a great platform for doing this. There are many traditional channels for saling a house, as well as unique options. Zillow will help you estimate how many dollars you should ask for your house. This is a key factor to a successful sale.

Set the notifications to take control of the process. If you are going to buy, you can subscribe and follow some of the options. This will help you not to miss the home you wanna buy.

Price Analyzer. Sometimes you have to compare one price to another. But what to do if you are not keen on analyzing? Well, you can rely on Zillow. What you need to do is to add the options you like and wait for Zillow to compare the prices.

Talk to real people. You can call the local estate experts and consult with them about the issues you are interested in.
In general, Zillow is a great tool for everything connected with property. Zillow will work on any device, including personal computer.
It is 100% free with ads, which is the only disadvantage, as the ads appear too often, according to comments of users.
Zillow used to crash on iPhones but now the developer guarantees it works great. 


Real Estate By Xome
It's time to forget about problems connected to selling and buying properties. Xome is famous for its seemingly endless range of options and easy interface.
It doesn't matter if you have no experience. Xome has advanced options that will give you insights into the property market.
There are many features available right after the download of the app:
You will get

free access to a huge base

of houses, condos, and apartments. The lists are updated every 15 minutes, which gives you many options to choose from.

If you feel very insecure in the market, don't worry. What you need to do is to

consult with Xome Agents

. Don't hesitate to make your choice or to ask for a tip.

Learn everything

about the house you are about to buy (or write a detailed description if you are selling). A good description should contain information about the location. Look at the description to find out if there are schools, universities, shops around. We strongly recommend that you study the crime rate of the region. If you are selling, don't hide this information. It's vital that you tell the potential customer everything about the house.

Filter your search

. Scrolling through a big number of irrelevant information doesn't sound good. This is why you should better use the Xome advanced filters. Filter by price, location, and many other important factors.
The only disadvantage is that the app can be slow at times. It is a typical problem for devices running on Android. 
Xome was created for users from North America. You can search for pieces of property in all the states of the USA. 
The developers are constantly updating the product, fixing bugs, and fighting glitches. What is especially cool about Xome, is that it's free with no ads. All the functions will be available at once. You don't need to create an account or get any type of subscription.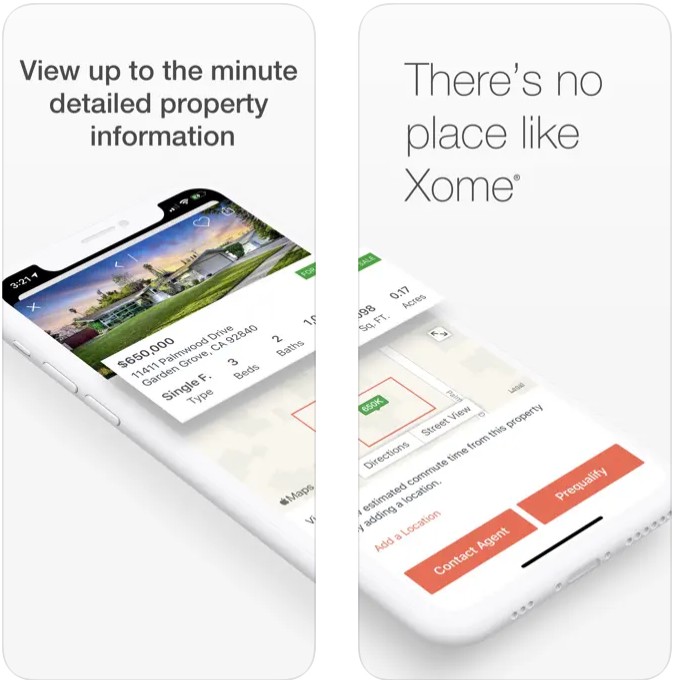 You may also like: 10 Best Android Apps to Sell Your Car
Redfin Real Estate: Buy & Sell
Are you going to buy or sell a house? If yes, don't hurry! You need to analyze the market first. Redfin will help you sell easily and get the maximum of the money.
If you are not an expert in sales and property, you should ask those who specialize in the sphere.
Redfin is a powerful tool that will help you become a guru of sales.
The best features of the application are:
If you are searching for a house or just looking through the list of options to see how much you should ask for your house, use the

advanced filters

to find what you need. Sort the options according to their location, the number of schools and universities around, the crime rates, and many other important factors. You can also search by price, region, or

Examine the market

. See the detailed description of the house that appealed to you and study all the elements. Sometimes you can find a video attached to the description. What is more, you can also check the 3D tour to place yourself in the flat, condo, or house.

Learn to become a professional

: if you want to gain a good knowledge of the market, make sure you sign up for the free classes organized by Redfin. After you finish them, you will be a Home Buying Expert if you study hard and regularly.

Redfin can also

give you some tips

regarding the time of a sale. For example, it can predict how fast you will sell your house. If you are a buyer, this function can also come in handy. You will be able to find out if you need to buy the house now or it would be better to wait a bit.

Plan visits to a house

. You can schedule them at a click of a button.

Gain

insights and motivation

. You will get precious information from reading comments. By the way, sometimes comments turn out to be even more useful than the description.
The app works in every state of the USA. So after the download, you will get access to a huge database that collects options throughout the country.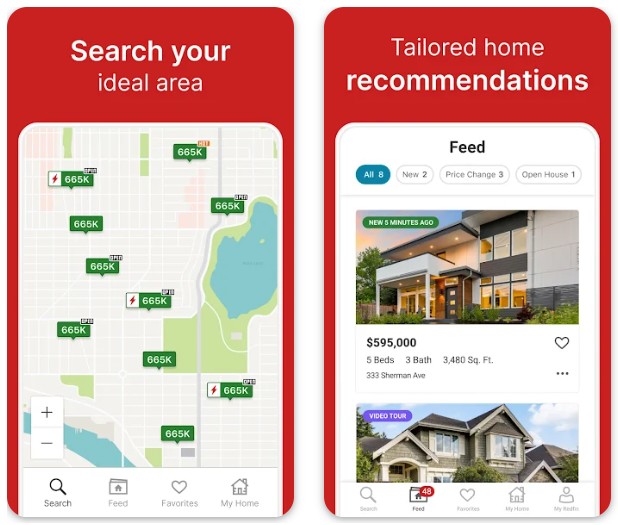 LoopNet – Commercial Real Estate Search
We can't say this app is about estimating home value only. It was initially created for investors, tenants, and all the people who work in the sphere of marketing.
When you think about selling a house, you need to be quite smart. Don't hurry too much. The most vital thing is to think all the details through.
Here are the key features of the application:
Search through a great variety of commercial offers

. Compare them, sorting the options by prices, locations, and many other factors. Before you pick an option, make sure you study the neighborhood well. LoopNet works on the territory of North America.

Get all the information about the house

. This option will be equally useful for those who sell, as well as those who are about to buy a piece of property. See the photos, read the description, call the manager to find out all the detail. Take a real tour of the house to look at everything and find out important issues.

Request some extra information

. If you lack vitally important details, don't hesitate to request some additional info. Call the manager or request a real tour.

Don't miss the opportunity

. Follow the houses you like. Set the notifications to obtain control of the selling process.

Consult with experts

. If you have any questions about the price, get a consultation with local experts.
This app will be a perfect solution for those who work with property. You can get LoopNet for free on Google Play, as well as on App Store.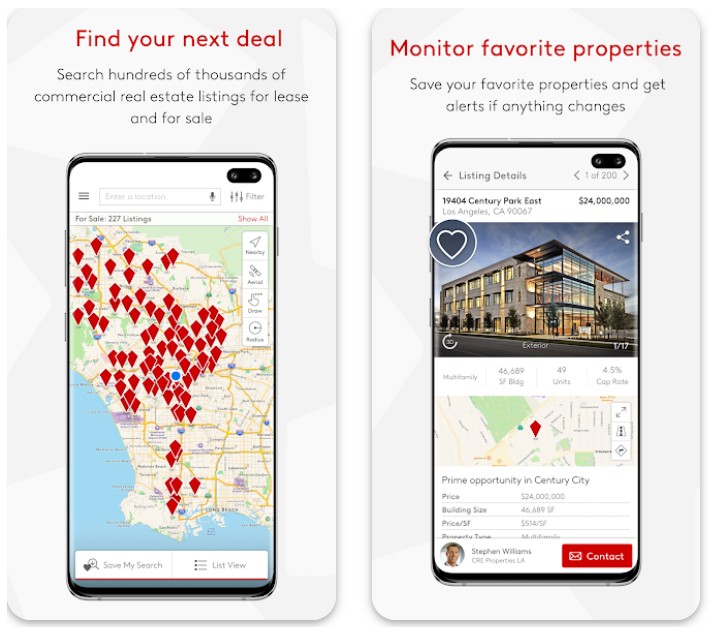 My Home Value
My Home Value – this app provides a simple and quick way to estimate the value of a property based on various factors such as location, size, and condition. It also provides users with recent sales and prices for similar properties in the area.
The app provides accurate data
Simply designed interface that is easy to navigate even for not tech-savvy users
Provides a wide choice of properties
Users can view property details, and compare properties side by side
You can also be notified when the property they are interested in changes in value.
One of the main advantages of My Home Value is its accuracy, as we have already mentioned. It can be explained by the fact that the app utilizes advanced algorithms and data analysis to provide users with accurate and reliable property value estimates.
Moreover, the app is constantly updated with the latest real estate market data, ensuring that valuations are always up to date.
But be careful with ratings because often it can turn out they are fake.
And the overall database of the app isn't updated that regularly.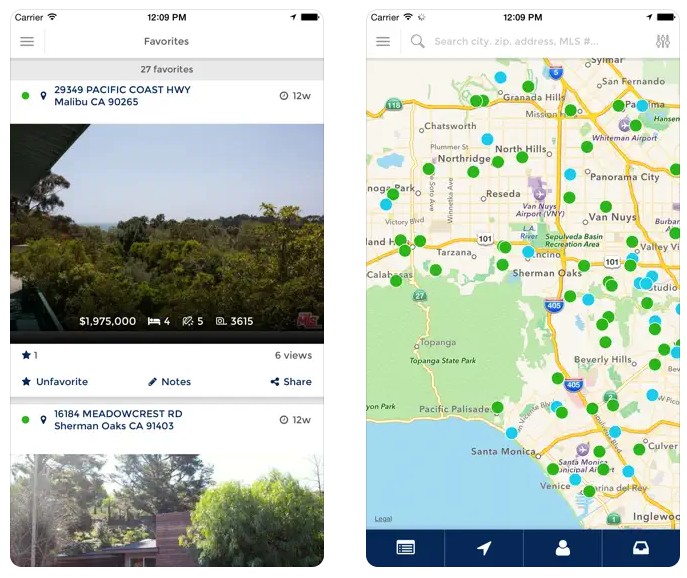 You can also check: 15 Best Reseller Apps to Earn Money Online (Android & iOS)
Home Worth: House Value
Home Worth: House Value is designed to provide users with an estimate of the value of their home.
You can affect the search for the property according to the details
Save multiple properties to the favorites
At the same time, the information isn't always so accurate
We must say that the interface design is quite trivial here, but for the property app, it can be bearable. Plus, the application allows users to save multiple properties, making it useful for those who may be interested in keeping track of the value of multiple properties.
The app allows users to enter details about their property, such as the number of bedrooms and bathrooms, area, and location and then provides a value estimate based on that information.
One of the drawbacks of the app is that it may not always provide accurate estimates. You can receive estimates that are significantly different from the actual value of their homes.
Despite this, the app received mostly positive reviews, with users praising its ease of use and ability to save multiple properties. Dissatisfied feedback was mainly about the accuracy of the ratings provided, with some users expressing disappointment with the results.