It's impossible to imagine anything in our lives without the Internet. With the help of a smartphone, we correspond with friends, read the news, pay for purchases, build an itinerary, and even plan our day. You can plan your day with 11 Best Day Planner Apps for Android & iOS.
The Internet is ubiquitous – and when one is without a network, one becomes virtually defenseless and lost. If you are in another city or country, your smartphone will tell you where to go and where there are stores, cafes, and toilets nearby.
Hotspot technology was created to improve the Internet and Wi-Fi in crowded places. When you connect to an access point that hundreds of other users are already connected to, you can run into problems with speed and uninterrupted Internet service.
This doesn't happen with Hotspot – it allows you to distribute wireless Internet to a large number of users. To find such points or to create such a connection, there are special services. We have selected for you 11 Best Hotspot Apps for Android 2023.
The Portable Wi-Fi hotspot by CORE TECHNOLOGY
Portable Wi-Fi hotspot is a special application for smartphones that allows you to convert the standard Wi-Fi module of your device into an access point. This handy utility automatically detects what devices are already connected to the access point and blocks their connection if necessary.
There are special settings for working in AP mode – the application adjusts and sets them by itself so that you can use the functions without any problems. You just have to write down the name of the Wi-Fi hotspot, the password, and click on the start button.
A Portable Wi-Fi hotspot can adjust the speed of Internet distribution and set limits on the number of connected devices. This is done to ensure that the internet speed remains optimal for your work.
Also, the Portable Wi-Fi hotspot synchronizes with those devices and clients that have been authorized – so those devices that stay offline for a long time will be automatically disabled.
The app has built-in tamper protection that will prevent other crafty people from guessing possible passwords and connecting to your network. You, your data, and your traffic will definitely be protected, don't even worry.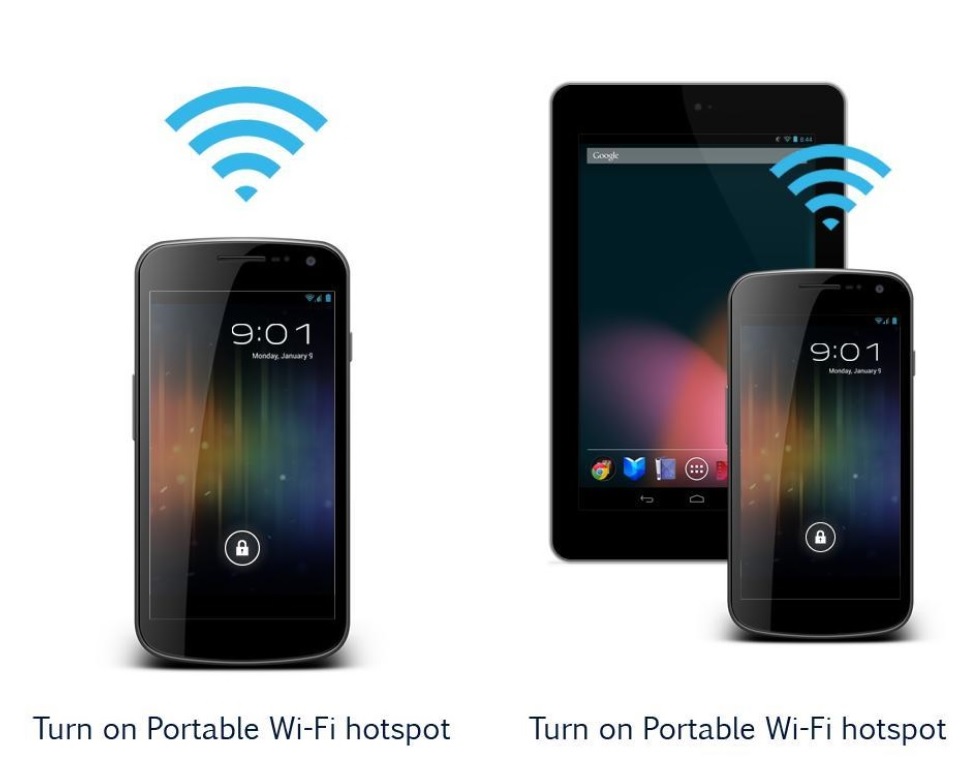 You may also like: 13 Free Wi-Fi Analyzer Apps for Android
Wifi Hotspot Portable by vinhash
Today's Android devices can receive a Wi-Fi signal not only from standard access points but also from public HotSpot networks and other devices. The Wifi Hotspot Portable application offers users to create portable Wi-Fi hotspots for their smartphone to share the Internet with friends or add it to other devices.
Quickly and securely, this app allows you to give away your mobile connection – no need to set passwords, manage security, and keep track of connected devices.
In order to share Wi-Fi with more people, you will just need to not set a password and make the hotspot in Wifi Hotspot Portable public. For a more selective connection, it is still recommended to set the security modes and only then activate the system. You can set which network to use when connecting – 2G, 3G, 5G, or others.
This will set the right and high speed for your laptops, tablets, or your partners' devices. The most convenient thing is that Wi-Fi Hotspot Portable does not require you to have any knowledge about technical settings – the application will do everything for you.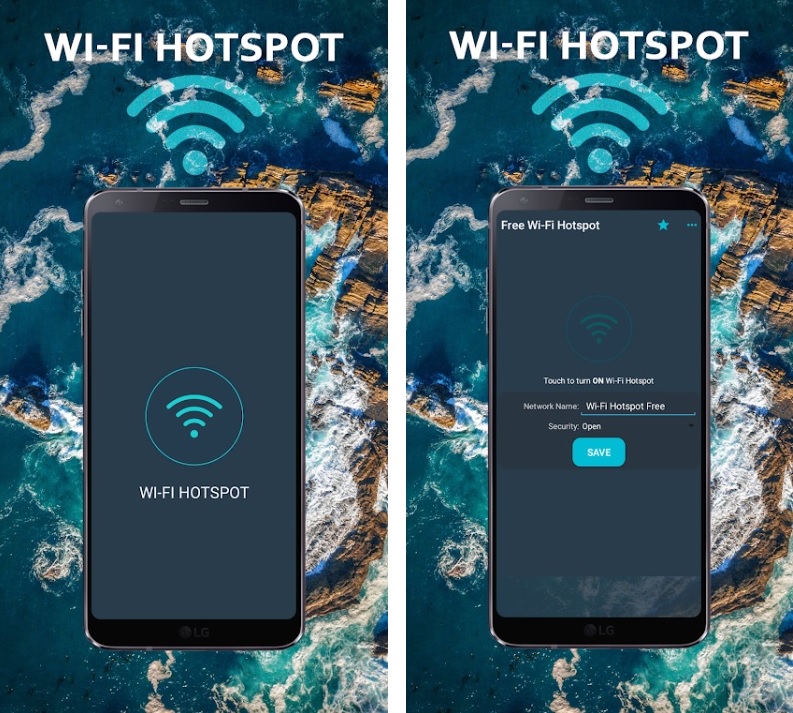 FoxFi (WiFi Tether w/o Root)
FoxFi is an app that enables Wi-Fi or Bluetooth Hotspot on your device without binding or rooting. It's worth noting that Bluetooth Hotspot mode works on all devices with all versions of Android – even if you have the oldest smartphone.
In order to share the Internet, there are already restrictions – this mode is available for those devices that support Wi-Fi connections. With FoxFi, you'll be able to connect your tablets, computer, or even game console to your smartphone using a secure connection.
Of course, the app will use your mobile Internet traffic – in fact, all devices connected via FoxFi will consume it. Among the advantages of the app, there is definitely no need for root access – you keep your smartphone safe and unthreatened.
This way, your smartphone will be able to maintain a connection to multiple devices at once with the same internet speed. FoxFi's functional interface is uncluttered – all features are necessary and convenient.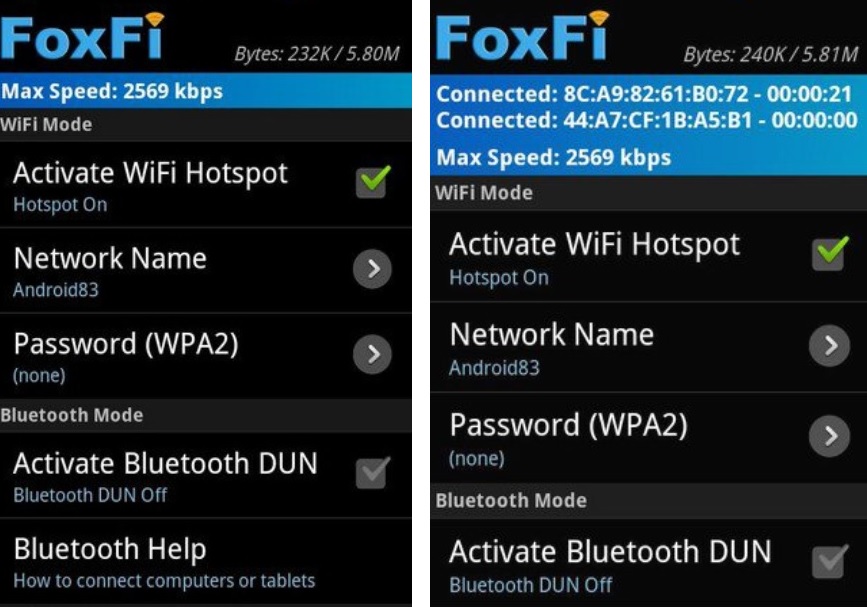 Xfinity WiFi Hotspots
If you are a customer of Xfinity Internet, you can be sure that you will always be able to get online. The Xfinity WiFi Hotspots app offers you a complete map of all Xfinity hotspots nearby – even if you're in another city or out of your country.
As soon as you get within range of a particular hotspot, the app will automatically connect you to it without you having to enter your password or confirm your subscription. You can see for yourself – find the nearest Wi-Fi point on the map and go there. The connection will be made immediately.
It's worth noting that all Xfinity WiFi Hotspots are safe for your smartphone and data. There can be a huge number of these hotspots installed around the city, so there will be coverage almost everywhere. If you connect to certain hotspots or locations most often, you can mark them as "Favorites."
In this case, you will be able to connect to them at any time during subsequent use. Also, Xfinity WiFi Hotspots have a separate category of business hotspots, where the connection is faster and more stable.
In order to start using and access the card, you will need to enter your Xfinity client login and password right at the beginning.

Free WiFi Passwords & Internet Hotspots. WiFi Map
Staying without internet is not pleasant. You can lose touch with the person you want to meet, can't find the right spot on the map, or miss an important message. WiFi Map is the app that will prevent you from being without a network.
The application is an extensive collection of passwords for Wi-Fi that are usually installed on access points around the world.
You will no longer find yourself in a situation where you see an available network but don't know the password to it – WiFi Map service will help you with this and provide an excellent and secure VPN for such public Wi-Fi.
In order to protect your connection on a public network, you'll need to use a VPN. It provides anonymous access and is built right into WiFi Map. If you don't already have a connection but haven't found a free or open access point, the app suggests you use an offline map.
It shows you all the places nearby where you can connect to the Internet. You can also contribute and add new hotspots directly in the app – it only takes a couple of minutes and in return, you will receive gratitude from other users.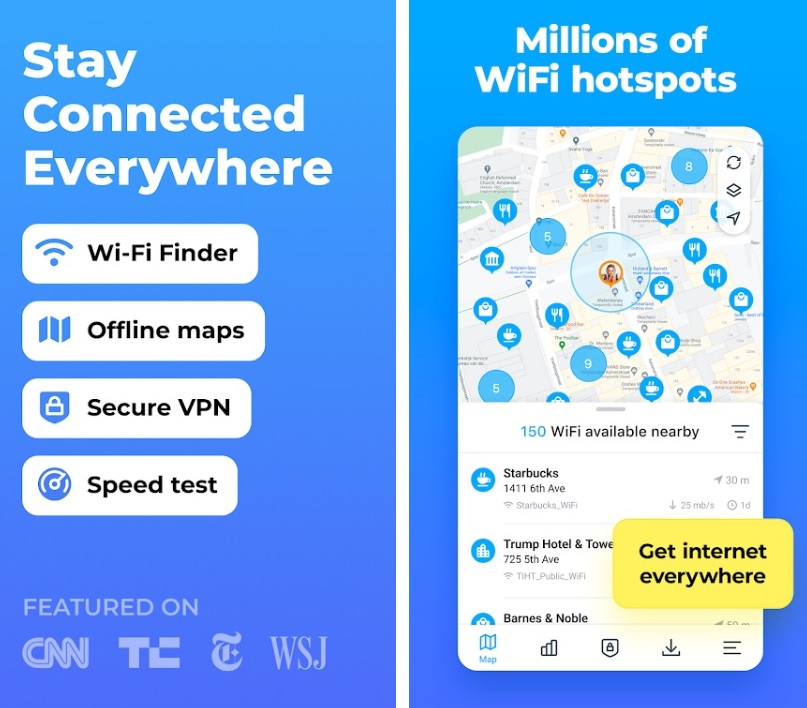 Free Wifi Connection Anywhere & Portable Hotspot by PBreak Studio
Free Wifi Connection is another application that will help you connect to public and open Wi-Fi networks wherever you go. You will automatically connect to hotspots with free internet access and without having to worry about picking passwords.
The usage will be at high speeds all over the world, so you won't have problems with pages and apps loading too long. Based on your location, Free Wifi Connection gives you conclusions and provides information on where exactly you can make a connection.
There are times when you have several access points around you, but you don't know which one is best. In such a situation, Free Wifi Connection will analyze all available Hotspots and show you which one has the best speed.
All connections are optimized for mobile devices. Free Wifi Connection also has a speed test to see if you can download files or send them over the network. By the way, each access point also provides information about ping, IP addresses, MAC addresses and so on.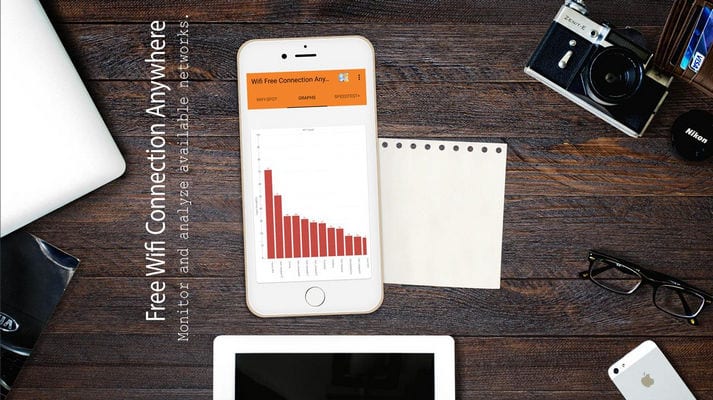 You may also like: 11 Best WiFi Blocker Apps for Android & iOS
PdaNet+
PdaNet+ is an excellent application that is popular among users because of its functionality. It helps to use a smartphone as a Wi-Fi access point and even connect other devices that are stationary to it.
Usually, users share the Internet from their smartphone to tablets or other smartphones, but PdaNet+ allows them to do this even for computers.
Of course, most PCs don't have a built-in Wi-Fi module. For this reason, the developers have found a simple and ingenious solution – a USB connection to distribute the Internet.
The application itself has a very simple interface, which can even be called minimalistic. In fact, it is a set of different settings that you will change depending on your goals.
Any device that connects to your access point is quickly detected by PdaNet+ and provides you with all the information about it.
By the way, when you connect your smartphone via USB to a PC or laptop, the system will recognize it as a modem – this is done thanks to this application. You can also establish a connection via Bluetooth if you don't have the right wire handy.

WiFi Automatic by j4velin
How often do you come home and put your smartphone aside? Perhaps you sit down to work on your laptop or computer and don't pick up your smartphone until closer to the evening. Admit it, usually, your Wi-Fi is always on – you just don't notice it.
The WiFi Automatic app will help you get more out of your device while also easing the burden on your home wireless network. It works simply by automatically turning off Wi-Fi when you're not using it, thereby reducing your battery consumption.
With WiFi Automatic, you can specify a specific time when it should come on or off, such as when you are working or sleeping. The app also automatically scans for nearby access points.
As soon as it detects an available or home network, you will be automatically connected to it and have immediate access to the Internet.
This connection with WiFi Automatic allows you to avoid wasting your mobile internet traffic, save your battery for a long time and also detect all available connections. This is especially useful when you are away from home.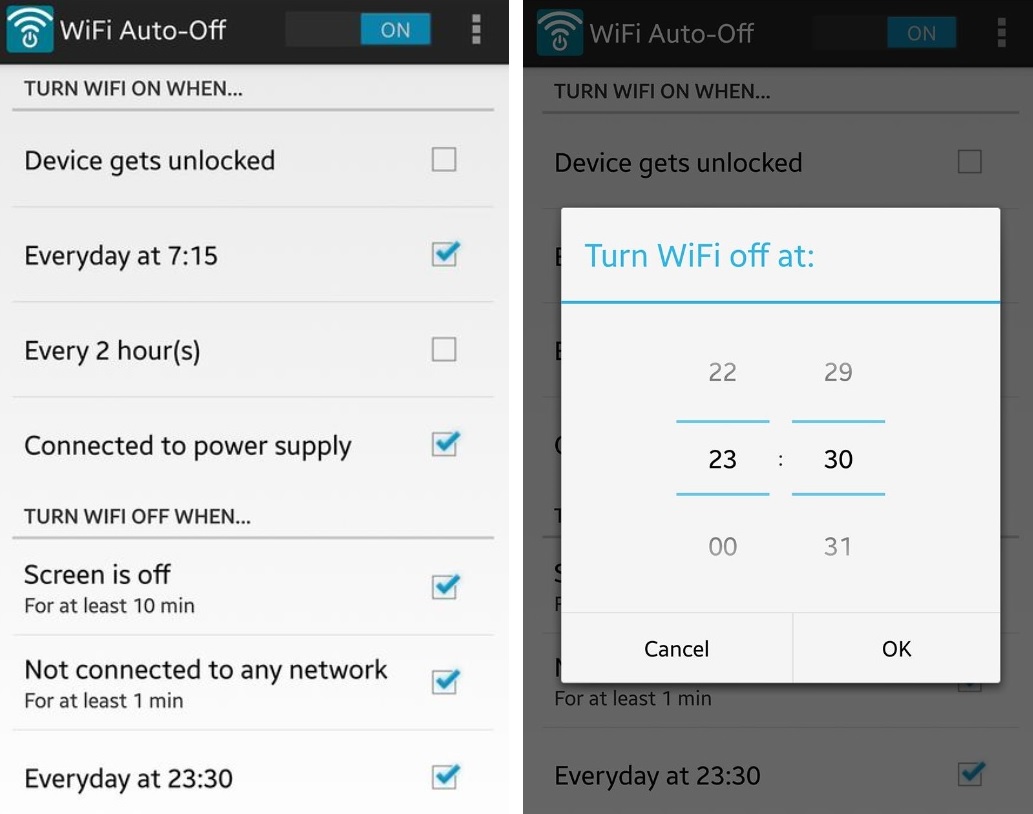 Osmino is a simple application that will not take up much space in the memory of your device. At the same time, you will get quite an extensive and useful functionality that you can use every day or as needed.
Osmino is designed for you to distribute the Internet from your smartphone to other devices around you. It may only take a couple of seconds from the moment you turn the function on to the moment you connect – it's incredibly fast.
If necessary, you can also set your own original password, so that no unauthorized person has the possibility to connect.
There are no complicated settings in osmino for you to get the access point up and running. That's why the service is great for beginners or non-advanced users who don't know how to set additional parameters on their own.
If you switch your device to modem mode, then osmino will automatically disconnect your Wi-Fi connection and use mobile Internet traffic. That is why we recommend you to be careful with such open Internet sharing – you may use too much traffic, for which you will need to pay later.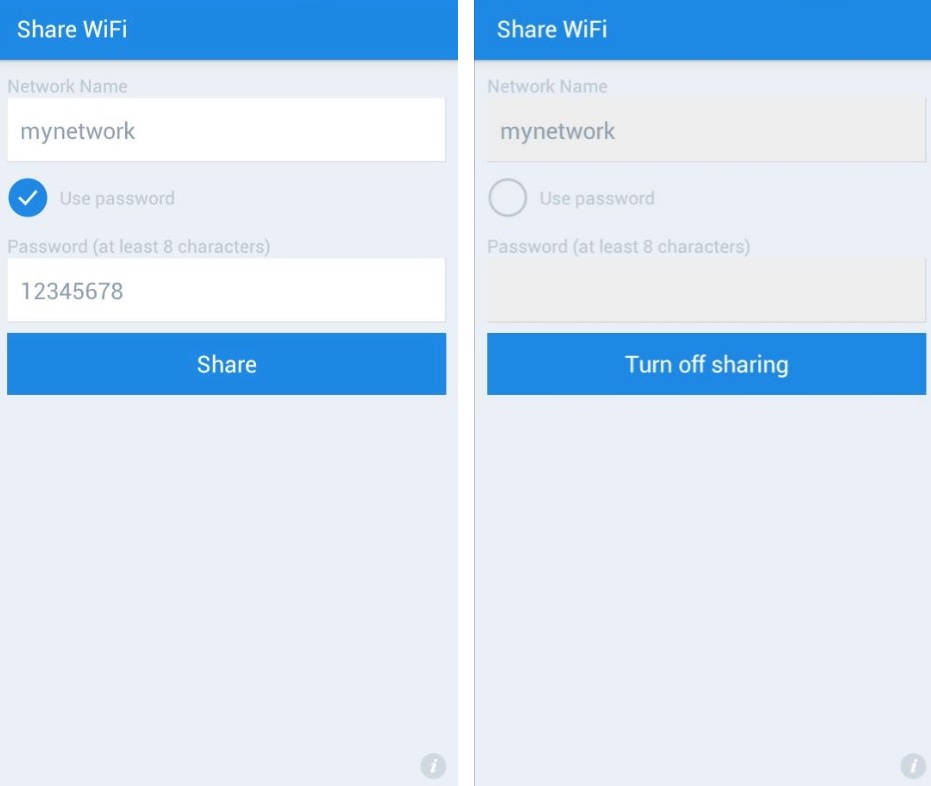 In order to extend your Wi-Fi connection, you can use the NetShare app. It allows you to create your own access point and use it to distribute your internet to other devices that require a connection.
The application also allows you to do this even without mobile Internet – not all hotspot apps can provide this functionality. With NetShare, you can bypass modem and access point locks to successfully share the Internet with other devices.
So how does this app work? NetShare invites you to connect to a fixed access point on your own, while additionally distributing traffic from it to other devices. Normally, modem mode blocks your current Wi-Fi connection, but this utility helps you bypass that blockage.
Your connection will be hidden and will not be detected by the router. Such a connection is necessary if you have forgotten your Wi-Fi password or if you have a friend who also wants to connect but doesn't know the password.
You can share such a connection with all the devices while being just a guide between them and the real access point.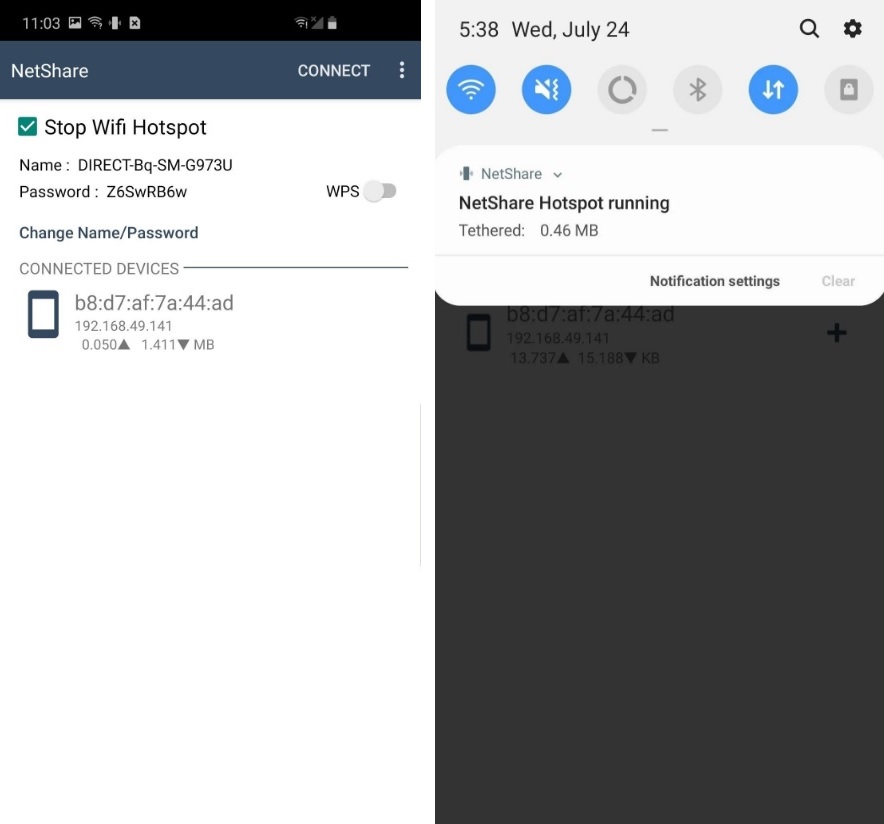 You may also like: 17 Free VPN apps for Android & iOS
Hotspot Shield Free VPN Proxy & Secure VPN
Still, it's worth noting that open Wi-Fi hotspots are not the most secure connection. There are many ways to steal your personal data, bank account information, and even just access your social media accounts through open networks.
The Hotspot Shield app will allow you to ensure your anonymity and privacy when connecting to public Wi-Fi, as well as protect all the actions you perform on your smartphone. At the same time, the connection speed does not change at all, and you will not even notice that the service is running on your device.
All the traffic that will be coming from you is encrypted, and you get access even to the content that is blocked in your country. So you'll be able to use all the social networks and messengers, the connection through which doesn't work without a VPN.
Hotspot Shield additionally hides your IP address and identity so that no intruder can find you via the internet. The app works in many countries around the world, and none of them store user data; everything you do online is immediately deleted and not left on the developers' servers.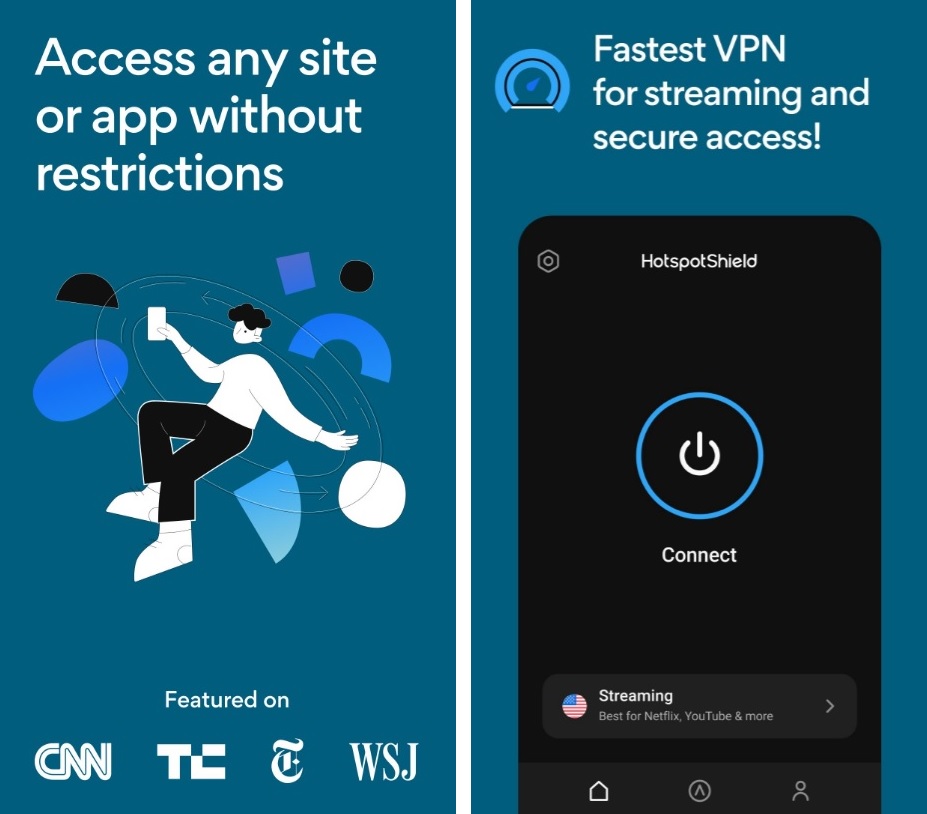 You can always access the network at the mall, at your favorite coffee shop, or in a hotel abroad. This will allow you to avoid paying huge mobile Internet bills and do many other things – for example, watch videos or download the files you need.
You can even use Hotspot technology to share the Internet with your friends by using your smartphone as a hotspot. If there aren't any places nearby with free connectivity, you can make your own improvised Wi-Fi hotspot.
Many people are not even aware of such features and functions, considering Hotspot something incomprehensible and complicated. We hope that we were able to help you in finding applications and parsing this topic.