Previously, the topic of second-hand clothing, accessories, and other goods was not particularly popular. However, now, due to the need and desire to preserve the environment and save money, this type of shopping is gaining more and more popular among all segments of the population.
In addition, online shopping remains a relevant way to buy different types of goods. In the article down below you will discover the online second-hand clothing apps where you can find everything you need. For more second-hand clothes you can also find using the garage sale apps.
Etsy
Etsy is one of the largest and most popular platforms for buying and selling all kinds of things, including clothes. In this app, new interesting categories of products regularly appear.
For example, there are handicrafts, vintage, and unusual items, as well as products that you can personalize for yourself and your loved ones. Also, users can easily buy second-hand clothes or sell items that are no longer needed.
To do this, in the search bar, you can find the category of second-hand things and continue searching for clothes there. The function of selling and buying second-hand items gives users the opportunity to join a community that helps the environment and other people.
For convenience, users can sort items by price, recent offers, or by customer reviews. A lot of useful features have also been added to the app. For example:
adding clothes to «favorites» to make it easier to find
personalized recommendations based on «favorites»
chat for communicating with sellers or buyers
notifications about new items
delivery tracking.
According to user reviews, many have had problems with customer support services. Users say that this feature does not work properly. One of the users said that Etsy support did not help to return the money for the item that was returned to the seller.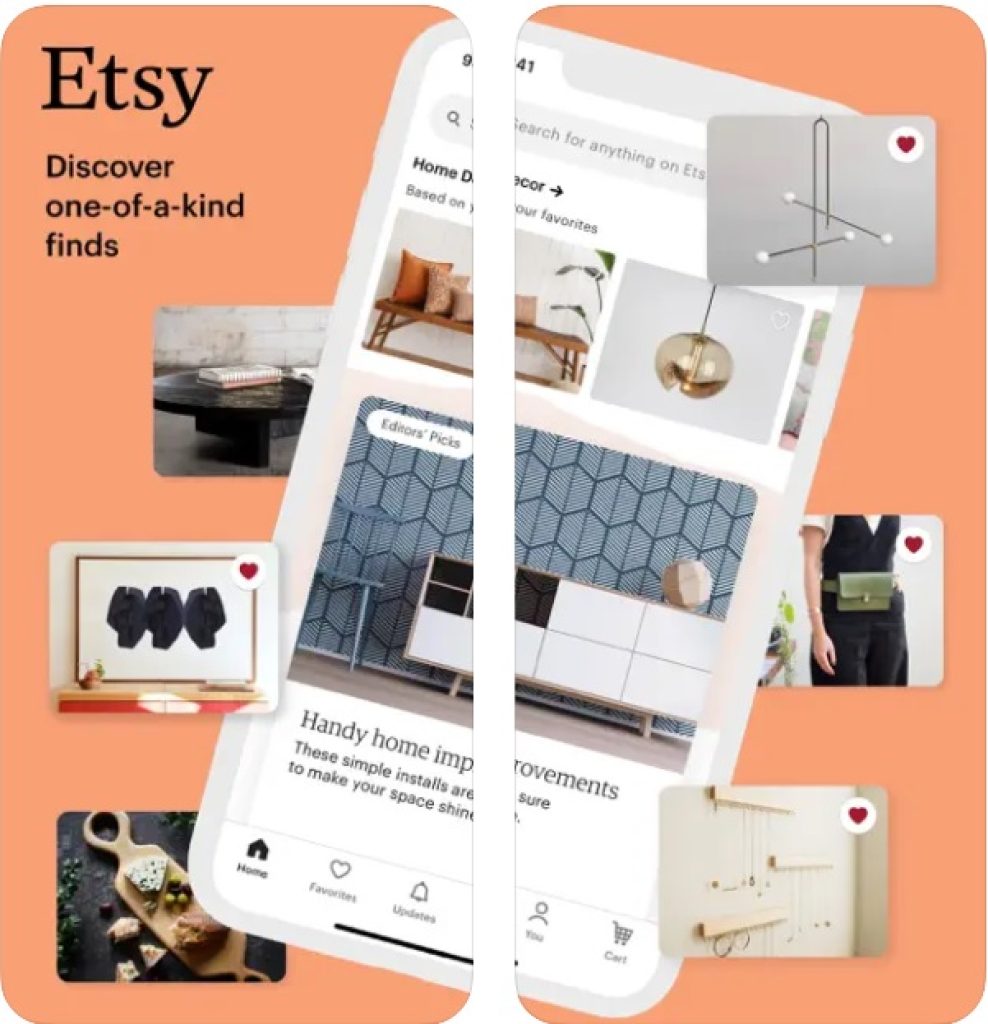 You may also like: 15 best apps to buy clothes on IOS & Android
Poshmark
Poshmark is a social network and a platform for selling second hand clothes to people of all ages and sizes. Here users will be able to find things that have been carefully treated and buy them at relatively good prices.
Users will be able to buy clothes from luxury brands at a really good discount, sometimes reaching almost seventy percent. Also, some of the things that are sold here have not been used at all, but they are still sold at a discount and you can make a good deal.
Here you can find things from brands such as:
Nike
MAC Cosmetics
Louis Vuitton
Michael Kors, and many others.
Over 70 million users in the US and Canada are already using this app and selling things they don't need anymore. Moreover, in this app there is an opportunity to see already prepared outfits and buy them.
The functions of the app allow you to quickly take a picture of the item you want to sell and upload it to the app. All this can be easily done from your phone.
According to user reviews, this is definitely one of the most convenient apps in this category. The Poshmark app makes it easy for its users, who are selling items there, to work from home in retail.
People can easily attract buyers to their products. New users and buyers appear every day. That is why any product is sold really quickly. For buyers, this is also a quite convenient app, because the choice of clothes at affordable prices is large.
However, there were some small comments about the functionality of the app. Some users have suggested adjusting the clothing categories so that you can select more than one category at a time.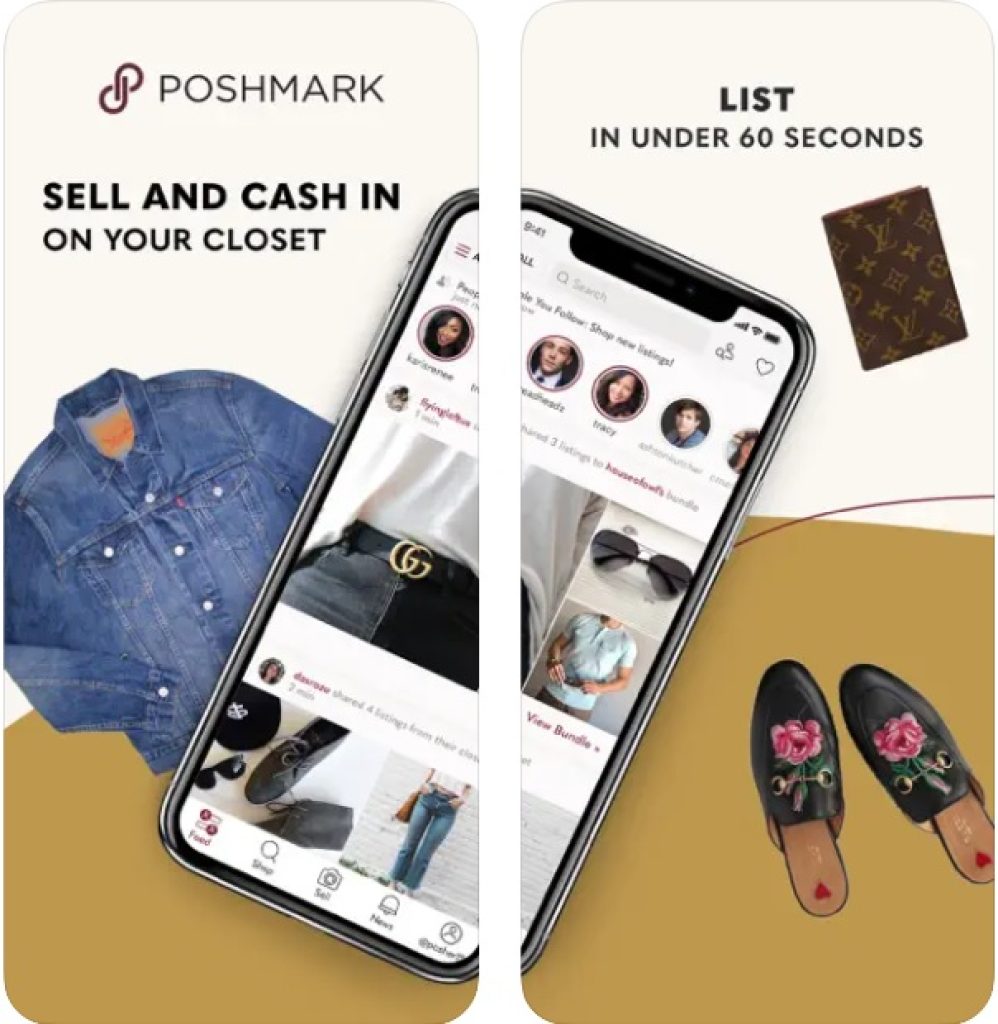 You may also like: Best plus size clothing apps
Grailed
Often the second hand clothing presented both in online and offline thrift shops is women's clothing. The menswear segment is often much smaller than the womenswear segment. Therefore, the app and the Grailed platform itself specialize only in men's clothing, shoes, and accessories.
This means that shoppers can see a much larger selection of men's second-hand clothing than on other apps. One of the features of this app that you should know is that the prices here are slightly higher than in other second-hand stores. The prices are higher because the app specializes in luxury and trendy clothes.
As for the app interface, it is quite simple, straightforward, and user-friendly. However, it is worth mentioning that, like on any other platform, there are also scammers here.
Therefore, users should be careful, especially with sellers who sell luxury goods. Another small disadvantage of this app is that all transactions are carried out only through PayPal. In this app, users can access a variety of brands, such as:
Burberry
Gucci
Saint Laurent
Dior
Prada
Louis Vuitton, and many others.
Another convenience of this app is that users can adjust everything for themselves. Right in the app, you can save your size and from that moment on, products only with the size of the user will be displayed.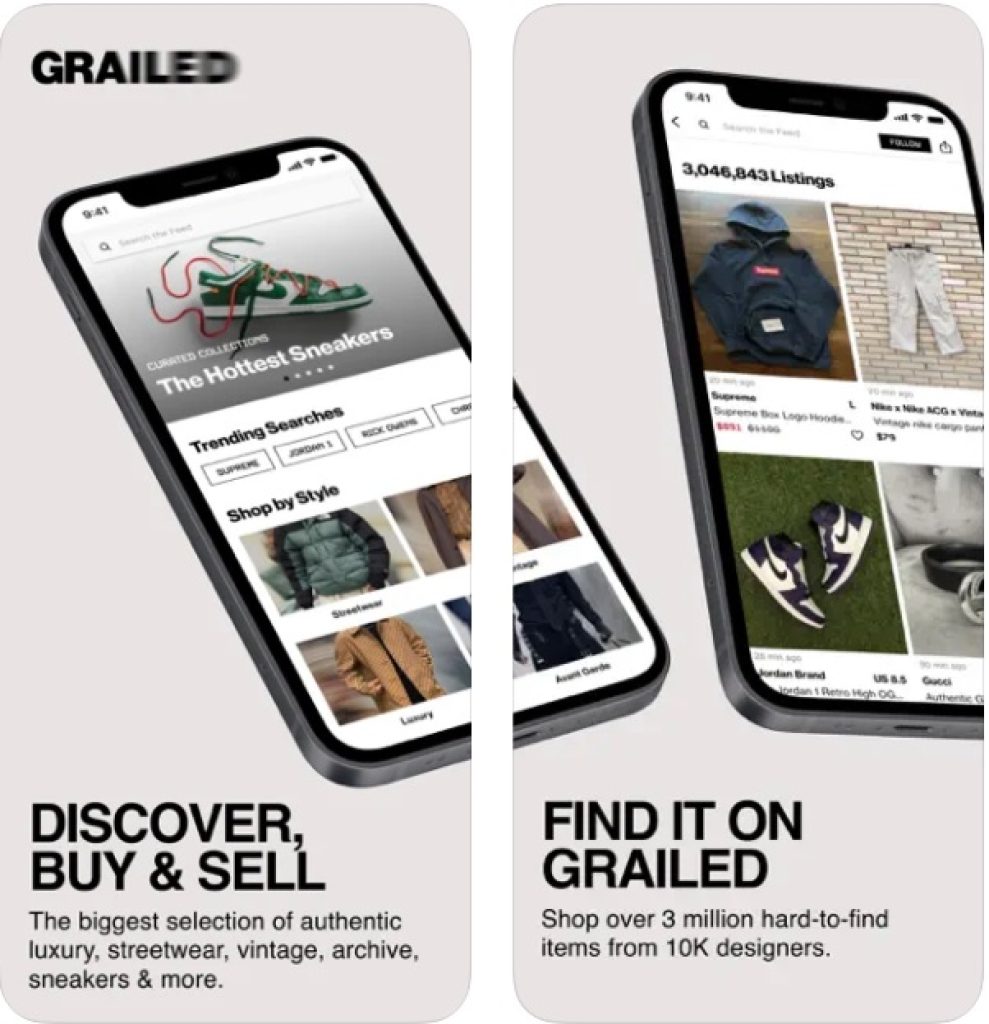 EBay
Ebay is one of the largest platforms for buying and selling unique goods. Now this platform has an app. It combines various functions necessary for comfortable and budget shopping. There are such functions as:
search
bidding with sellers
comparing prices
In the eBay mobile app, users can find unique products and bargain with the seller for a better price. Also in this app there is a barcode scanner. What is quite important, after the purchase, users can track their orders until they are delivered.
According to user reviews, the app is really convenient. It is no worse than the main site of the Ebay platform. However, users had a few comments and points that could be improved in this app.
For example, some users really want the app to have a feature that makes it possible to search for a product by photo. As for those users who do not buy, but sell their goods, they also had a few comments.
For example, it is quite inconvenient to edit the description or price of a product through this app from a mobile phone.
To do this, it is more convenient to use a computer and the Ebay website. It is also quite important to note that not all products that are actually sold on Ebay are visible in the app; you have to check the site.


Mercari
Mercari is a platform and app that aims to make exchanging various items from clothes to kitchenware much easier for its users. Therefore, the app strives to include as many features as possible to provide maximum convenience for both sellers and buyers.
These features include:
at-home pickups
same-day delivery
a list of items users will love.
With this app, it is convenient for sellers to list their items for sale and thus work from home. With Mercari, almost all goods can be delivered without leaving your home. The sold goods will simply be picked up by the driver and taken to the buyer.
For buyers, there is more variety of brands in this app.
There are brands such as:
Nike
Apple
Nintendo
Rae Dunn
Funko, and many more.
There are also luxury goods here. When users purchase something, the app automatically asks the seller to deliver the goods within three business days.
According to user reviews, many of them are satisfied with the trading platform itself. Every problem that may arise is solved quickly and efficiently. However, there is a need to improve the app, because it freezes quite often. Compared to Ebay, you can find items here for a much cheaper price.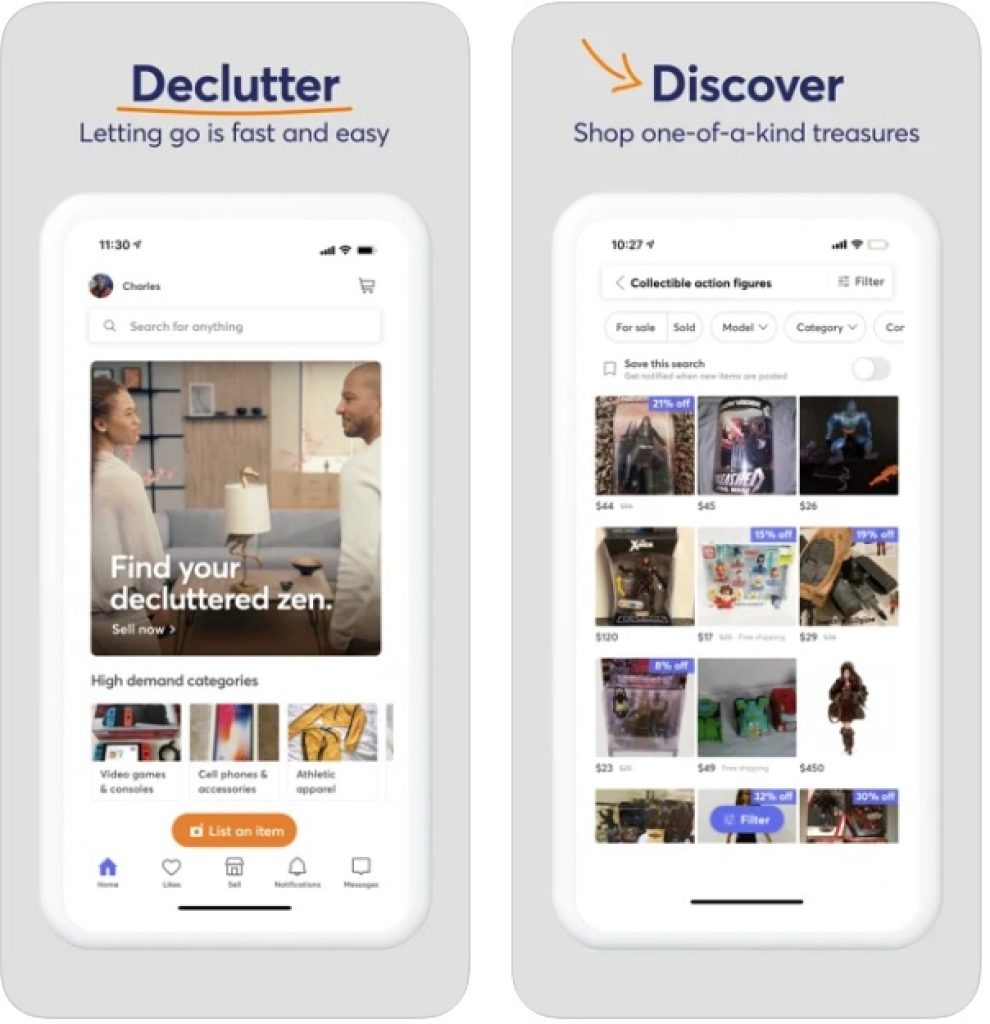 You may also like: 11 Best expense tracker apps for Android & iOS
Vinted
Vinted is a tool for making money, getting rid of unnecessary things, and finding something new at great prices. You don't have to do anything special to start selling. It is enough just to add a few things to the list for sale and wait for customers who will come quickly enough.
The very addition to the list for sale is really easy. All you need to do is:
take a picture of the item
upload a photo
add a price and a description of the item.
With quick and convenient notifications, the app allows users to always be aware if someone likes or wants to buy their item. The best feature of this app for sellers is the absence of fees on Vinted.
This means that you can keep all the profits from sales. As for the delivery, this app can track the location and status of the package at every stage.
For buyers, this app also has many beneficial features. Of course, users can find things from a variety of brands or those items that cannot be bought in a regular store at an affordable price.
For convenience, in the app, users can search for exactly what they need using filters, categories, sizes, prices, and more. As for shipping, users can choose the most convenient way. There are two such ways:
home delivery
delivery to a pick-up point.
According to user reviews, in this app, it is indeed possible to sell and buy things conveniently and without any risks. One of the users had a case when the package was lost, but in the end the Vinted app made a refund and the user did not lose anything.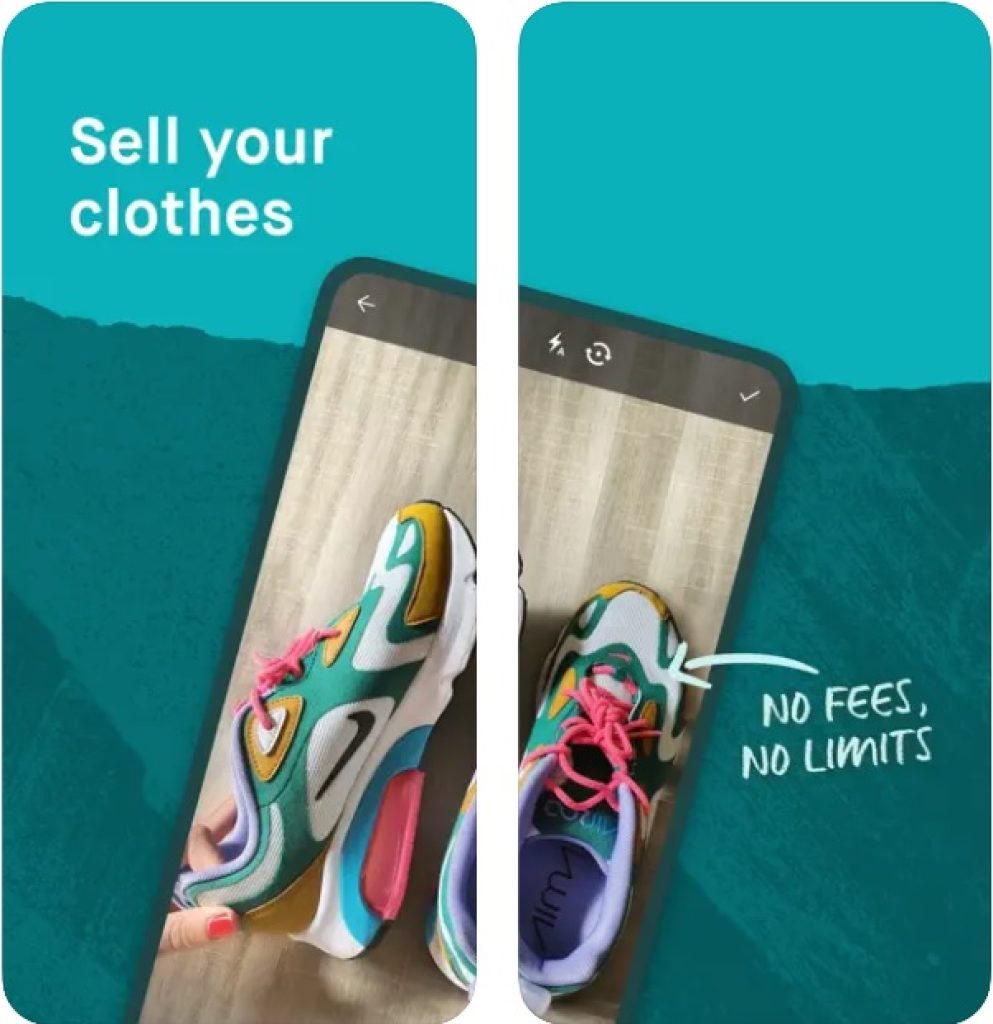 ThredUP
ThredUp is an app that mainly focuses on selling women's and children's items at low prices. In this app, users can find more than thirty five thousand clothing brands.
Users will be able to find brands from Gap to Gucci, depending on their needs. Clothing from some of these brands can generally be purchased at a ninety percent discount.
With this app, you don't have to worry about returns. It can be done for free. As for free shipping, users get it when their order price exceeds seventy-nine dollars. Users can pay for purchases using:
credit card
PayPal
Google Pay.
One of the unique features of this app is that users don't have to create their own lists of clothes to sell. Users can simply use the "Clean Out Kit" function. T
he user takes things for sale, sticks a label on them, and sends them to the Thredup warehouse. Already there, the company independently sells things to users and pays them money.
However, this feature also has its downsides. The company will take from twenty to as much as ninety percent of the profits from products sold by users. Also, Thredup may refuse to sell certain products at all.
Therefore, users will need to pay a fee to have things delivered back in case of refusal. Another big advantage of this app is that users can filter products by location to find the closest seller.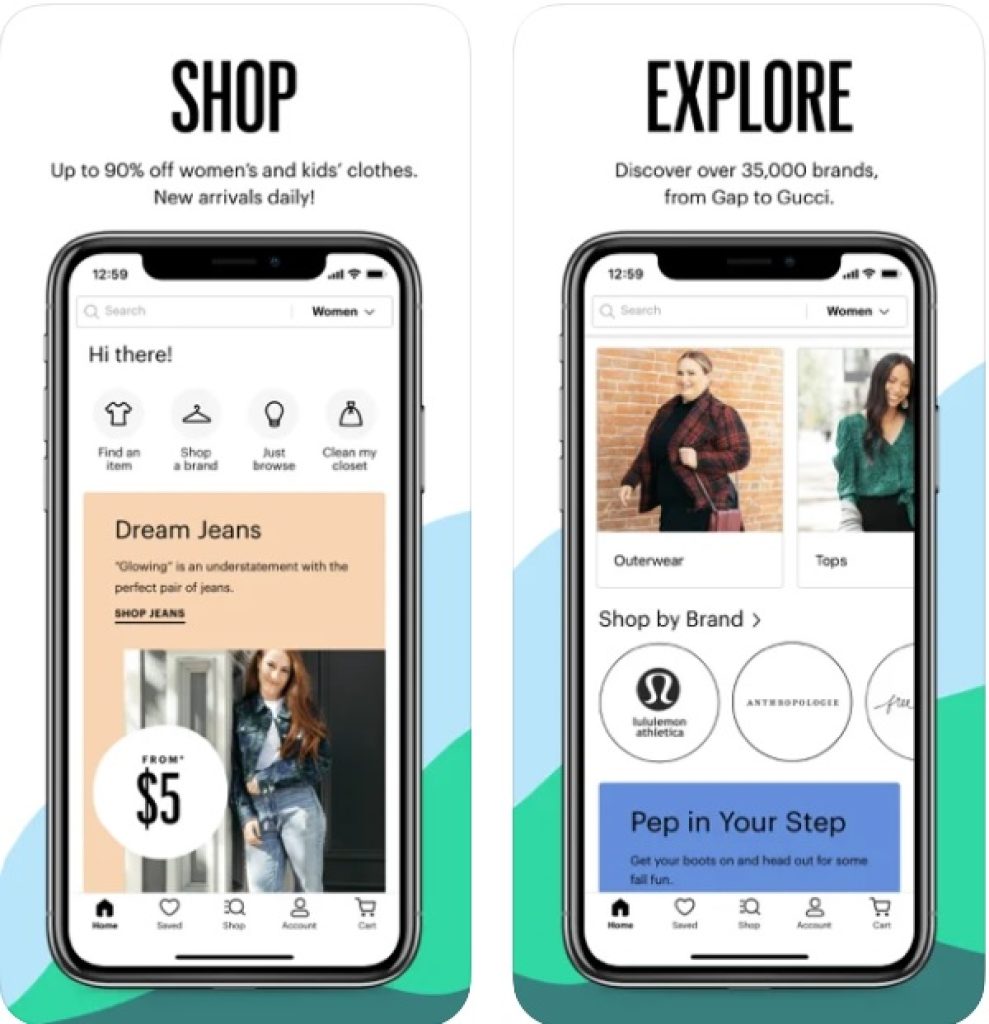 Depop
Depop is also a kind of social network that focuses on the sale and purchase of second hand items. In this app, you can follow your friends, influencers, and other people to see what they are buying and get inspired.
Scrolling through the marketplace will help users find new outfits for themselves and stay up to date with trends. In this app, users will be able to find things for every taste. There you can find both vintage items and already sold-out items that you can no longer find in stores.
In this app, it does not matter at all what the user's taste is, because for any demand there will be a seller, and for any offer there will be a buyer. All you need to do to start selling is to take a picture of the product, post a photo and write a short description.
And if you have any questions, then the app has a seller team that will help you figure it out. According to user reviews, if you are interested in vintage and second hand clothes, then this is one of the best apps for buying and selling such things.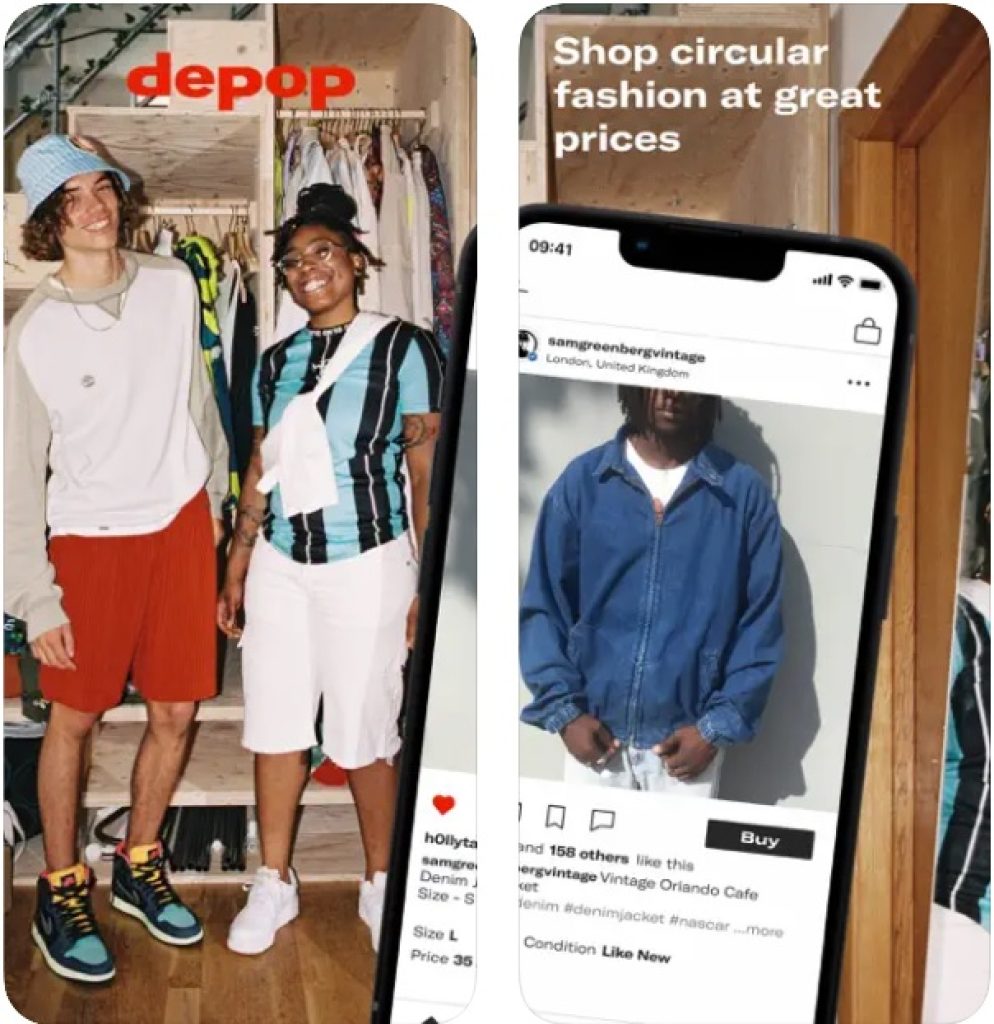 Shpock
This app allows users to both sell their items that are no longer needed, and buy something new at affordable prices. This app has many features to easily find the right product.
Here you can filter products by different characteristics. For example, here you can select:
product category
condition
price
release date
location, and much more.
Moreover, worldwide shipping is available in this app. Here, buyers can easily bargain with sellers to get goods at a better price. Thanks to the system in the app, users receive secure delivery and guarantees of successful payment.
You can chat with buyers or sellers securely right in the app. To improve the entire community of this app, users can rate deals and report problems to the app support team.
According to user reviews, this is a really cheap and reliable way to sell or buy any second-hand item. However, some users have had problems with the app.
For example, after some time it became impossible to take pictures of the product in the app. When you try to take a photo or upload it from the device, the app crashes.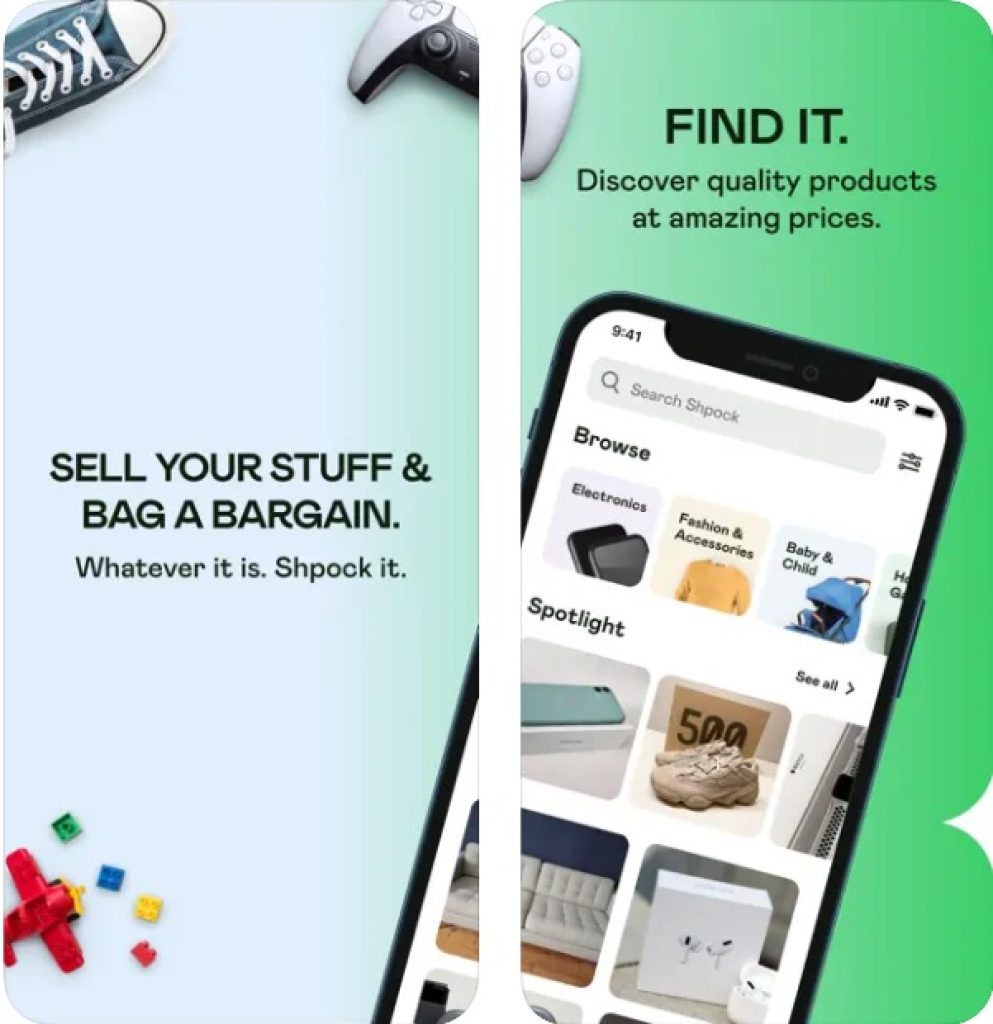 The RealReal
The RealReal is an app that mainly focuses on buying and selling second-hand luxury items. If you buy through this app, then you can get things at a discount of up to ninety percent. At the same time, sellers can receive up to seventy percent of the price for which they initially bought the goods.
What is also quite convenient is that international shipping is available in this app. There is also a return guarantee for such types of goods as:
apparel
shoes
jewelry
watches.
In this app, users can easily sort the items that they want to buy. According to user reviews, the customer service in this app is high quality and for all eight years of usage, the user has not had any problems.
However, there are also negative comments about this app. Many users say that the return process is not clearly explained, so it is difficult to understand it.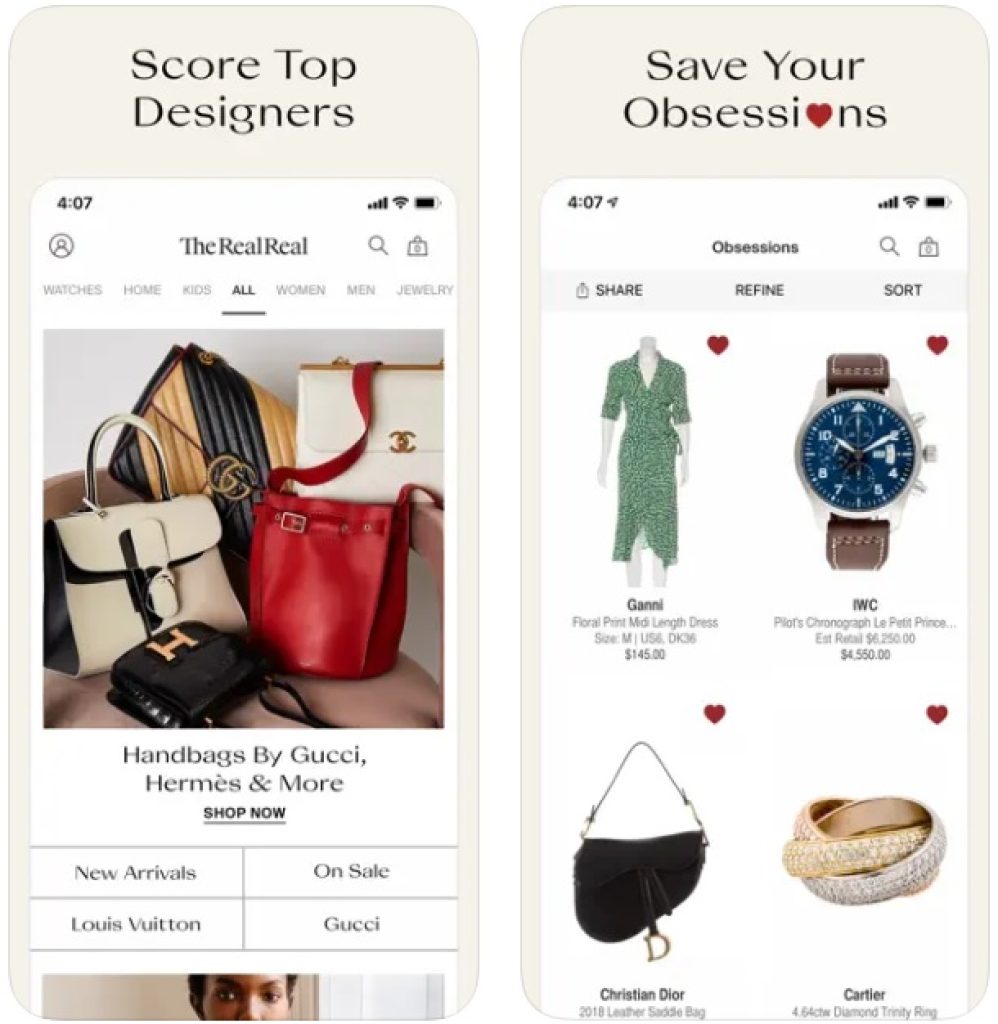 You may also like: 7 Best Design Apps to Customize Your Own T-shirts
Fashionphile
This app mainly focuses on selling and buying various accessories. Here you can find or put up for sale such items as:
bags
shoes
watches, and much more.
The things that are presented here are included in the luxury category. There are a lot of products here that are hard to find in stores. One of the great advantages of this app is that in order to buy or sell an item you need to go through a strict authentication process.
If suddenly the received product did not fit or turned out to be not what you expected, then you can easily and free of charge make a return.
However, there are also several disadvantages of this app. For example, many users write that the app takes a really long time to load and that it has glitches. Also, some users wrote that product photos are not loaded and they need to be zoomed in due to a glitch.
Many write that the app needs a major update, as many users cannot even register in the app and start buying or selling.