Wanna turn your video-watching into a passive income? Then keep reading this article!
You may not know these even exist, but we've made the list of the best apps that pay you to watch videos (2023). These apps let you gather cash by viewing ads, and vids, passing surveys, and more.
Thus, with little to no work, you'll get to collect points to exchange for $ or gift cards. Of course, you won't get to earn loads of cash, but a few $ here and there has never hurt anyone. Take a look!
Swagbucks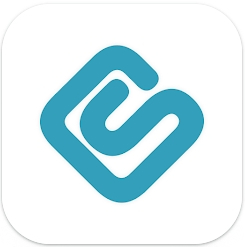 Let's start with a popular reward service that pays you to watch videos.
The app not only pays you to play clips. It also gives you bonuses for passing surveys. As for the clips, the app covers over 10 categories of clips for you to watch. There are such categories as entertainment, fashion, and food, and there are plenty of playlists for you to watch.
Each playlist has from 15 to 30 clips and the length may vary from 30 mins to an hour. Once you've finished the playlist, you'll get points that can be turned into cash or gift cards. The app also allots a $10 prize, which is nice.
The minimum cashout is only $1 here, so you can get your cash right away. You may also shop for the app's partner's products to get more points along with cashback. In case you're interested in gift cards, their app offers ones for Amazon, Walmart, and more.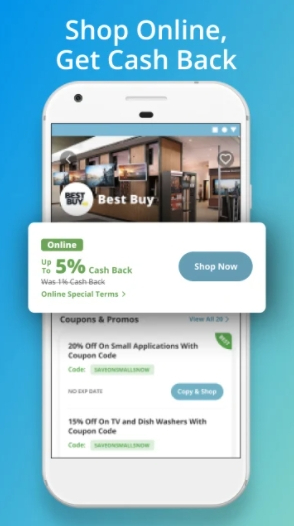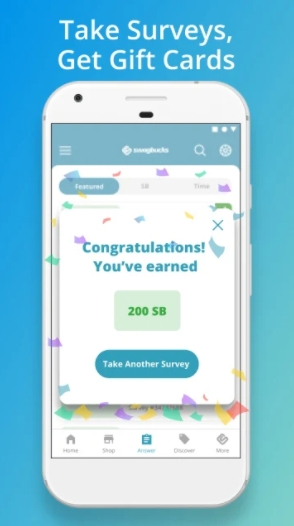 You may also like: 33 Free Mobile Games that Pay Real Money via PayPal
Caddle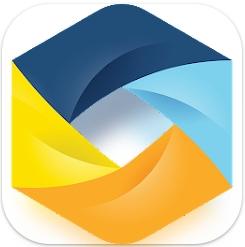 This app is quite similar to the previous one: it lets you gain points in multiple ways and exchange points for $ or prizes.
There are three ways to earn some coins in this app. You may rather answer questionnaires, play clips and upload recipes from the app's partners. Sounds pretty much like the previous app, right? Well, when you'll get done with the playlist offered by Swagbucks, make sure to check the ones from this app as well.
Both apps only let you watch a limited number of clips per day, so using a couple of them is a nice way to double your income. As you download the app, you'll need to go through a fast and simple registration, and you're ready to go.
As for the cashout, this app requires you to get over $20 to payout. You may rather get $ straight to your PayPal or exchange it for a gift card to your fave store. The app also covers a pack of special offers and coupons, so make sure to check it out before shopping.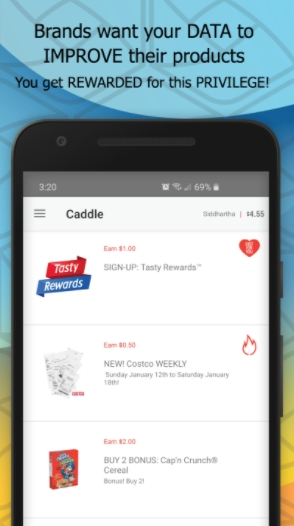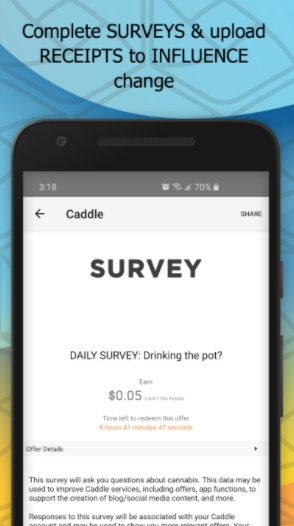 ClipClaps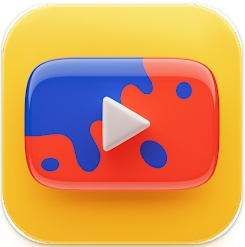 Next, there's a fast-growing GPT app that is worth trying.
If you already spend hours browsing through funny clips on YouTube (or whatever your platform of choice is) why not get paid for it as well? This app covers a wide lib of vids for any taste, and it will pay you to play them all.
The good thing is, the app doesn't feature full-length movies or smth, most vids are quite short. Thus, you'll get to earn a couple of $ on the go. Make sure to find some codes to get a welcome bonus, there are a bunch of these on the web.
Beyond that, new users usually get surprised chests for entering the community. These chests may contain gift cards, points, and more. And if you wanna raise your income from the app, feel free to ask all your pals to join (each referral friend brings you an extra $1).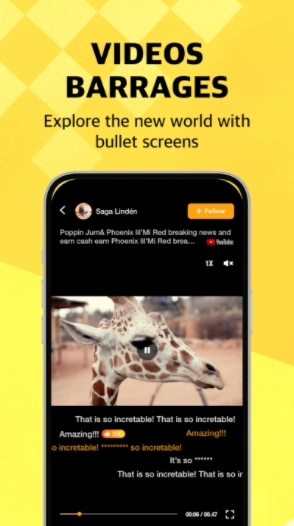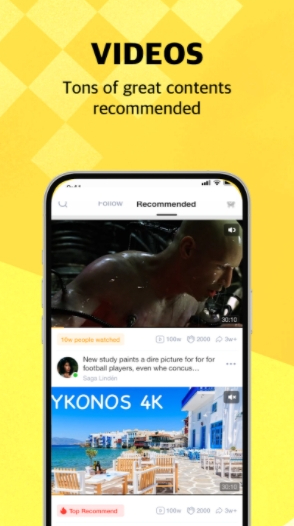 Cointiply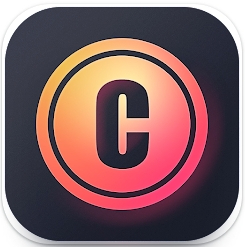 The concept of this app is a bit unusual, so if you're here to get instant (or almost instant) bucks, this is not the one.
Unlike other similar apps, this one doesn't let you cash out money. Instead, it lets you earn crypto. As for the mechanic, it's pretty much standard. You may rather pass queries, play mini-games, load vids, ads, and more.
Whatever you'll decide to do (and you can always do it all), you'll get in-app coins that can be turned into crypto. Of course, you'll need to make a crypto wallet before the payout, so keep that in mind. As for the payout, the minimum is pretty low: it's only $3.
The app works with several crypto types such as DOGE, DASH, Bitcoin, and more. All the vids featured by the app are short, so you can watch them on the go. The app also features loyalty bonuses that double your points or give you some for free.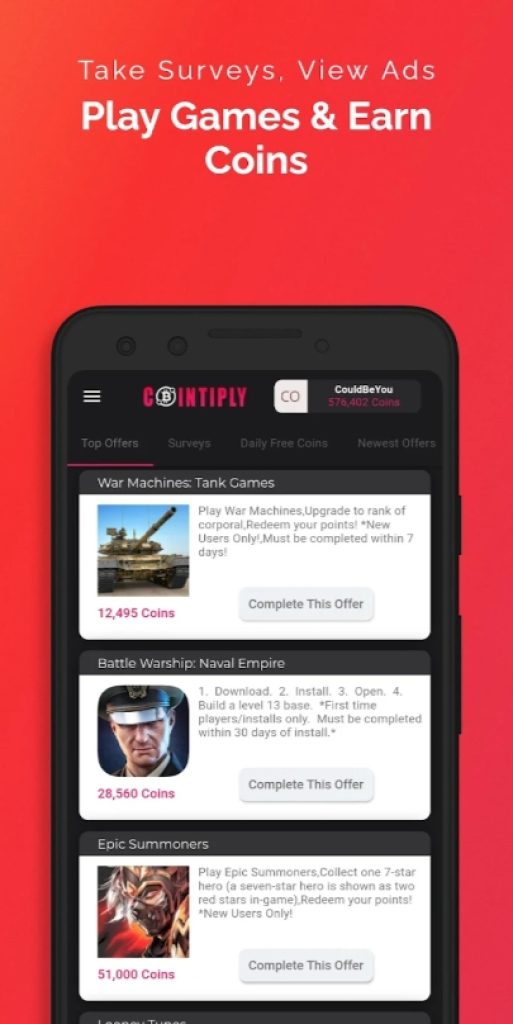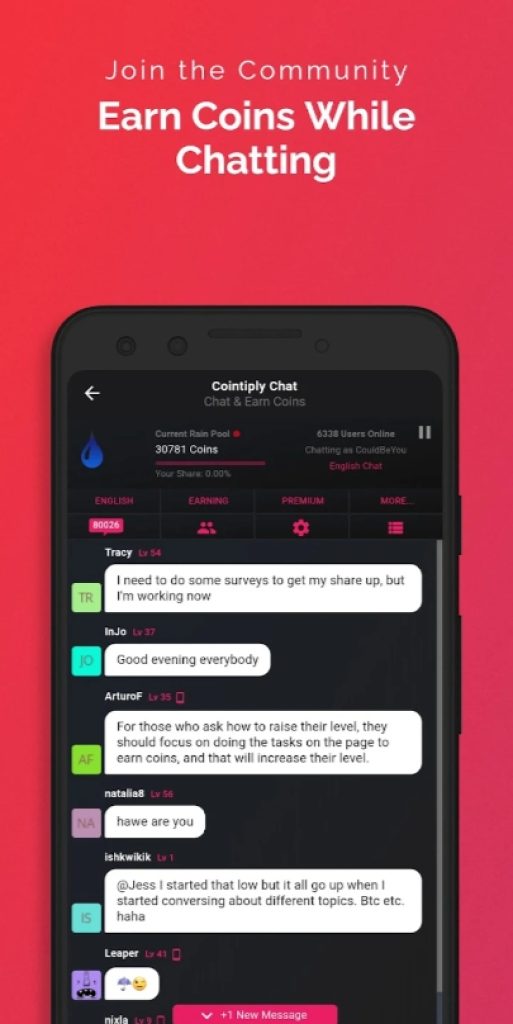 CashKarma Rewards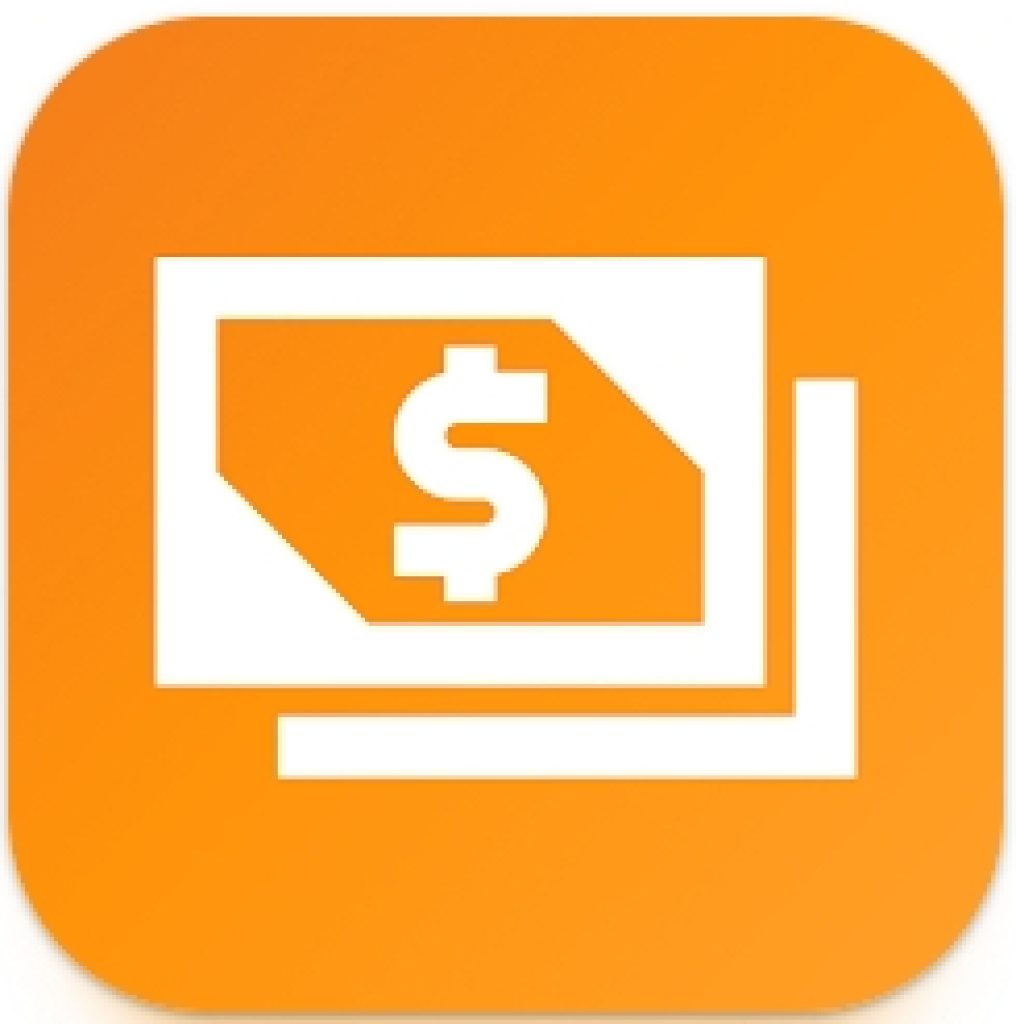 It's a GPT app that pays to load clips and do other stuff.
Aside from vids, you can also earn points by passing queries or completing various paid deals (like shopping and certain stores, buying specific products, and so on). You can also bring on your pals to earn a couple of extra $ if needed.
You get a limited number of vids to play and quizzes to take per day, and each one brings you points that can be traded on $ or gift cards. The app runs on a loyalty program, so you can increase your prizes with time.
You may also unlock various achievements to get boosters and extra bonuses. Once you've earned over $3, you'll be able to get the $ out on PayPal or get a gift card for multiple stores and platforms worldwide.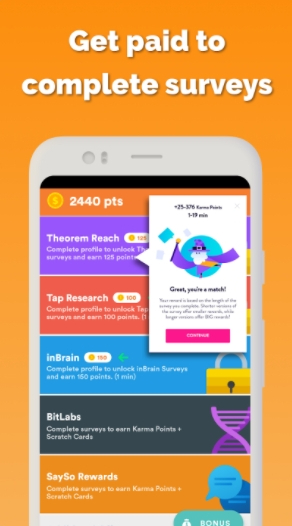 Check also: 15 Best Apps That Pay You To Walk
FeaturePoints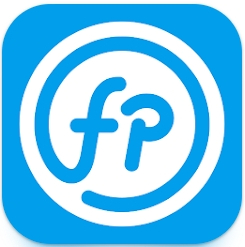 This app lets you gain $ for loading various clips..
Like most of the other apps on our list, this one doesn't limit you to just vids. It lets you gather points by answering questionaries, passing games, joining contests, and more. The app also covers a bunch of paid offers you may complete, and you'll get extra points for inviting your pals to join.
Plus, there's a full-on section of generous cashback offers to level up your shopping game. Rach vid or survey may bring you over $5, which is a lot in comparison with some similar apps. The cashout starts with only $5, so you can get your $ to earn pretty quickly.
Speaking of payout, you may rather get $ on PayPal, turn it into crypto, or exchange it on multiple gift cards. There are gift cards for a bunch of stores like Amazon, Google Play, and even Xbox shop. You may also win instant coin boosters if you get lucky, so make sure to check out the game section.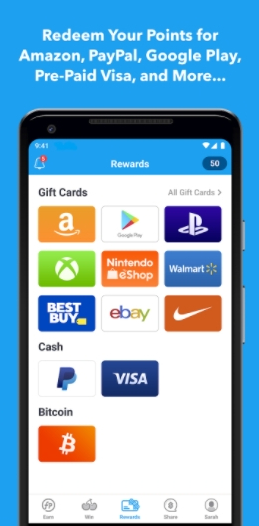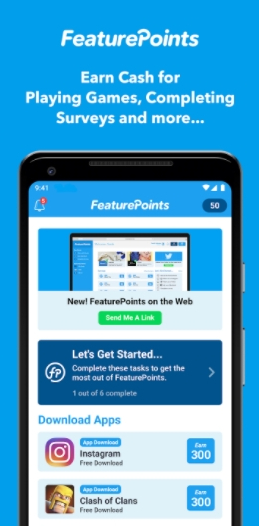 iRazoo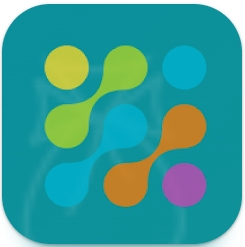 Here's a paid survey app that lets you earn $ for conveying your thoughts and playing vids.
Although the app offers a bunch of paid questionnaires for you to pass, the film lib is pretty big as well. There are plenty of entertaining vids and clips for you to load, and the TV section gets daily updates.
As for the type of content, the app covers multiple short films, trailers, movie reviews, and more. Plus, you can make extra $ by playing games, and the app also gives 100 points for simply signing up.
The app also has a web version, so you can easily access it from your laptop. Once you've collected a certain amount of points, you can cash it out on PayPal. This app doesn't offer any gift card trades, though, so keep that in mind.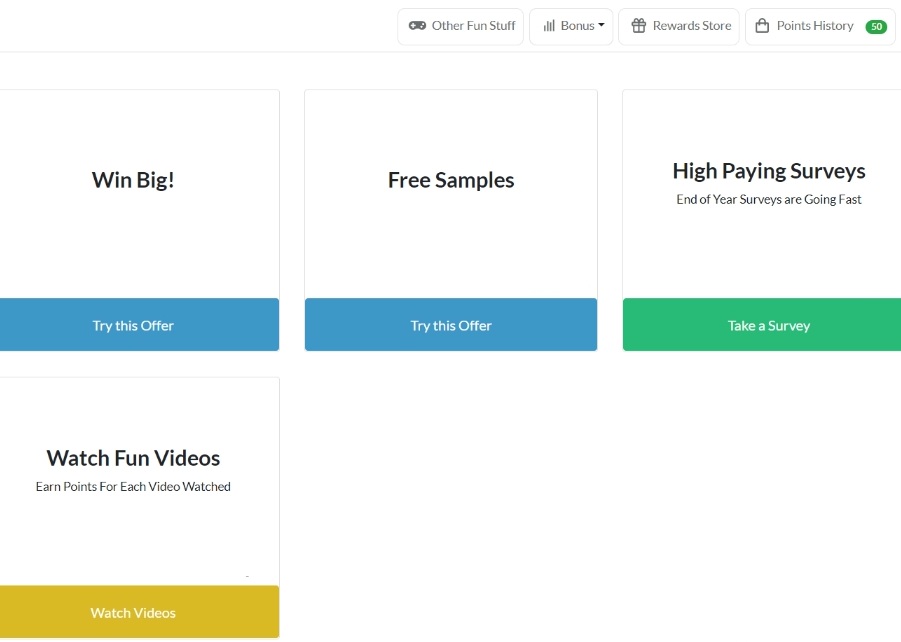 Freecash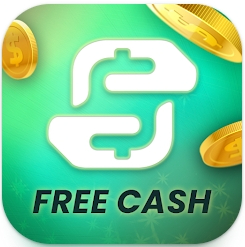 It's an app that pays you for doing everyday activities.
The concept of the app is pretty standard, but there's one thing that makes it stand out (and we'll get to that in a sec). So, the app lets you gain points by answering questionnaires, loading games, and of course, playing some vids.
The coolest thing is the payout: you only need $0.25 to get your bucks out! This may be the lowest threshold out of the out entire list. You'll also get 100 points as a welcome bonus right away. According to the stats, an average user may earn around $17 a day, which is impressive.
Aside from cash, you may also turn your points into gift cards or crypto. The app offers a spectrum of cards on Amazon, PlayStore, and much more. You'll also earn committees from all the friends you brought onto the app.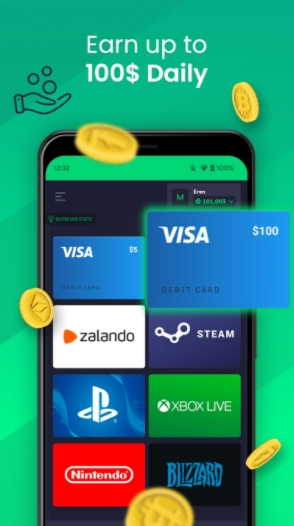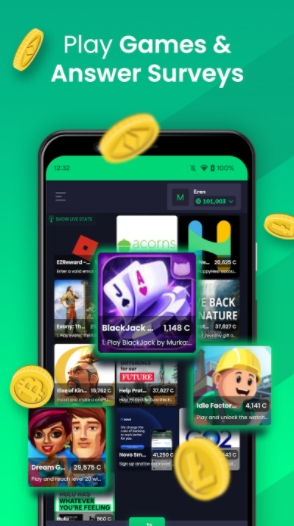 You may also check: 9 Best Apps That Pay You To Exercise
MyPoints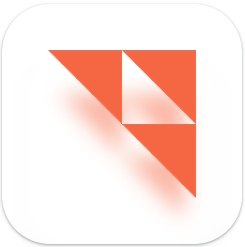 And lastly, there's an app that pays you for loading vids, answering queries, passing games, and more.
The app offers points for everyday stuff, and the number of points may vary from task to task. It covers a wide range of movies and short films you can watch to gather points. Herewith, the amount of points per day is limited to 500 for vids, so make sure to do surveys and games as well.
However, the vids aren't gathered in playlists, so you'll need to press a few buttonsswitchesch the next one. Plus, don't forget to invite your pals as you'll get a 10% commission from everything they earn through the app.
The app partners with hundreds of stores and online retailers, so you can bail your prizes for gift cards as well. There's also a pack of vouchers and affiliate links that help you save on shopping and earn even more points. You'll also get to earn cashback for shopping with partners, which is always pleasant.