Many people have an interesting feature – they talk in their sleep. Sometimes, such people are pointed out to this, and of course, they want to know exactly what was said.
To do this, some developers have created apps designed to record conversations in a dream. In this article, we have collected best sleep talk recorder apps.
And for those who wants not only sleep talk recording, but to improve the quality of their bedtime in general we prepared the article about the apps to help you sleep well.
Sleep Talk Recorder
This is one of the most famous apps for recording conversations during sleep. If you think that you are just making random sounds while you are sleeping, you can try recording them on a recorder.
Thus you will find out whether these are really ordinary random sounds, or your secretive thoughts that you are voicing while you are sleeping.
You do not need to turn on the voice recorder in this app for the whole night in order to squander all those hours that you slept in the morning and look for the right sounds. Just turn on the "ready" function, and then the app system itself will distinguish the sounds that come from you and start recording them.
The Sleep Talk Recorder system is equipped with a highly intelligent sound recognition system that is so highly sensitive that it can distinguish snoring or snuffling from words that a person utters in a dream. It is when the app's sensors recognize the words that recording begins.
This app is in the top 5 ranking of the highest paid apps in countries such as Turkey, the United Kingdom, as well as many European countries.
The reason for this success of the app is a unique set of functions that can distinguish not only certain sounds that a person makes in a dream, but also distinguish them from words in order to start recording. Also, the user interface is as friendly and concise as possible.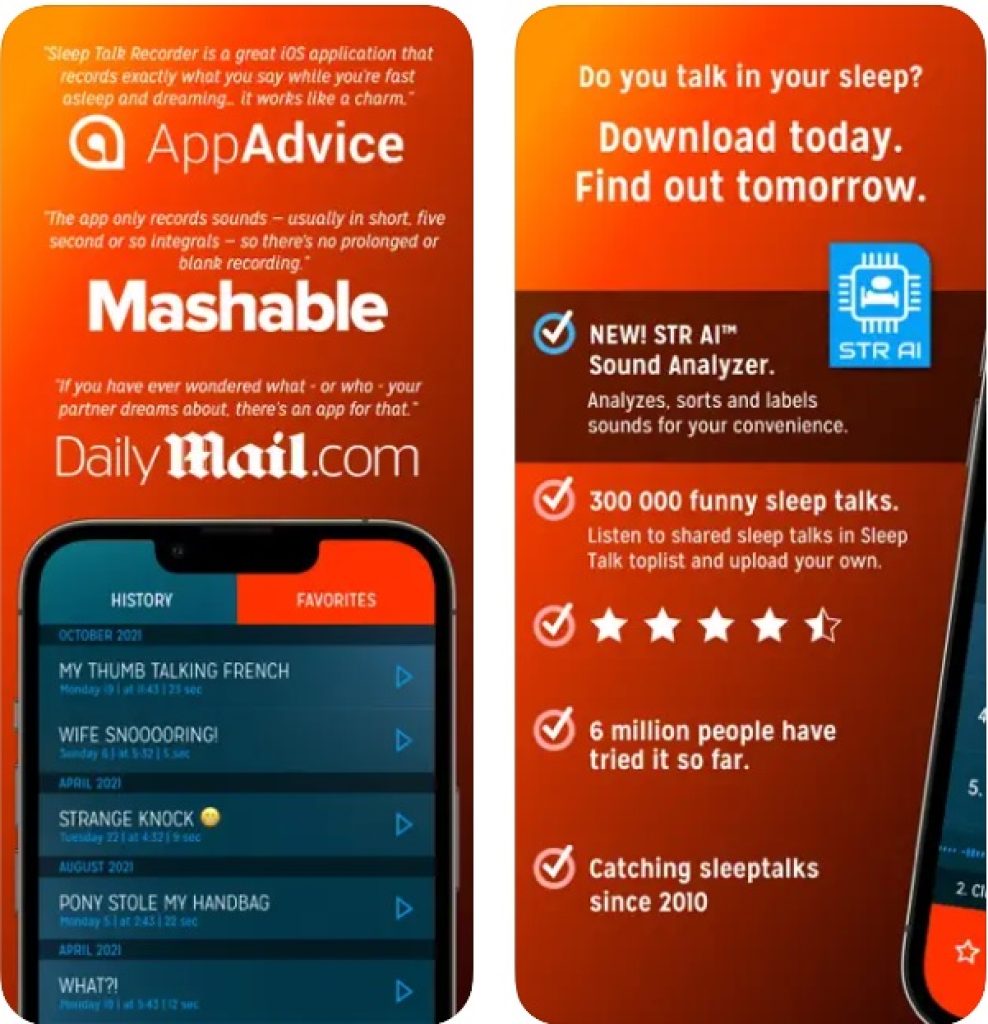 You may also like: 9 Free Sleep Cycle Apps for Android & iOS
Sleep Cycle
This app is designed to track phases, quality, as well as sleep mode through the patented Sleep Cycle technology. Here you can use numerous functions that will be able to analyze your sleep over a period of several days and then tell you what you need to do to improve your sleep.
The principle of operation of this app looks like this:
You will need to run the sleep "analysis" function
Next, when you fall asleep, the app system will record the sounds you make during sleep on the recorder, and also take into account the moments of your unplanned awakening
After that, the app will give you detailed statistics on your sleep and give recommendations on how to improve sleep in your situation.
The sleep analysis function works in such a way that the Sleep Cycle system marks all the moments when you unconsciously wake up, snore, or talk in your sleep. Based on this, the system can calculate the lightest phase of your sleep and wake you up during this period of time.
As you know, waking up in the light phase of sleep is the healthiest and most harmless, but many people do not know when exactly this phase comes to them personally. Sleep Cycle will help you find out.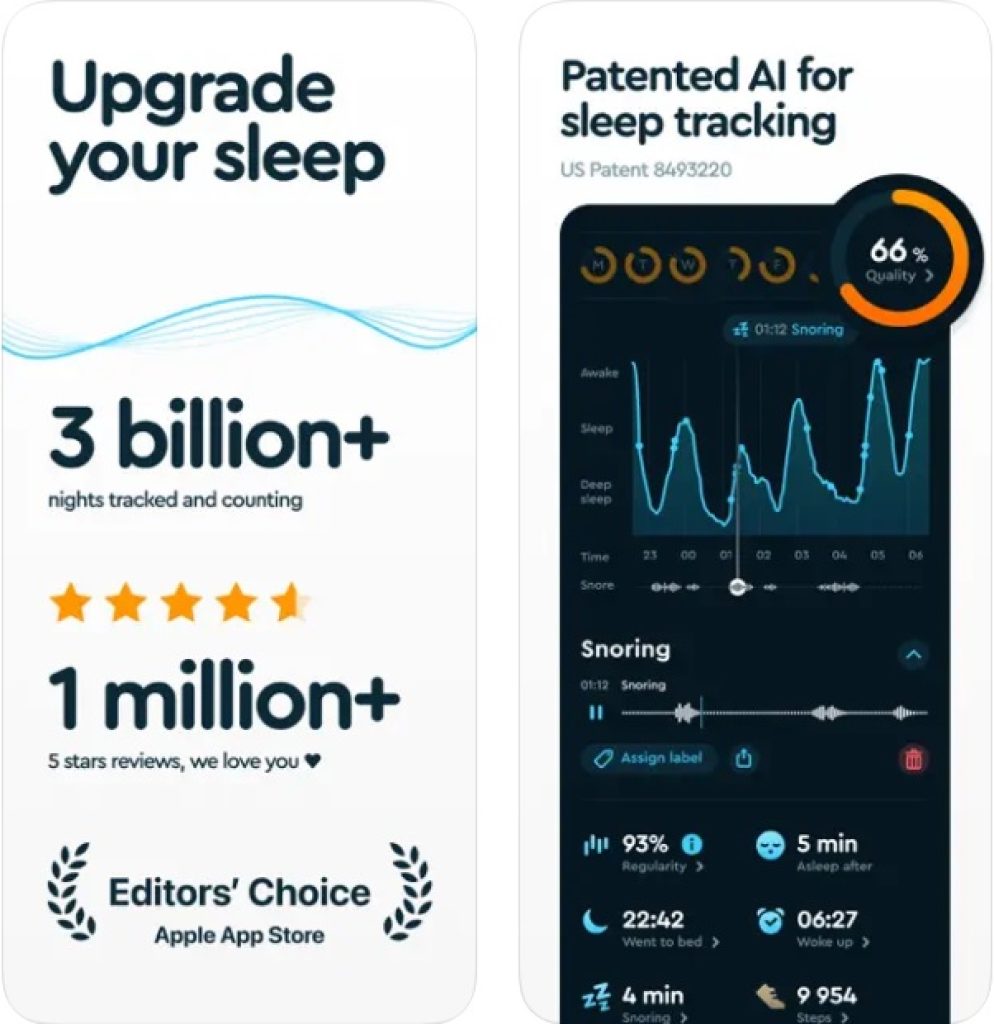 Prime Sleep Recorder
This is a unique app designed to track and analyze human snoring. Here users can get a detailed analysis of their snoring to determine whether they have anxiety, some chronic diseases that can manifest through snoring of a certain type (there are quite a lot of such diseases).
This app also contains the function of recognizing other sounds and the human voice. This exists in order to record what a person says during sleep, and when he wakes up unplanned.
Thus, users learn about their sleep mode and if it is unstable, they begin to correct it, since sleep is the only and most important rest for the brain and the body as a whole.
Recordings of each night will be stored in the app's library so that users can compare their sleep patterns at different time periods. You can share these recordings with users of other applications, as well as save them to files on your mobile device.
This app is widespread in countries on all continents, as users find the app system convenient and useful for restoring and controlling sleep patterns.
The recording of your sleep will not go on all night so that later you do not have to listen to recordings for 7-8 hours in search of the right moments.
It will be enough for you to start the analysis function and then you can put the phone next to you with the screen off, and the app system will start recording itself when it calculates any sounds that you will start making during sleep.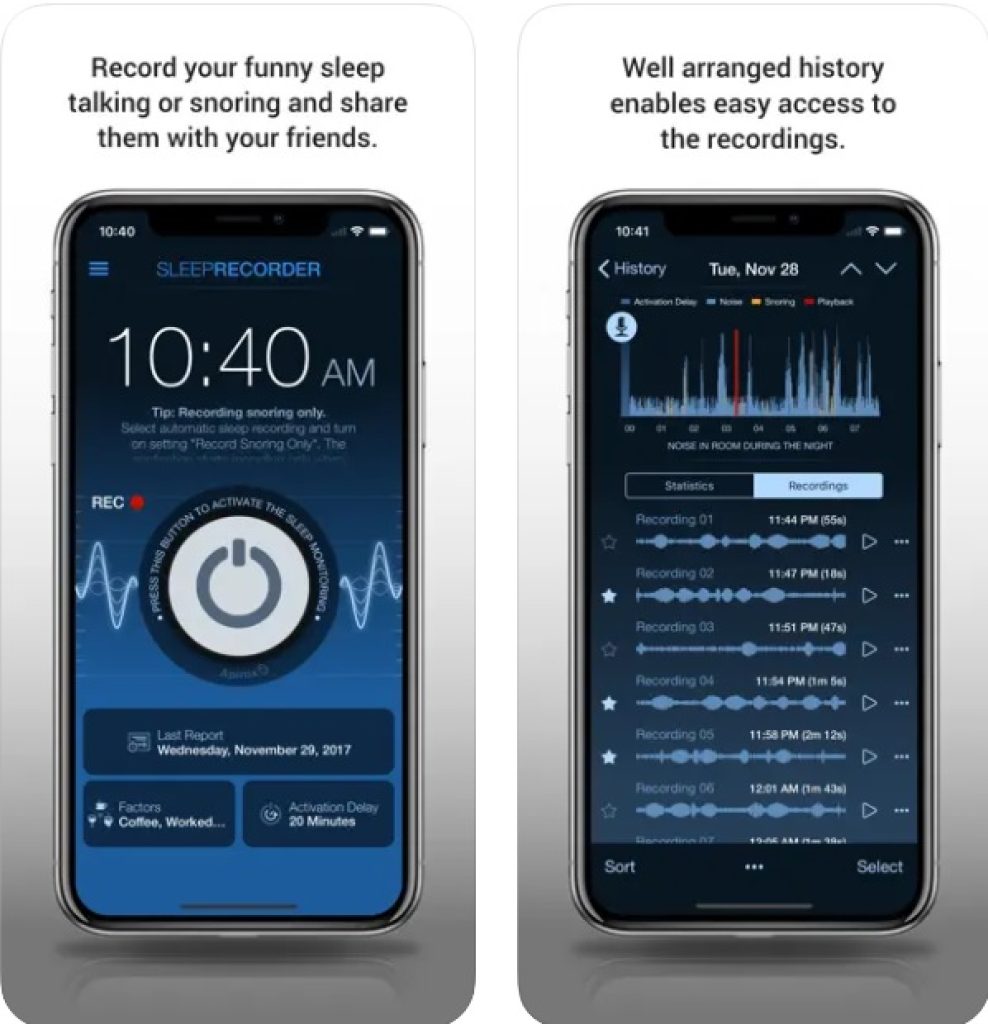 SnoreLab: Record Your Snoring
This app is a real laboratory for sleep analysis in electronic form on your mobile device. The SnoreLab system allows you to detect, record, and diagnose your sleep mode, as well as the sounds you make during sleep, such as snoring, conversations, individual words, and much more.
When you fall asleep, your body functions anyway, which means that it continues to give some signals in the form of snoring, some incomprehensible sounds, or certain words – such signs may indicate not only restless sleep, excessive coffee consumption, and everything else, as well as some disorders of the body.
SnoreLab not only records your sleep when you make different sounds but also diagnoses them. Diagnostics consists in automatically comparing your sleep records at different time periods, as well as creating specific recommendations to improve your sleep.
Also, the application system can make assumptions about the reasons for the violation of your sleep regime. These assumptions make users seriously think about their sleep and turn to specialists.
Your sleep recordings will be stored in the app library, from where you can download them to your mobile device, or share them with users of other apps. This function also serves for your self-analysis of sleep patterns in different time periods.
Thus, you can conduct some interesting experiments, for example, record your dream on a recorder when you drank coffee in the afternoon, and then not drink coffee for several days at all and make a new record to see by personal example how energy-containing drinks affect the quality of sleep.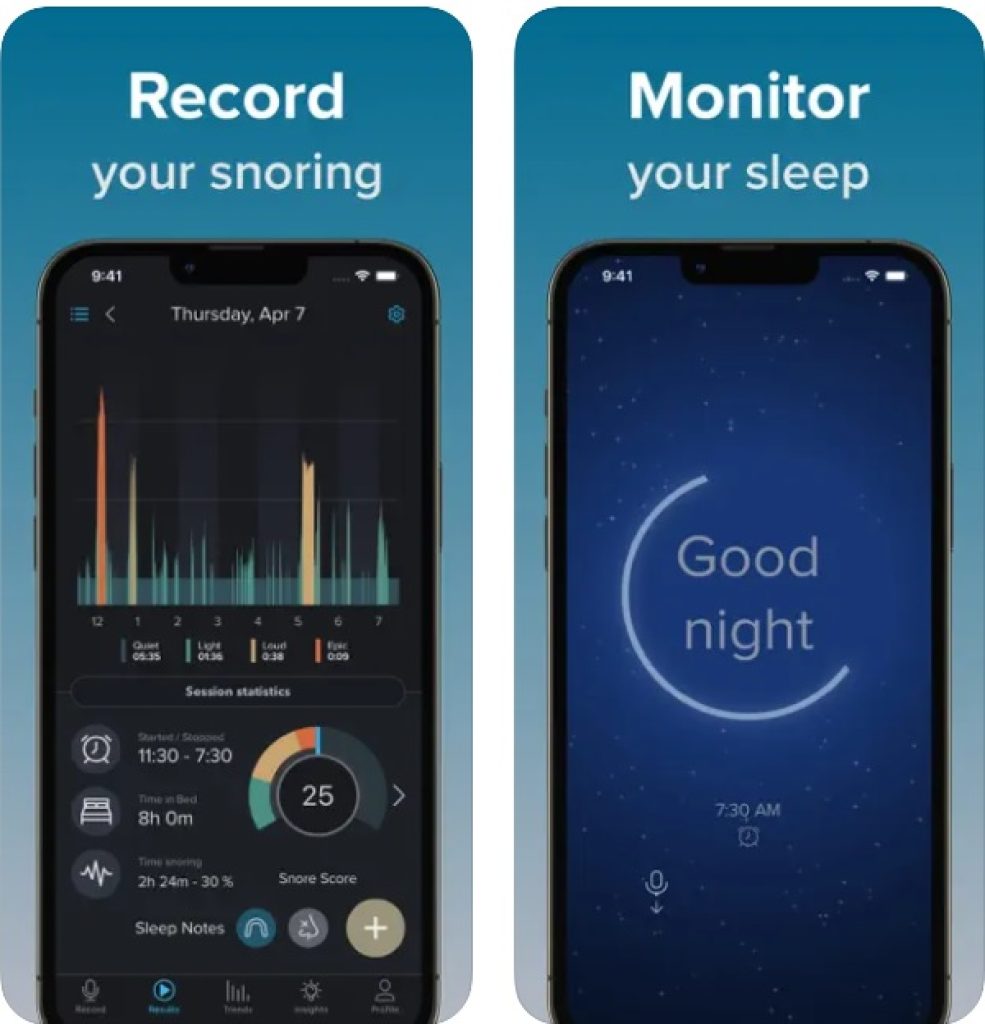 ShutEye: Sleep Tracker, Sounds
This app has a huge number of functions, starting with sleep diagnostics, and ending with its improvement. Here you can record your dream by finding out what you say in your sleep or what other sounds it makes.
Such diagnostics will help you to control and improve one of the most important components of human life – sleep because this is the only opportunity for the brain to rest.
In this app, you can run some auxiliary tools to improve your sleep. For example, there is a huge collection of soundtracks and melodies for sleep, which are designed for different purposes and create different atmospheres.
For example, you can try to fall asleep to meditation sounds, such as birdsong, sounds of the sea surf, forest, mountains, and much more.
In addition, the app system independently diagnoses your sleep recordings and selects the meditation recordings you need so that you fall asleep better. Also, here you can find some other recommendations based on the analysis of the sounds that you make in a dream.
Most often, these are standard recommendations such as drinking less coffee, ventilating the room in which you sleep, normalizing your diet, and much more. Also, this app will help you choose the right ringtones and sounds for your alarm clock.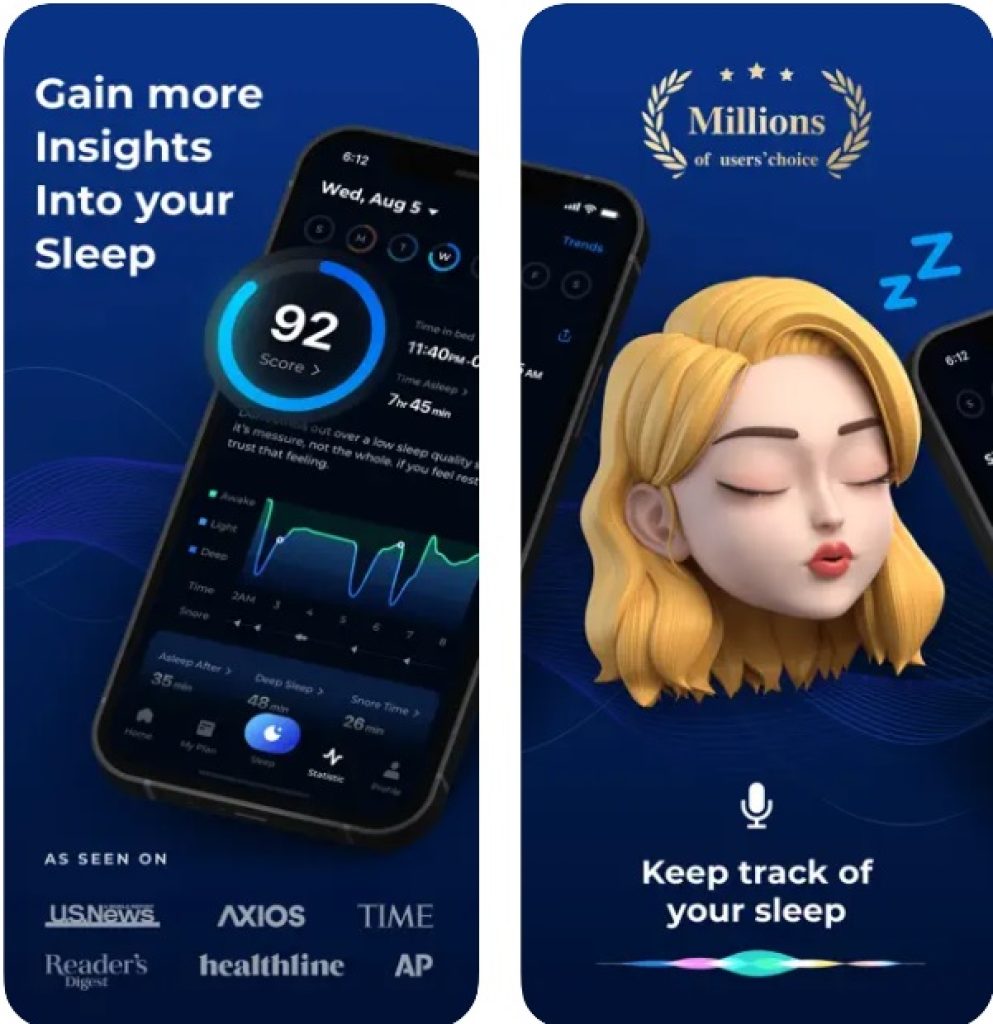 You may also like: 11 Best Sleep Tracking Apps for Android & iOS
Sleep Formula: Tracker & Alarm
This app is as multifunctional as possible. Here you can record your sleep, diagnose it, and then use some auxiliary tools to improve your sleep mode, such as meditation sounds, correct sleep melodies, as well as general tips for normalizing sleep.
In addition, in the Sleep Formula app, you can create your own personal sleep formula, which will include the mode, wake-up time, analysis of sleep phases, meditation selections in order to fall asleep faster, as well as the necessary melodies for waking up.
Here you can also learn how to fall asleep in a matter of minutes in any conditions and wake up refreshed always, without exceptions.
Not only IT specialists worked on the development of this app, but also a team of doctors who specialize in sleep mode.
That is why this app contains effective recommendations that help users around the world normalize sleep patterns and forget about problems with unhealthy sounds that are made unconsciously in a dream.
The recording of your sleep starts exactly at the moment when you start making certain sounds. This is convenient because you do not have to listen to a recording that is long during the entire period of your sleep to find the right moment.
The recordings will be stored in the app library, from where you can download them to your mobile device, or share them with users of other apps. Storing these records will also help you compare the tranquility of your sleep during different periods of time.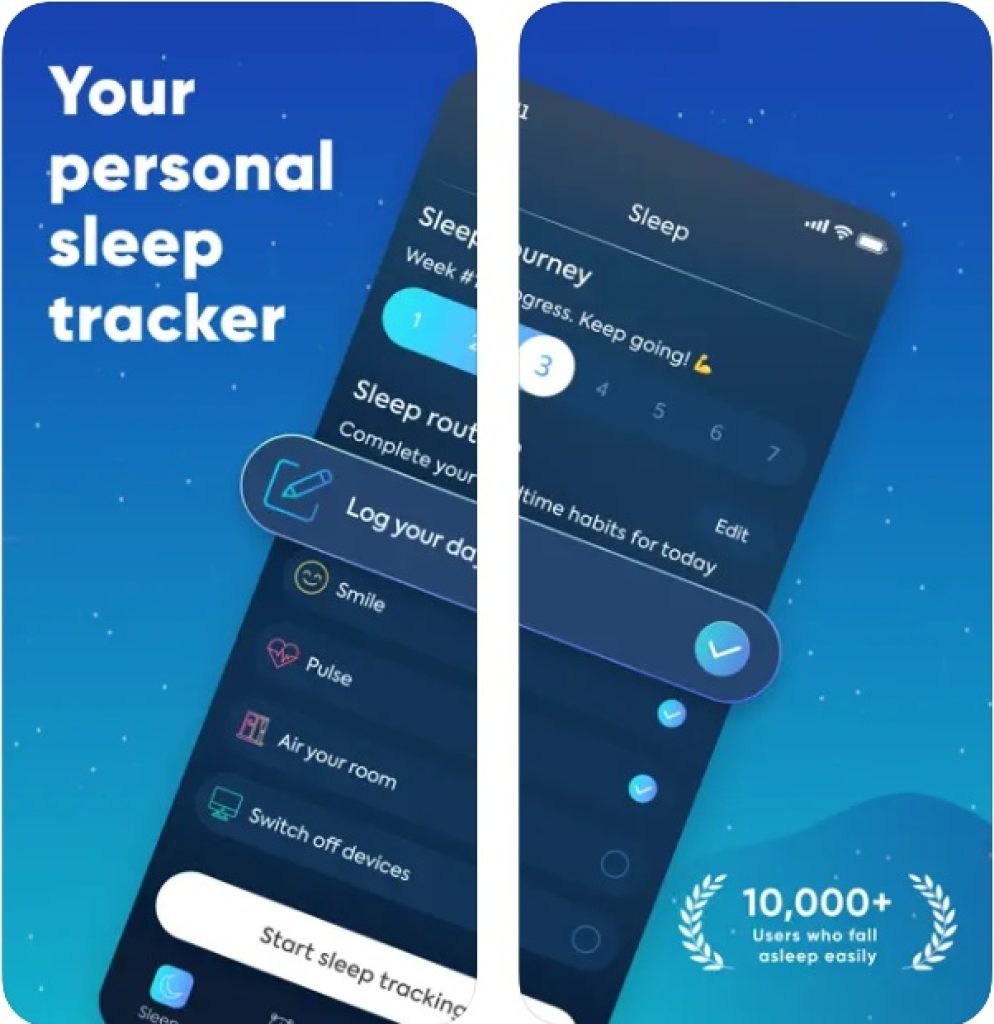 SnoreApp: Snoring& snore analysis & detection
This app is used to record your sleep on a voice recorder. The app system will record those moments when you make sounds in your sleep and will diagnose them.
At the end of this analysis, you will learn not only about the alleged causes of your snoring or talking in your sleep but also about possible chronic health problems, which may be indicated by certain sounds during sleep.
The saved recordings of your sleep will be stored exclusively on your mobile device. If you wish, of course, you can share these recordings with users of other apps.
Also, SnoreApp is convenient because it consumes little energy since it works with the screen off and does not imply additional connections to all the functions of the app.
Among other things, this app is able to fully analyze your sleep cycle. This includes different sleep phases (in which you will be recommended to wake up), sleep mode, optimal sleep time, and much more.
Moreover, here you can find all sorts of selections with meditative sounds that will help you fall asleep faster. For a more pleasant awakening, the app system will offer you a selection of different ringtones and ringtones for the alarm clock.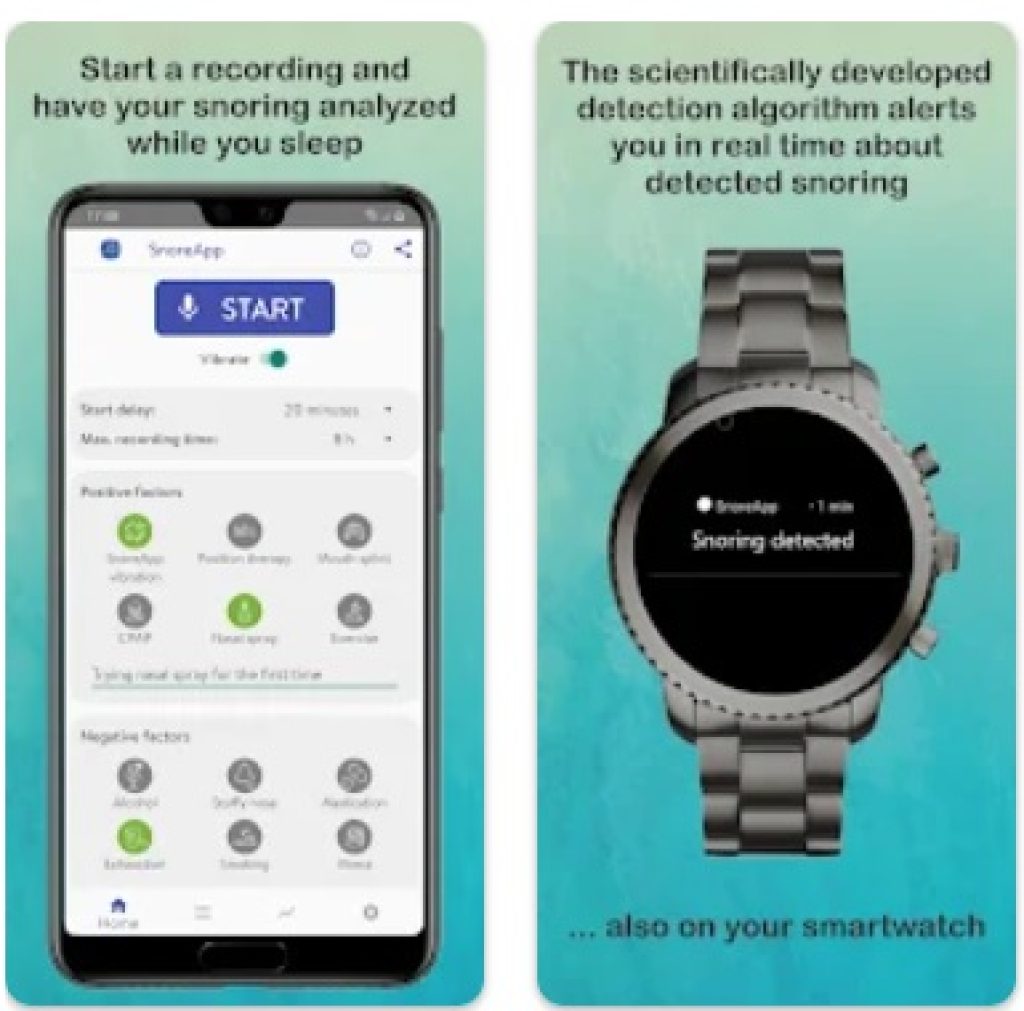 PrimeNap: Free Sleep Tracker
The developers of this app claim that it is this system that will help users diagnose and improve their sleep patterns. There are a huge number of tools that will contribute to this.
When you go to bed, start the sleep analysis function and turn off the phone. The developers recommend enabling the "moon" or "airplane mode" on your mobile device so that other extraneous sounds or notifications from other apps do not interfere with diagnosing your sleep.
After waking up, you will be able to get a detailed analysis of the sleep mode.
In sleep analysis, you will be able to get acquainted with very important information – sleep cycles and phases.
These things are important because every person needs to know when the easiest phase of sleep comes in order to wake up at this time because then the awakening will be as easy as possible and you will be extremely well-rested.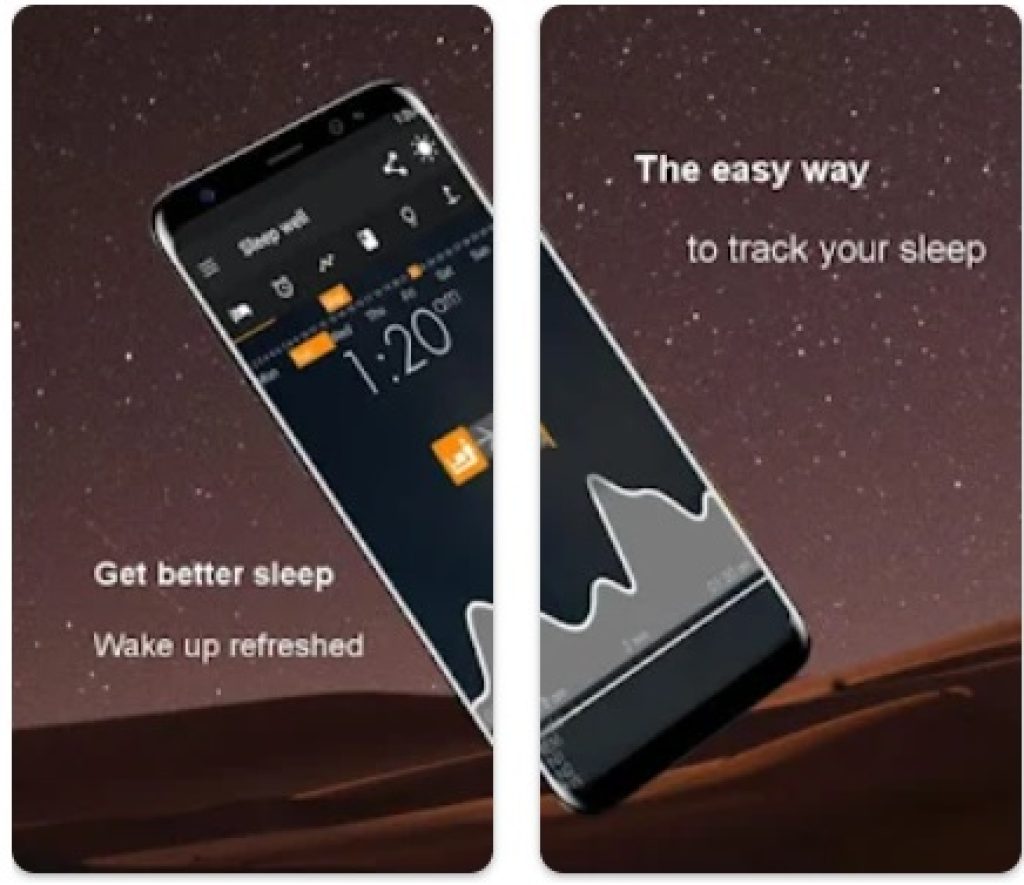 Mintal Tracker: Sleep Recorder
This app has an extremely sensitive voice recorder function that allows you to record your sleep during the moments when you start making various uncontrolled sounds in your sleep.
Few people know that the sounds you make in your sleep unconsciously may indicate some chronic health problems, as well as some psychological problems of a person, because during sleep the brain is resting, and the body continues to function.
That is why it will be useful to record your dream on a voice recorder to find out if you are sleeping or feeling calm.
In addition, each user will be able to compare his son's records at different time periods to find out how different substances like coffee or any medications or events affect the quality of sleep.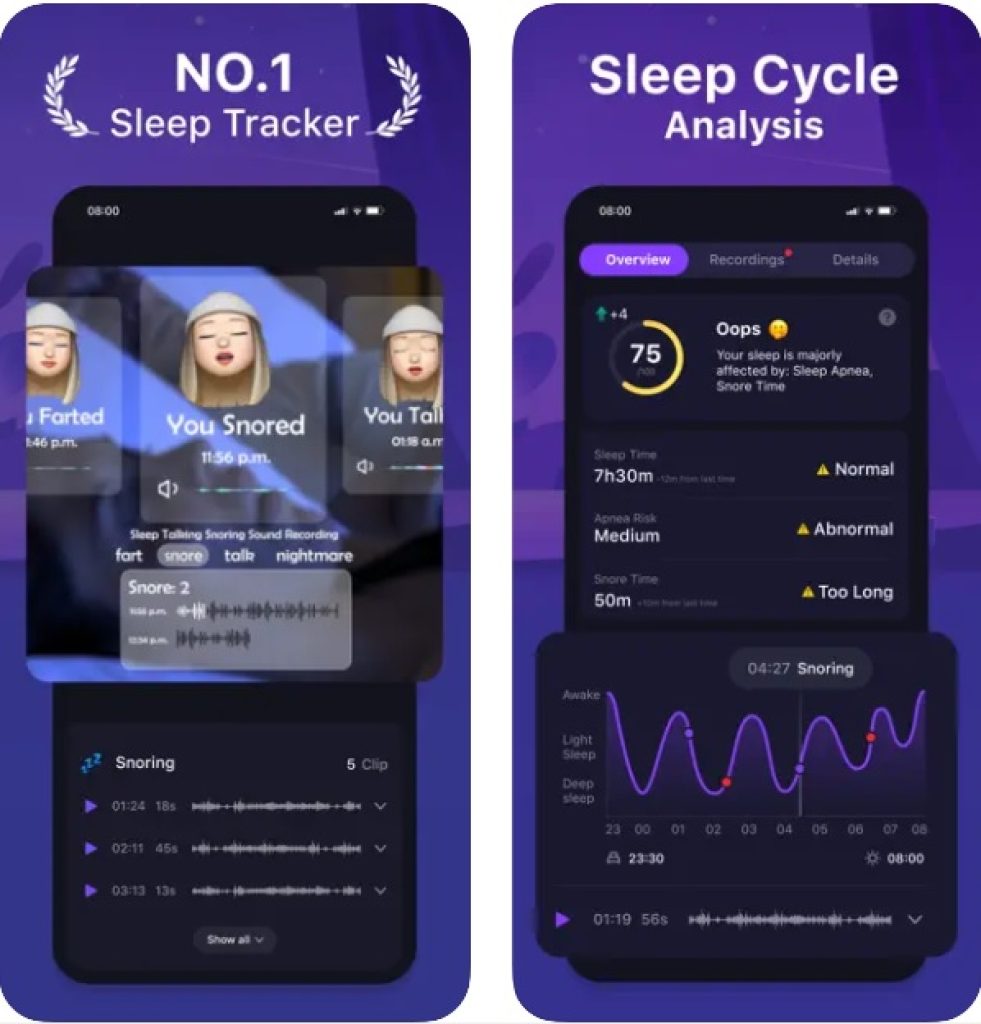 Restflix: Proven Sleep AidApp
From the name, it is clear that this app was created as a personal electronic assistant on a mobile device for each user to improve the quality of sleep. To do this, there are a large number of tools to record, analyze, and compare your sleep recordings in different time periods.
After recording your sleep, you will be able to familiarize yourself with a certain schedule, as well as with a text report in which you will be told about what happens to you while you sleep, as well as what the quality of your sleep is.
It is important for everyone to know about this in order to learn how to wake up on time and always be well-rested and rested.
Do not forget that you can share your sleep recordings with users of other apps, as well as save them to files on your mobile device.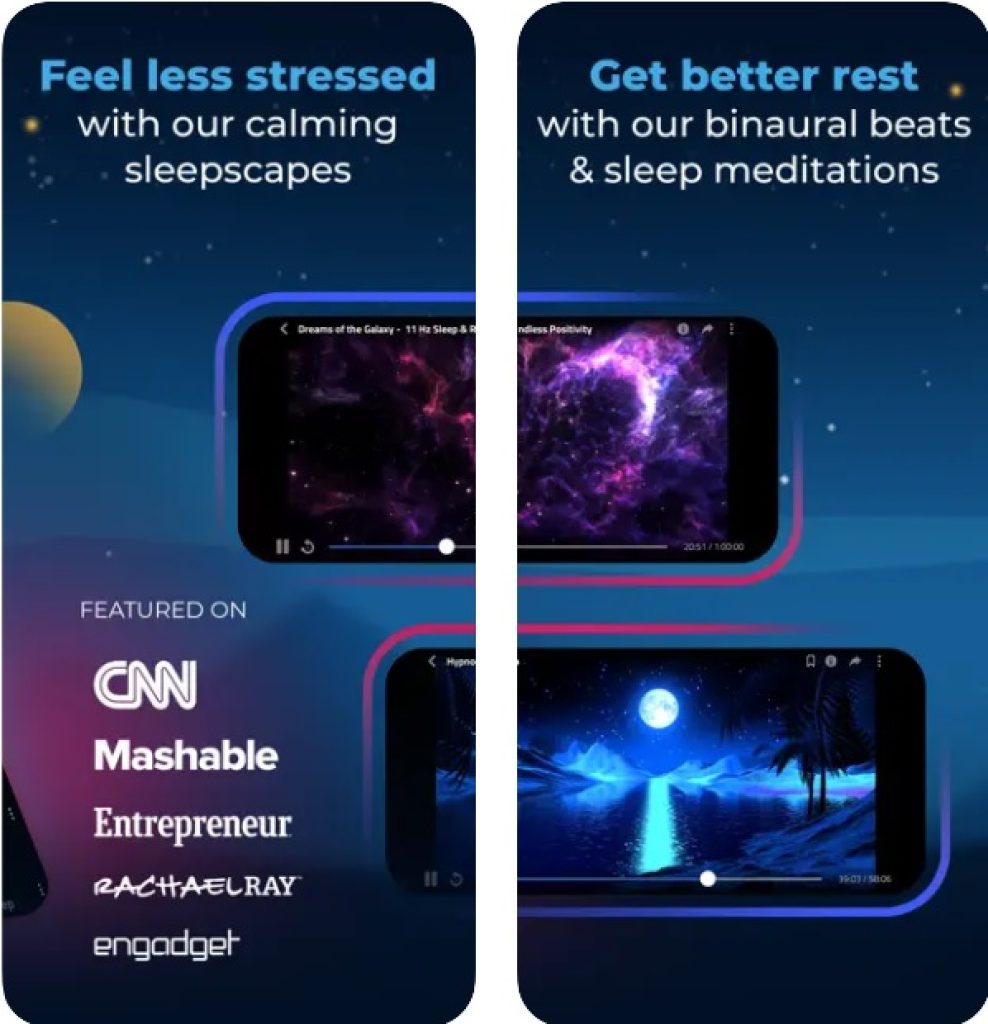 You may also like: 9 Best Sleep Apps for Apple Watch
Hatch Sleep
Here you can diagnose your sleep, as well as the mode, quality, and phases of your sleep. It's no secret to anyone. that the phrases that people utter during sleep, as well as the sounds they make, may indicate many human experiences, as well as some health problems, in particular, with freedom of breathing.
The developers of the app claim that the technologies they used in this development are accurate enough to hear the sounds that you will make in your sleep and record them.
This way you will be able to show the record to the doctor and it will be easier to find out if you have any diagnosis. Also, it will help to find out what experiences your loved ones have if you can record their sleep.