When writing an essay, article, or research paper, it is always necessary to use the system for checking references.
However, sometimes even if you work with complete honesty, the percentage of originality is still terribly low. In such cases, you have to rephrase the text over and over again, selecting unique words that will match the meaning of your text.
Of course, if you have a special person who can help you, it is better to use his services. However, professional copywriters who can perform quality work, take for their services quite a large sum.
In an era of modern technology, the Internet or special applications can help you even with such work. They will paraphrase all the necessary sentences or parts of the text for you, making all the work easier.
We have selected for you some good and free apps that can help you change the text on Android and iOS.
You may also like: 11 Best Word Processing Apps for Android & iOS
Paraphraser: Reword your text
The Paraphraser application combines not only text handling but also plagiarism and uniqueness testing. You can also check for grammatical correctness of the whole text – the result will be a completely new and original text.
Test for plagiarism is professional and fast, with the use of well-known resources. The result can be immediately saved in a convenient format – txt or doc.
Here you have no restrictions on the size of text or the number of attempts – work as you like. It is worth noting that Paraphraser only uses English, so the source text must be in English.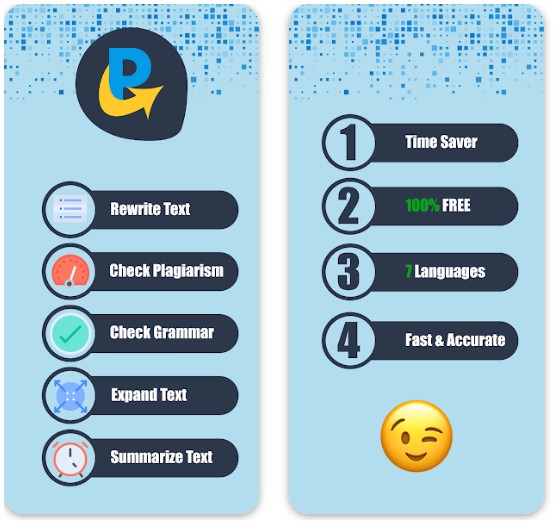 You may also like: 11 Best color texting apps for Android & iOS
Article Rewriter and Spinner Tool
As you can understand from the title, Article Rewriter and Spinner Tool is designed specifically for changing the text of articles. The application will help you turn your old text with the borrowings into a completely new and unique.
The base available in the application is really large, which allows you to change the text to unrecognizable. When you enter text into the Article Rewriter and Spinner Tool, the application will offer you words and phrases for input that will be synonymous.
The application will automatically help you change the text and the size of fonts and many other settings you can leave the same. This tool will be more practical than hiring a special person to work with.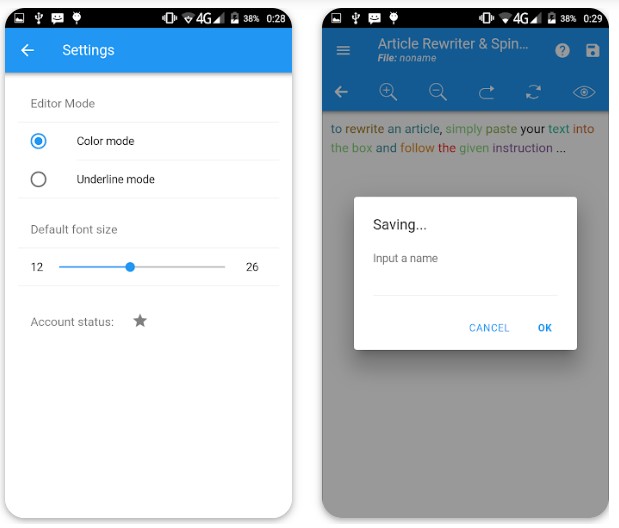 NLP Paraphraser
If you have ever used an interpreter application, you know what interface is standard for such services. The interface of the NLP Paraphraser is almost identical. There are 2 separate blocks, one of which contains your text. In the second block, you will immediately see the paraphrased text.
The NLP Paraphraser works with text in natural language and then replaces repetitive phrases with more unique ones. So once the application has processed your text, the result is a new text that has been modified in some sentences.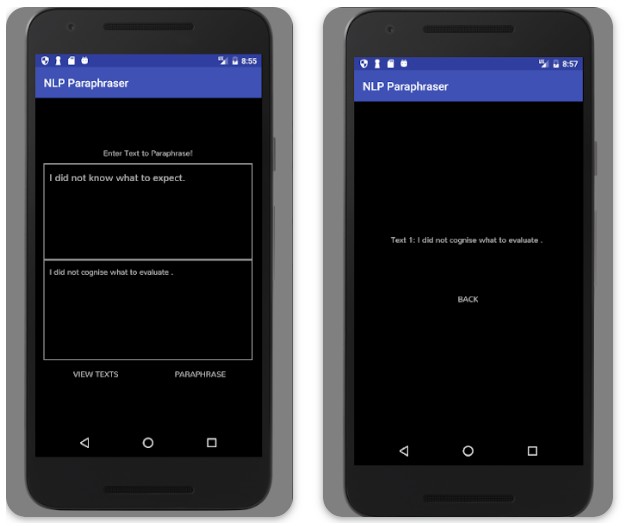 ProWriting: Grammar, Style & Spell Checker
High-quality text always has a high percentage of originality, as well as competently written. With ProWriting you can improve the quality of your source text, making it more readable and enjoyable to read. Any correction made to ProWriting is explained to the user – so you can also improve your language skills.
The text is automatically checked for grammar, punctuation, and spelling – this is done with the help of the artificial intelligence system, trained in hundreds of rules.
The dictionary built into the application also provides you with examples of phrases with these words, their synonyms, and much more. Integrate the resulting text into other applications without identification marks.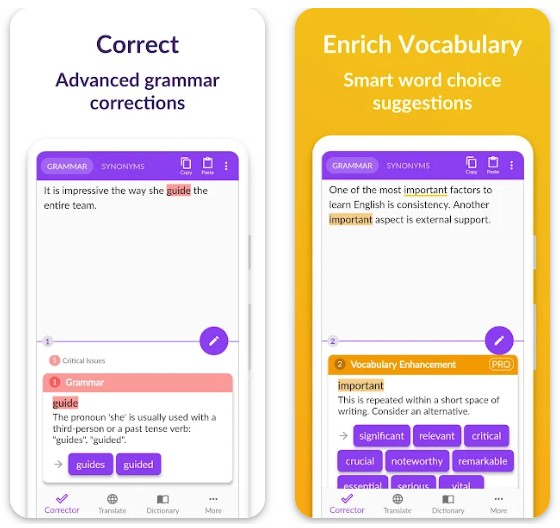 Spin Rewriter GOLD
Spin Rewriter is an app that provides a great opportunity to use a special ENL semantic rotation. Do you want to check your written text for errors, word substitutions? Then the program wil fit all your needs.
It allows you to change the text and rotate it to the largest level with interesting words. You can rearrange phrases, swap words, and build beautiful sentences.
If you need to come up with an essay, then use the program and write the text to a high level of originality. The program has maximum and minimum changes in the text, depending on your desire to tweak the text.
This app is high rated by the users with its accessible interface. Moreover, the text quality of the service is at a high level, there are no errors in the words. Download the program and save your time while the system edits what you have written. Be sure to recommend the app to family and friends.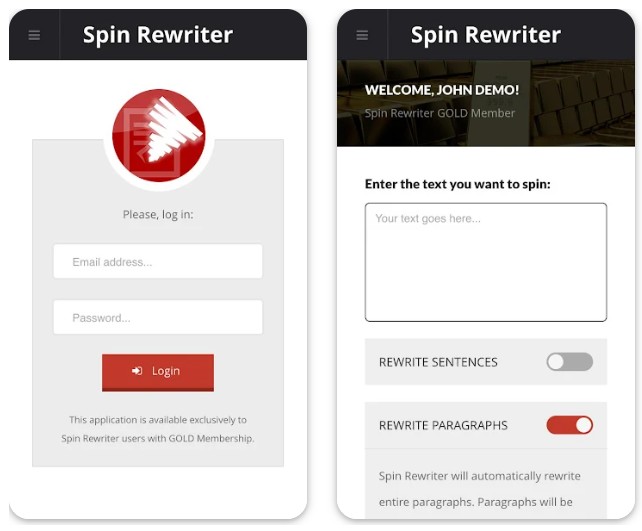 You may also like: 11 Best speech-to-text apps for Android & iOS
Reverso Synonyms
Reverso Synonyms is the mobile app for you if you want to improve your writing skills and expand your vocabulary. The app gives you access to an extensive database of synonyms and antonyms in multiple languages including English, French, Spanish, Italian, Portuguese, Russian, Arabic and Japanese.
The user-friendly interface of the application allows you to search for a specific word and instantly get a list of synonyms and antonyms, as well as related words and expressions.
Users can also save their favorite words and create their own lists for future reference. In addition, the app offers pronunciation assistance, sample sentences, and translation options to improve the user's language learning experience.
One of the main advantages of Reverso Synonyms is its extensive database of over 1 million words and expressions in every language. The app is also regularly updated with new words and phrases, so users always have access to the latest vocabulary.
It is known that users have expressed dissatisfaction with the performance and functionality of the application. Some report that the app crashes or freezes, while others find the search feature to be inconsistent or unreliable.
Some users have also criticized the app's pricing structure, which requires a subscription to access some features.
While it has some drawbacks, its extensive database and user-friendly interface make it a valuable resource for language enthusiasts.
Application features:
Convenient to use
Suitable for improving language skills
Application cons: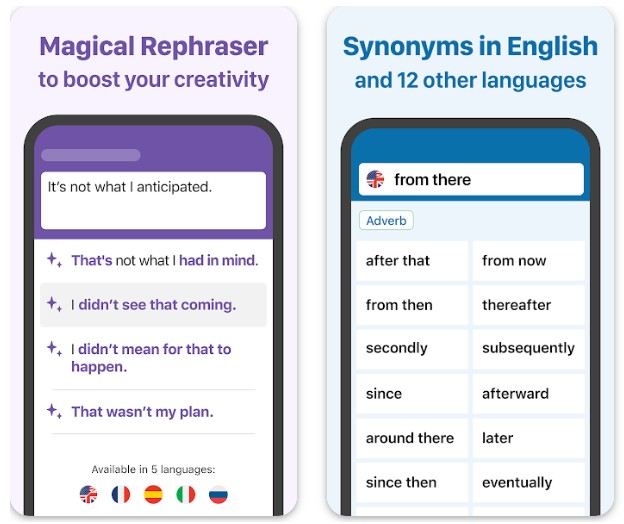 Paraphrasing Tool – AI Based
Paraphrasing Tool is an app that helps with word changes for essays, outlines, and other written works. The app is at the professional level, so it edits the text competently.
Your text will be 100% original, as the action technique is based on artificial intelligence. Now you won't have to think long and hard about replacing words and paraphrasing.
Writing texts yourself for Instagram and other social media posts is not easy, nor is thinking about ideas for essays. You will be able to find your own professional who will be on call at all times. But this can be done with a special desire to immerse yourself in this field.
The app is easy to use. All you have to do is copy what you have written and paste the text into the line for verification. Then you need to click on the analysis button and the result will be ready. There is a special intelligent assistant, which is guided in the selection of words.
Furthermore, there are three types of text correspondence, choose the right one for you. This content is reliable. The program aptly selects synonyms at the level of human consciousness. Recommend this app to your friends and family. Make your life easier and spend more time relaxing.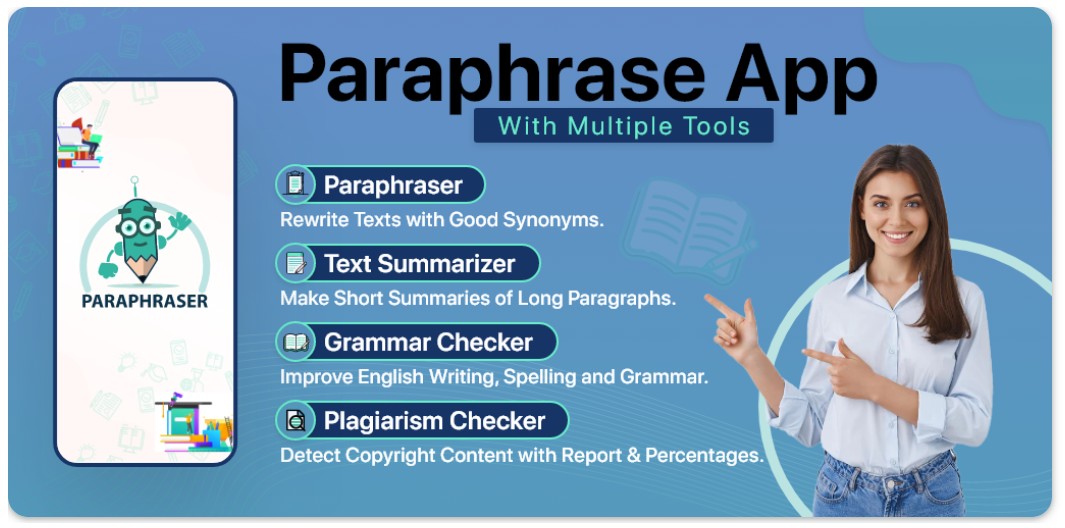 Paraphraser Tool Rewrite
Paraphraser Tool Rewrite is a mobile app designed for users who want to paraphrase their text to avoid plagiarism or create unique content.
The application has a simple and user-friendly interface that allows you to easily enter your text and get a paraphrased version of it. You can enter your text by entering it directly into the application, or by copying and pasting it from another source.
The app uses advanced algorithms to parse the text and provide a unique and readable paraphrased version. It also has a synonym suggestion feature that helps users find alternative words to use in their text.
One of the main downsides of the app is that it can sometimes create clumsy or fuzzy paraphrases that require additional editing. Some users have also reported issues with the app crashing or freezing.
However, you should be aware of its limitations and be prepared to edit and revise paraphrased text as needed.
Application features:
Find synonyms for the right words
Easy to paraphrase text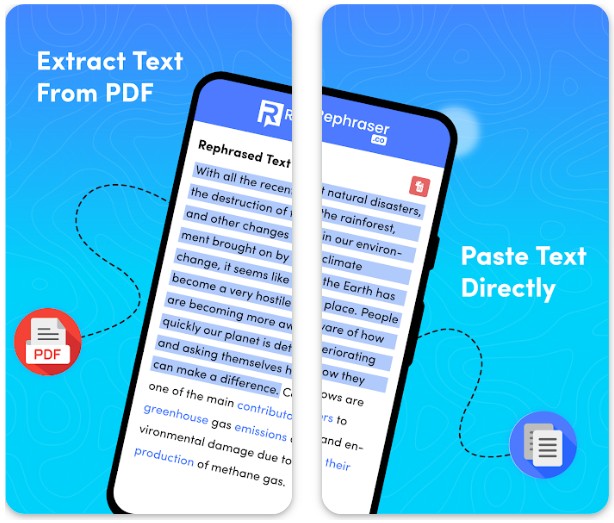 Paraphrasing Tool
Paraphrasing Tool is an app that replaces words with synonyms and picks up phrases for your essay, presentation, etc.
In today's world, there is more and more information, more stress on the brain, so not to load yourself heavily created this program. Many poets, copywriters, and ordinary people use the app
It works in real-time and picks up all the words to modern human speech. By the way, the meaning when replacing words with synonyms and picking up phrases is preserved. Why is the program so effective? Cause it saves your time, and the system does everything for you.
This service will make your article 100% unique; it won't look like the one downloaded from the Internet. Using the app is strightforward, you only need to take the desired text and paste it into the line to scan the text, the result is instant. T
his program has a lot of advantages. You will not be able to waste time on uninteresting notes that you are forced to make. The text is understandable, without abstruse terms. The content is excellent and everything is secure.
What's more, the interface is really user-friendly and the graphics are top-notch. This app is preferred by users, thanks to such a great find that saves precious time. Be sure to download the program!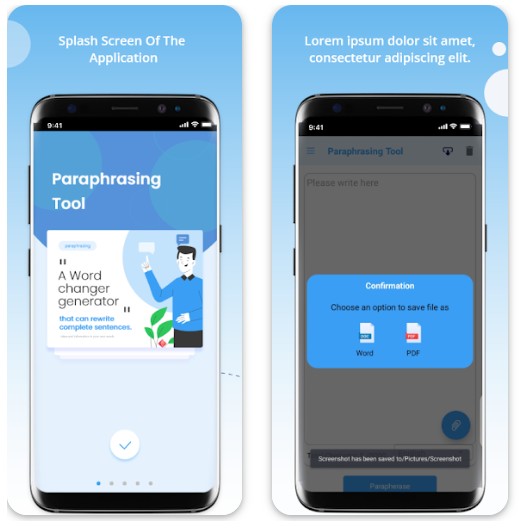 EssayPro
EssayPro is an app that will help with writing all essays, reports and more. Did you want help writing a text on a complicated and unclear topic? Then this program is definitely for you.
In today's world, there is a lot of information, it clutters your head a lot, and this app makes life easier. Experienced people are hired to write tests and a large group works. Assistants will always be able to type quality text.
Each of the people on the team is experienced in the job. Specialists write texts to order and most importantly write by the right time. Connect to the program itself and find your master for writing articles.
What's more, the essay is done by special analysis and by all the rules. The experts will help you always correct the written and arrange the logical sense. You're in luck if you're looking for a job but have no idea how to fill out a resume.
The program will be able to write everything appropriately, so acceptance from employers is guaranteed. EssayPro users love it, the team of experts helps and makes life easier, there is more free time.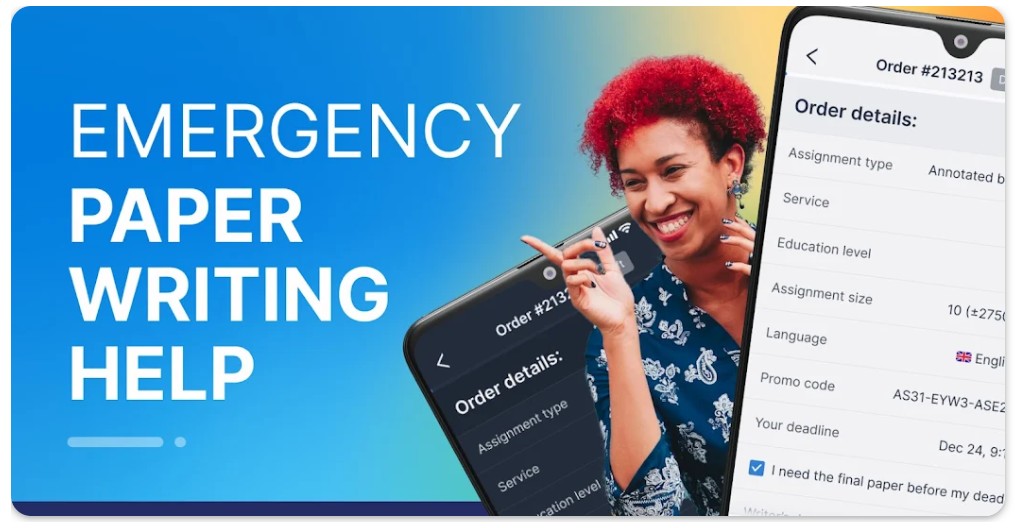 You may also like: 11 Best Handwriting To Text Apps for Android & iOS
ParagraphAI
ParagraphAI is a mobile app designed to help you write more efficiently and productively. The app uses artificial intelligence (AI) algorithms to analyze user-written text and provide suggestions for improvement, including grammar, vocabulary, and sentence structure.
One of the features of ParagraphAI is its ability to suggest alternative wording for obscure or confusing sentences. This can be especially useful for non-English speakers who may have trouble with idiomatic expressions or other language nuances.
The app also includes a built-in thesaurus that allows users to quickly find synonyms for words they may be overusing or modify their vocabulary in general.
In addition, ParagraphAI can provide feedback on the user's writing tone and style, making it a valuable tool for anyone who needs to write in a persuasive or professional manner.
As such, ParagraphAI is a useful tool for anyone looking to improve their writing skills or increase their productivity. While it may not be perfect, it can be a valuable resource for those who need to write frequently or who want to improve their writing style.
Application features:
Find synonyms for the right words
Easy to paraphrase text