Have you ever dealt with numerology? Were you interested in the names and their hidden meanings? Do you know what meaning your name has? But all names matter, and now more and more apps help you make sure of this. Here are the name meanings of apps.
More apps with ideas for names, including names for your future baby, you will find in this article.
Baby Names / First Names
Deciding what to name a child is a difficult test for most parents. This application was created just so that you can choose the most suitable name for your child. With a handy database filled with over 46,000 names, you can easily find the name meaning you like the most.
See information about each name, including not only its meaning but also its historical origin. And thanks to the transcriptions available on the site, you can also find out the pronunciation of a particular name, no matter what language it is written in.
If you get lost in the vast array of names in this app and want to narrow down your choices to make finding the right name easier, try looking up names by gender, origin, parts of the name, and even by the meaning of the name.
Thanks to the built-in filters, this has become possible. You can save the names you like in a separate list so as not to lose them and not to look again.
Brief characteristics of the app:
Choose from over 46,000 names from around the world
Detailed information on each name including origin, meaning, and pronunciation
Mark your favorite
Search by name, meaning, lineage, and gender, or let us choose for you with the random selection feature
However, this app, like any other, has its drawbacks. For example, per day, each user is given a limit of only 8 free attempts to find out the meaning of a particular name. If you want to continue, you will have to pay a certain amount depending on how many names you want to analyze.
Moreover, many users speak impartially about the interface of this app. The color palette makes it seem irritable and annoying, and sometimes boring.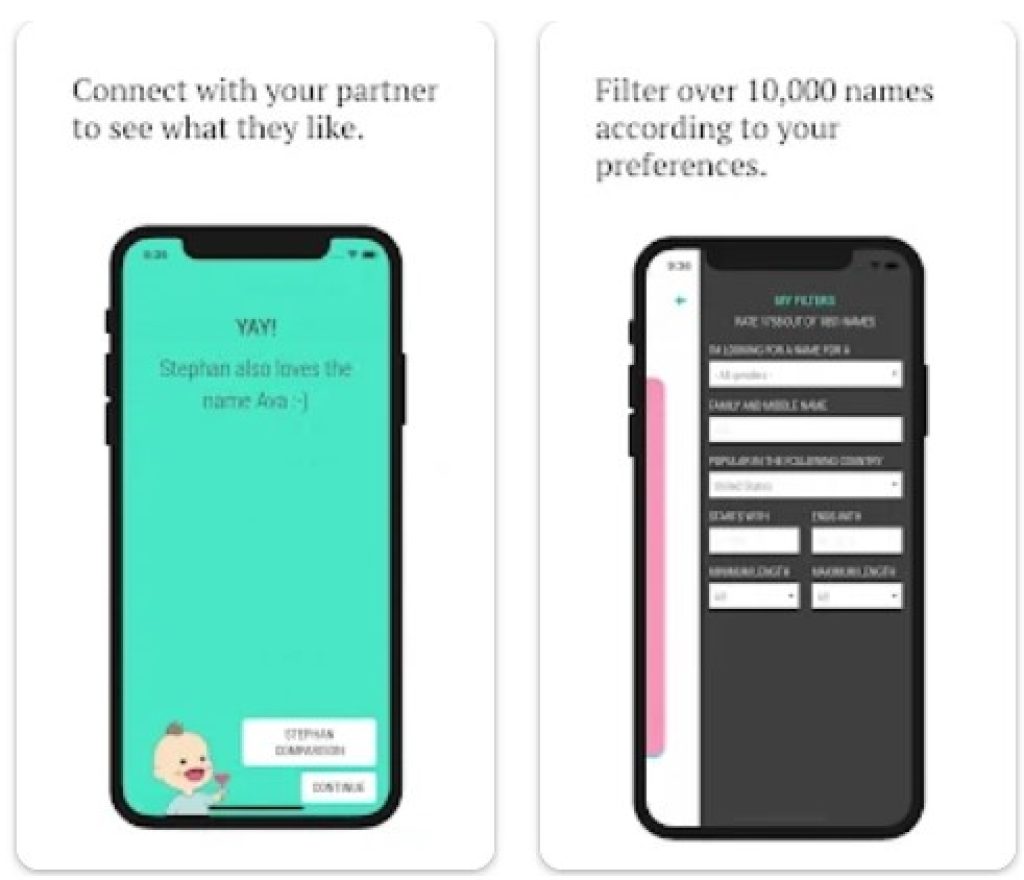 You may also like: 13 Best Baby Face Generator Apps & Websites
My Name Meaning
With this app, you can find out the meaning of your name immediately without long and paid checks. You can also find out the meanings of the names of your favorite best friends and celebrities.
To do this, it is enough to enter only a few letters following each other in a certain order – the name of the person.
The meaning of the name. Here you enter your name and find out its brief description.
Test for friendship. Here, in addition to your name, you need to enter the name of your friend and find out how strong the connection between your names is.
Love test. Using the same logic as in the previous paragraph, you enter two names of interest to you and find out if there are love feelings between these two people.
Your name and its animal spirit. Surely you are interested in knowing what animal is associated with your name. Thanks to this mini-game you will be able to find it out.
Future work. Here, according to your name, the application will generate the most suitable profession for you, no matter how strange it may sound.
The user can take the test for the meaning of the name and share their results with other users of the application or with their friends and relatives on any messenger.
This is an excellent application not only as an educational platform but also as an entertaining game. Believe me, some of the results that will appear in the meaning of your name may surprise you.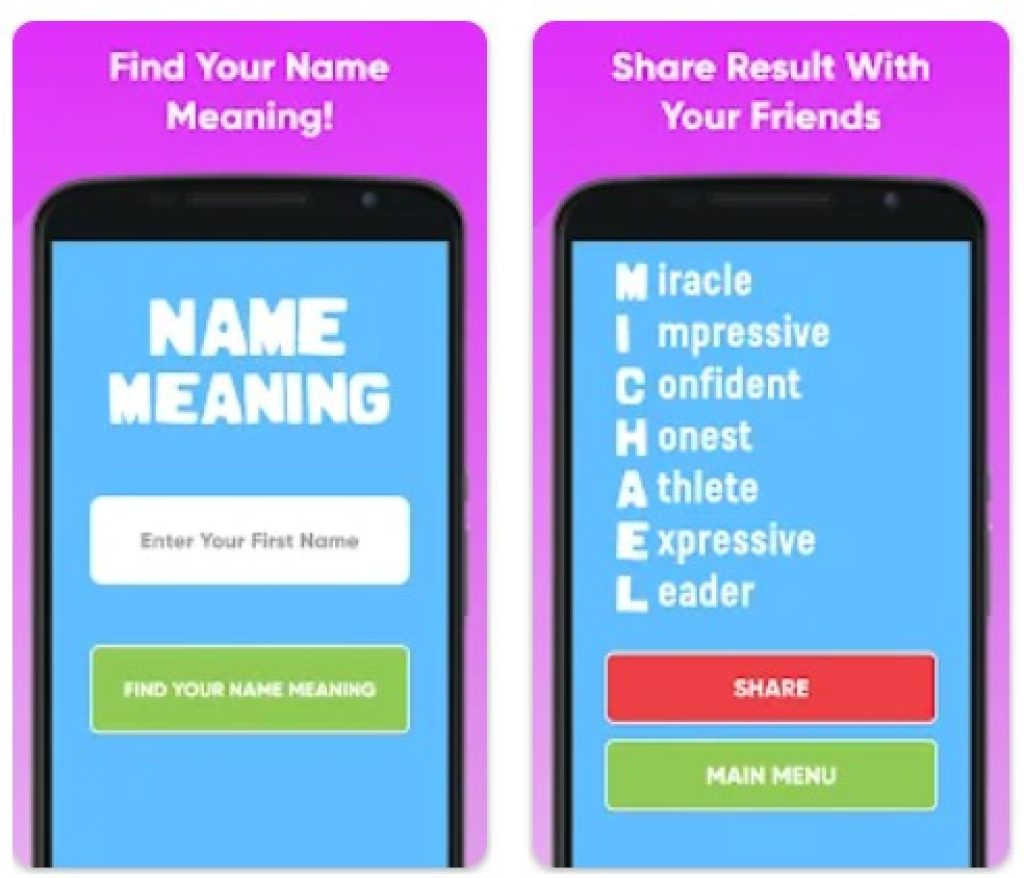 My Name Facts – What Is Your Name Meaning
This app is met by users almost only with good reviews. Many note the pleasant colors in the design and a great interface that allows you to quickly and productively find the meaning of any name you are interested in, and not just yours.
In addition to everything that was described earlier, the app also has several interesting tests, such as Test for love and eat for friendship. In both, you just need to enter the names of two people whose relationship you are interested in.
And then the app will do everything for you. You will learn everything about the friendship of specific people or even about the love line. However, you should not attach great importance to this, because this application is primarily for entertainment.
The developers update the app frequently, so if you run into problems while using it, don't be afraid. It will be fixed soon.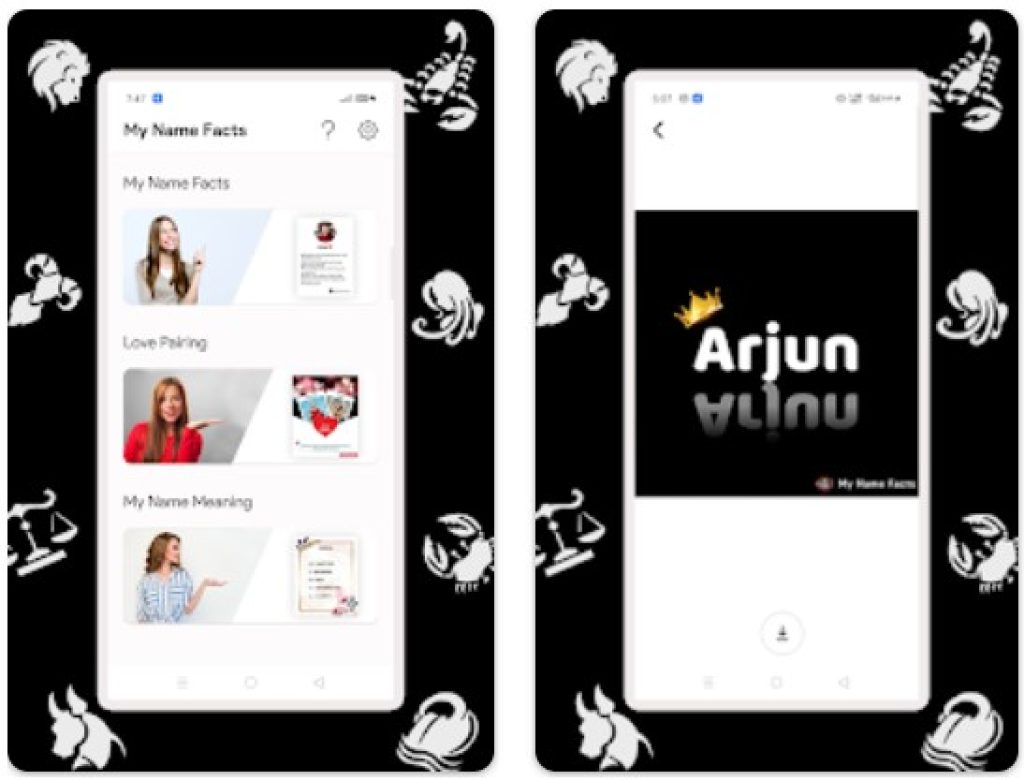 My Name Facts & Meaning
This app will help you in creating your numerological chart by your name – it will describe your life and the features and vicissitudes of fate.
For the path to success to be smooth and pleasant, and victories to bring joy, you must follow your destiny (at least that's what the app claims). Each of us has his own unique and inimitable numbers and letters that carry his code of success.
These numbers and letters – the date of birth and the name – are information that accompanies us all our lives and determines our true destiny.
This app allows you to learn a lot about yourself, your fate, and your predispositions in just a few minutes. Using it you will receive a warning about the possible challenges and will be able to decide how well the target is chosen.
The numerology of the ancient Greek scientist Pythagoras, touched upon here, has collected the best traditions of classical numerology to accurately determine your destiny and life path.
WHAT'S INTERESTING IN THIS APP:
A detailed analysis of the interactions of colleagues at work, employees of companies, and people in the labor field according to 7 key indicators of compatibility.
Identification of key problems that you will face in life, ways to solve them, and basic recommendations for further development.
Analysis of all periods of your life with recommendations for solving emerging problems at each of these stages.
Detailed works of the best American and European analysts in the field of numerology.
You will get acquainted with the square of Pythagoras according to the method of science teachers of the best universities in the world.
Recommendations on how to start and end the day correctly, depending on the spelling of your name.
MOREOVER:
You can check your friends' names and analyze their last names.
It is possible to create a profile and add other users as friends.
You can share your results on social networks and instant messengers.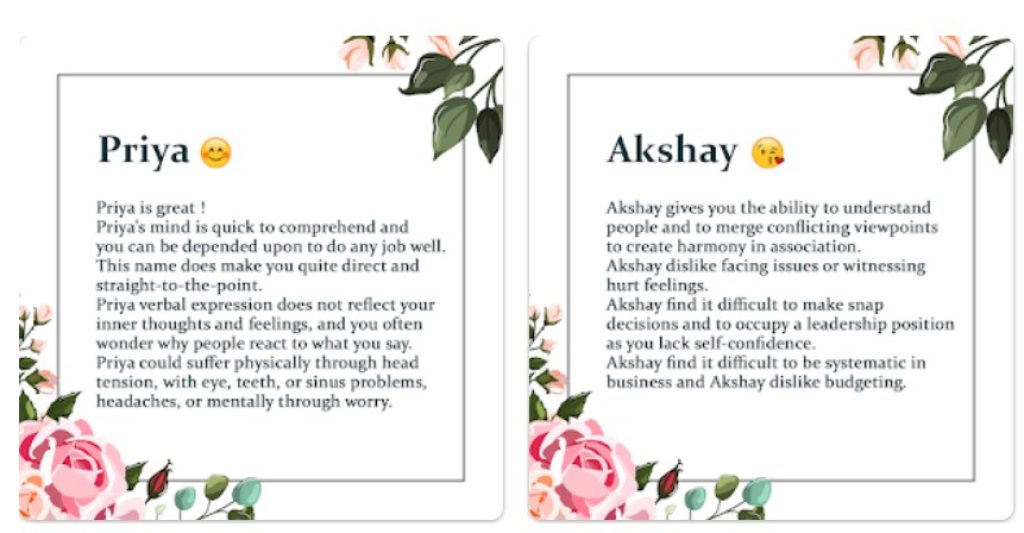 You may also like: 7 Best pregnancy & baby birthday announcement apps
Name Meanings with Impact
The mission of this app is to enable each person to realize the causes and effects in their own lives and learn how to manage events. No magic or witchcraft – pure numbers and elementary mathematics. Using your name and nothing else!
Many users notice that this app is not very convenient, but thanks to the latest updates, the service has become much better, and now it is almost unrecognizable. It is supported on all platforms and does not require material costs – it is completely free.
The app includes ads and their removal can be possible by acquiring a paid subscription.
Thus, we can say that the number of advantages of this app overweight the disadvantages. It is worth downloading if you want to know all the subtleties of the name you are interested in. Download it, enter your name, create a profile and that's it. No complicated steps are required.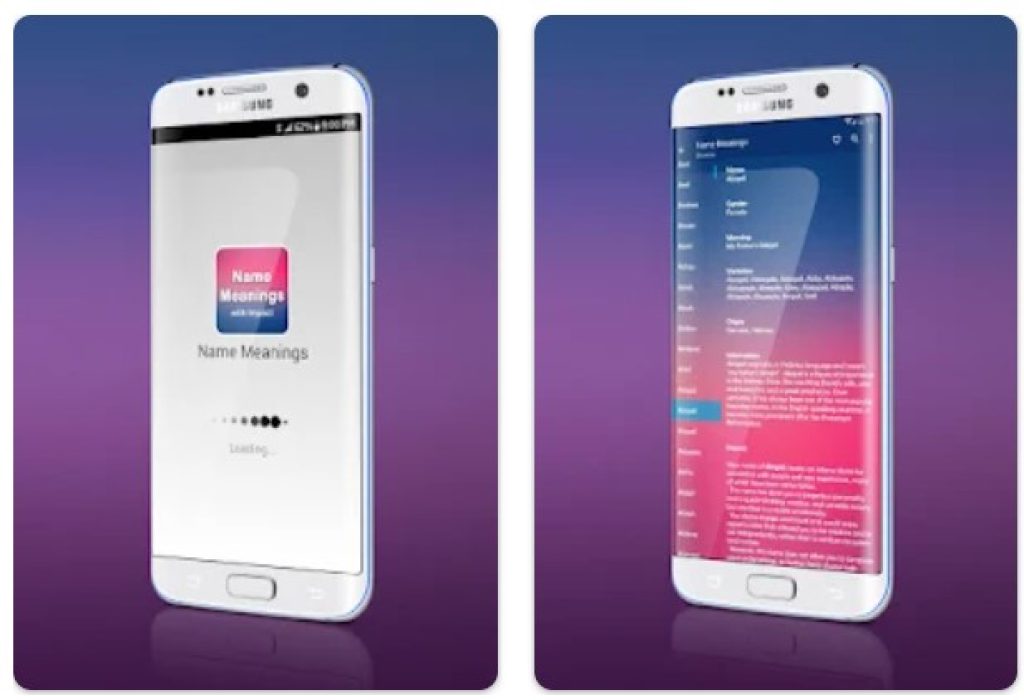 Name Meaning
This app allows you to work with the image and meaning of your name and gives you the ability to share it on social media with friends and family.
Thanks to the latest app update, you can now use the age of the person whose name you want to know the meaning. A filter is available to you, where you can enter the age of a person, and then his name.
The thing is that the same name can have a different meaning depending on the age of the person. That's why we added this feature to this app. Popular US baby names and their meanings are now part of the meaning of the names, along with adult names.
Create posters with the meaning of my name and share them with everyone who uses social networks. Now, this app allows you much more than before.
Nearly a thousand detailed descriptions of names posted on the site allowed the creators of the app to introduce a unique methodology for evaluating name compatibility. Just enter a name and see what names are compatible with it.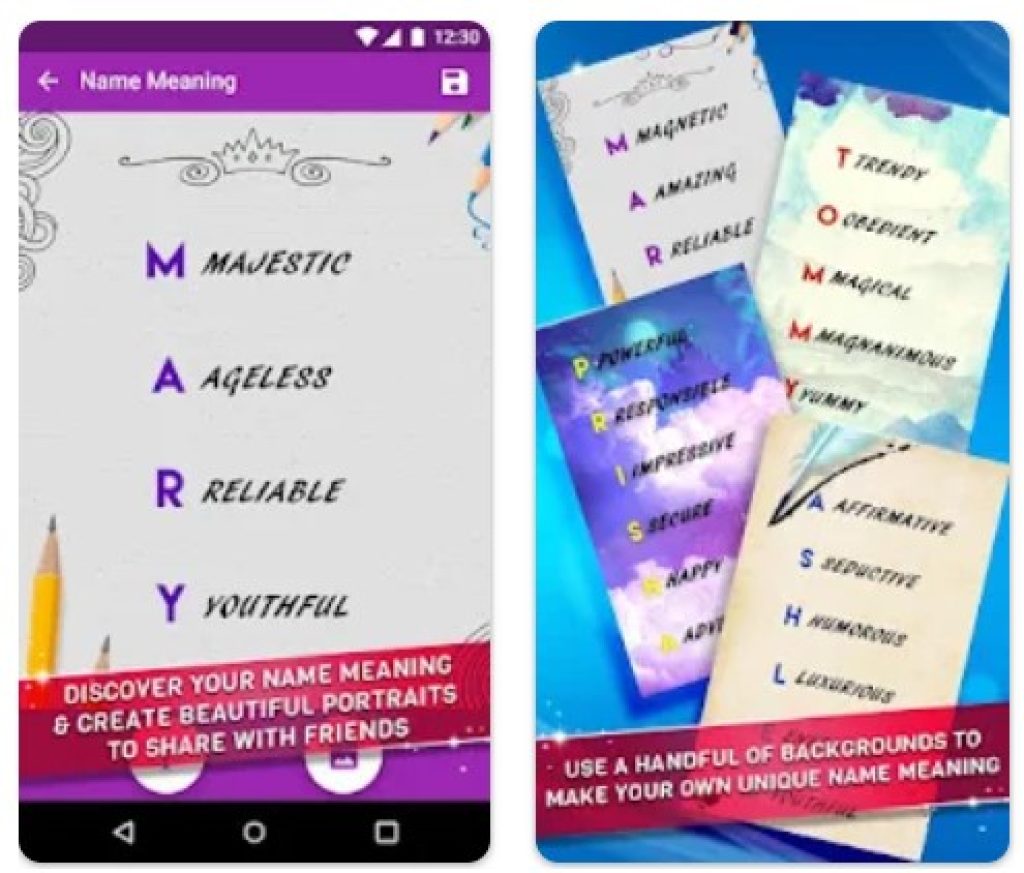 True Name Meaning
This app has a feature that allows you to share the meaning of your name with your friends, relatives, colleagues, or even strangers. The app has subscribers who will immediately see your results if they follow you.
And if you're looking for a name for your unborn baby, or want to know the meaning of an existing baby's name, find out what that means with this app. Fortunately, it works with any child, regardless of their gender or age.
During using, please note that this app was created for entertainment and educational purposes only and is not intended to offend the feelings of the user.
However, if you still notice offensive statements in the vastness of this app, please report it in the app reviews. The creators often pay attention to the comments of their users and immediately try to fix the problem.
As for the advantages of this app, we can highlight the following. First of all, many users note the pleasant interface of the app and excellent optimization. The app is very fast and doesn't lag. However, there is also a downside. Many people using this app are annoyed by a large number of ads.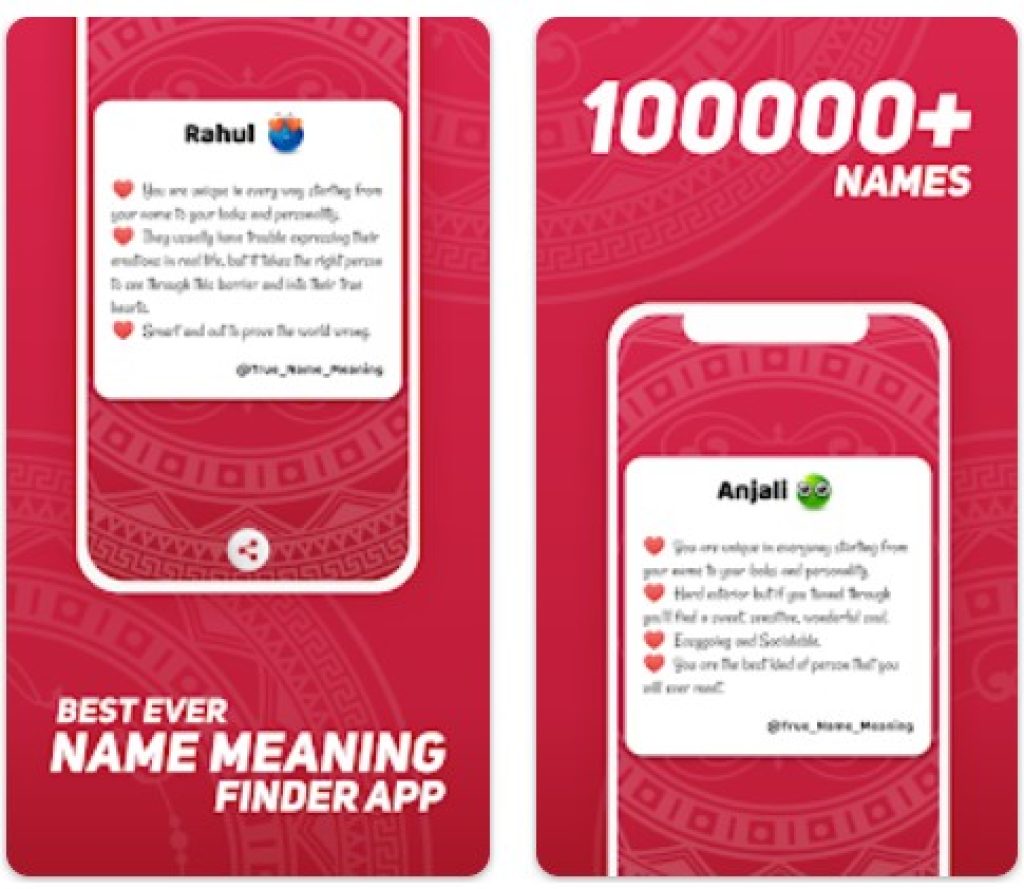 The Meaning of My Name
What is hidden in your name or what does your name mean? This app selects various semantic constructions for your name and helps you determine what meaning the ancient peoples of the world put into it, what they wanted to say with this, and what purpose each of these names was given.
Despite the rather detailed and almost scientific nature of this app, its main goal is far from educational. The developers created it just to simply bring smiles to users' faces and help them have fun finding out what is hidden in their names.
Meaning of my name app will help you to know about yourself by your name and give detailed information about the character of this or that person by the first letter of the name in Hindi. The thing is that it is the first letter of your name that hides all the features of your character and your predispositions.
Also, it is thanks to the letter with which your name begins that you can find out information regarding your personal life, your future work, and your sports career.
This app truly gives you all the conditions to improve your skills in numerology and creativity. You just need to do a few things: add your name to the app and click on the "Create" button.
And immediately after that, you can see the results that the app will give you. Also, you can share the meaning of your name with friends in messengers or with other users.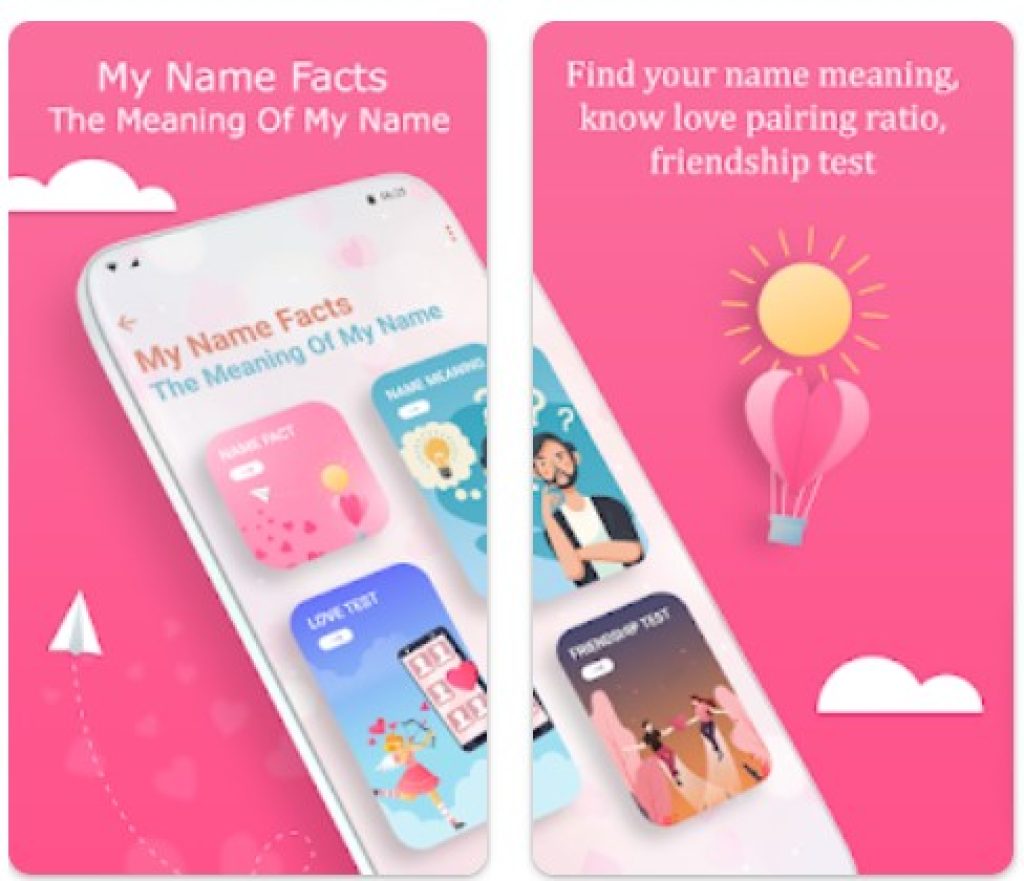 You may also like: 11 Free Stylish Name Maker Apps for Android & iOS
Your Name Facts – Name Meaning
This app was created a few years ago to help people learn as much information about their names as possible. And in the end, after several launches of the application, they were still able to create a platform that will help people generate any fact they are interested in about their name.
Your Name Facts is a completely free app. It will help you find out what exactly is behind your name and surname, what information it has, and what meaning it has received throughout its history from different peoples of the world, including the one where it originated.
The app is designed in such a way that it will be interesting and fun for you not only to find out the essence of the name you are interested in, but also the search process itself. Here it is the most comfortable and convenient.
Thanks to the detailed data, you can find the most thorough information about your name, about the name of your friend or relative. Moreover, you do not need to enter passport data or attach photos of people whose names you are interested in. You just need to enter a few letters, and then the app will do everything for you.
Once you enter your name, you will receive various numerological information. For example, your unique number, lucky and unlucky days of each month, relationships with a specific person, and much more. There is a lot of information here.
Unfortunately, people often face the problem that despite the appearance of the name that suits them, they are dissatisfied with the meaning that it carries. This app contains detailed information about each name that interests you and thanks to it you will be sure which name to choose for your unborn child.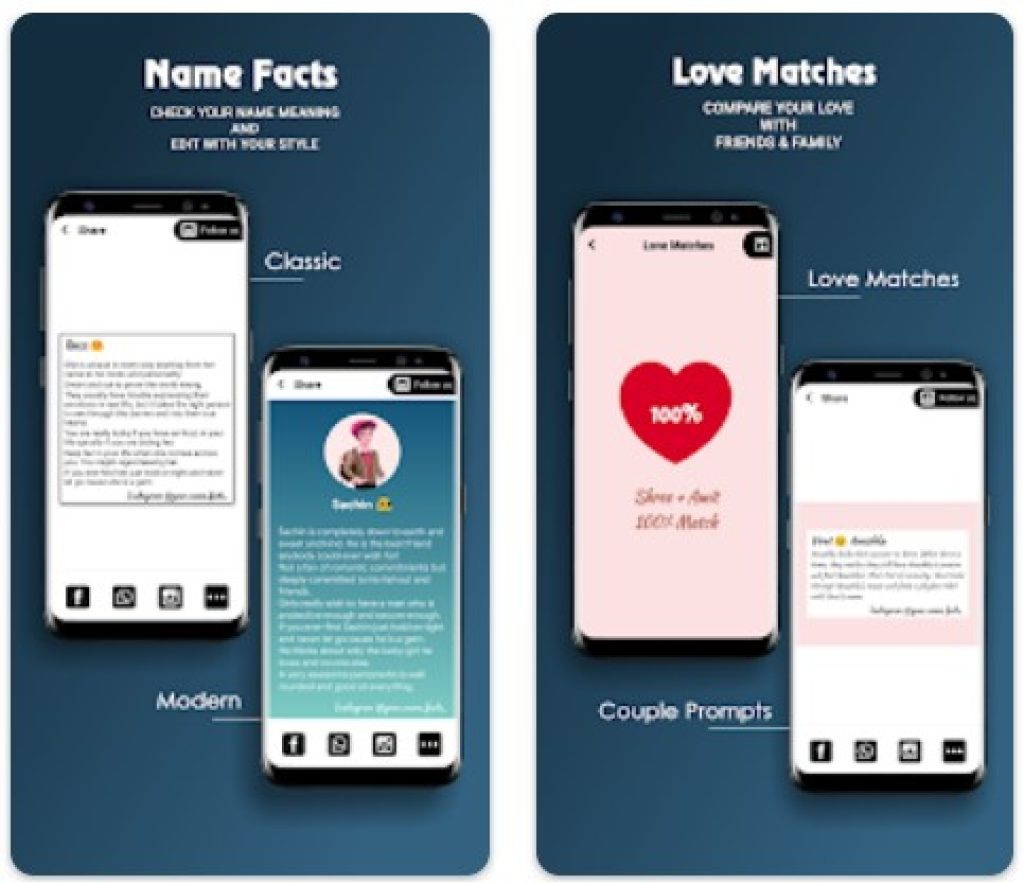 Fact of Your Name – Name Meaning
Name Facts is a free app that will help you find the most interesting information about your name including its origin of it, its influence on your character and personality, and its interaction with other names.
If you need to know if your name contains any hidden meaning, then this app is right for you. It will help you learn the intricacies of your name and why it contains those letters. It will also show different pronunciations and spellings of your name depending on the country, period in history, and religion.
Name Facts is an app that determines the meaning of a name depending on the age and gender of a person, paying attention to all the details and individual characteristics of each person.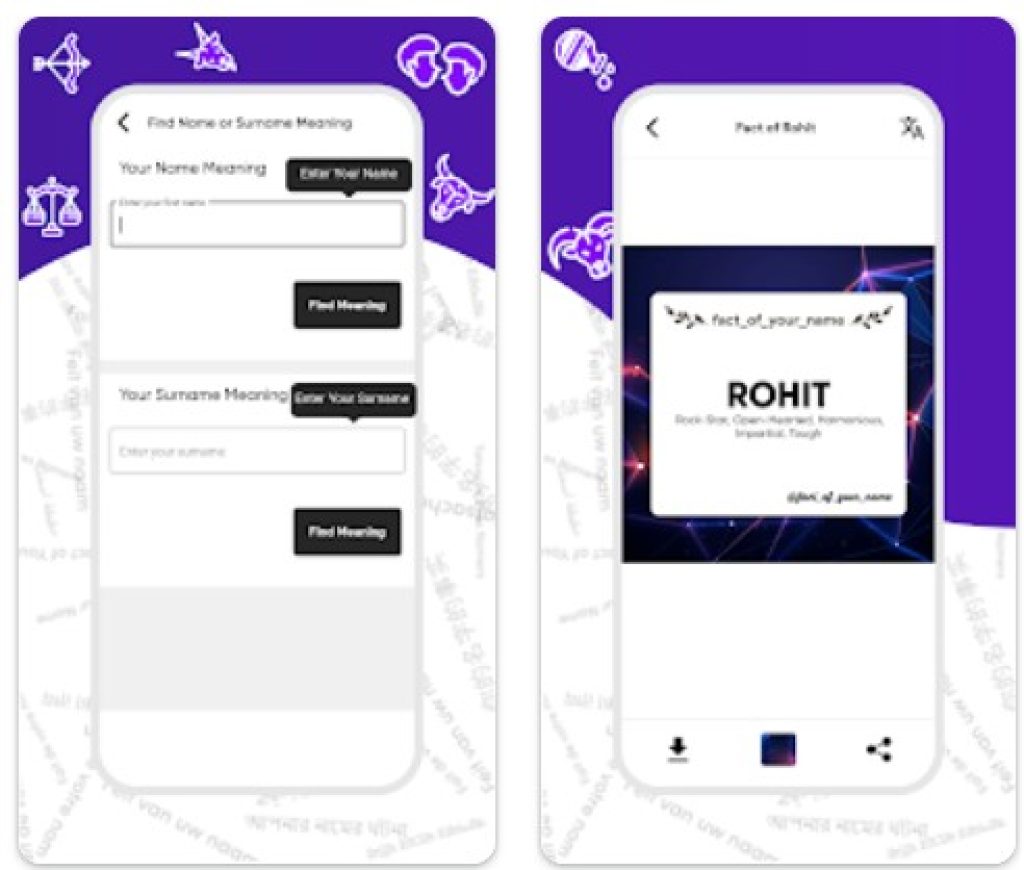 You may also like: 8 Best Nickname Generator Apps & Websites
Name Facts – Name Meanings & Effect on Personality
This app contains thousands of names and detailed information on each of them. If you want to see how a particular name you're interested in fits with another, you can do that too.
The app has an icon next to each name indicating the gender of that name, so you don't get confused when choosing a name for your child. Just go to the list of names and you will see everything.
Some users note the pleasant design of this application, beautiful colors, and good optimization. In addition, this application is completely free and does not require any additional purchases.
However, if you wish to opt out of in-app advertising, you will have to pay a small fee. There is no limit to the number of attempts to get a person's name, even if you don't make in-app purchases.
After analyzing the name you have chosen, you will see the result and will be able to share it on any messenger with your friends, relatives, or subscribers on social networks. The app is not private, so you can share information from it wherever you want.