Scrapbooking is a kind of handmade art, which consists in the creation and design of personal or family photo albums.
This kind of creativity is a way to store personal and family history in the form of photographs, newspaper clippings, drawings, notes, and other memorabilia details, using a peculiar way of preserving and transmitting the individual stories. The basic idea of scrapbooking is to save photos in the long term for future generations.
In our digital area, there is no doubt that scrapbook applications for mobile phones appeared. With the help of such apps, you can scrap using your phone.
So, for those who want to engage in scrapbooking, we have prepared an excellent material about the best scrapbook apps for iPhone users.
You may also like: 12 Best animation apps for Android & iOS
Digital Scrapbooking – Scrapbook Layouts & Ideas
Digital Scrapbooking is an amazing tool for digital scrapping. Just add photos and create unique cards here! Then you can share your scrapbooks with friends via Email, Facebook, Twitter, SMS or publish them on your Instagram account.
This app has a lot of interesting and useful features. How does it work exactly? So, after adding a photo you can choose from a variety of elements which you think suitable.
Here are over 500 elements! Stars, bows, gifts, flowers, hearts, butterflies, and other decorative elements… All elements are handmade with amazing accuracy what makes your cards unique.
Here are some other additional tools which will help you: dragging, rotating, zooming, and more.
With the help of Digital Scrapbooking app, you will create your own cards for every special event and give pleasure to your friends and relatives sharing your cards with them!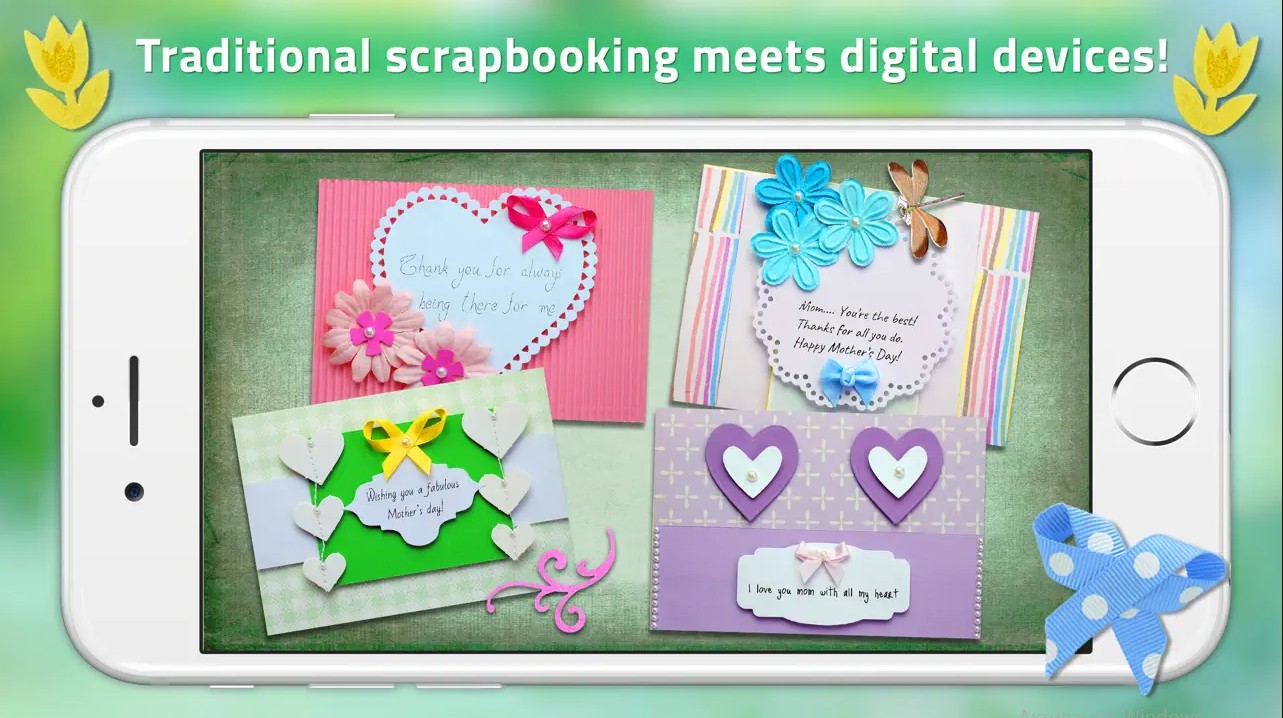 You may also like: 11 Free photo sketch apps for Android & iOS
Scrapbook Collage Photo Edit.or & Combiner
Scrapbook Collage Photo Edit.or & Combiner is a high-rated scrapbook app which has already had 3 million users worldwide. It is an app for those people who want to share their bright moments of life with friends and family.
You can combine your pictures into beautiful collages with the help of in-app tools. Here are more than 120 free layouts, over 90 free beautiful pattern and color borders including shadow, many free stickers, amazing photo effects to apply to individual photos. Also, you can add text to your collage choosing text style, color, and size.
You also can share your ready cards with your friends on Instagram, Facebook, Twitter, or via Email. Your friends will really like the bright and colorful collages you make. It is much more personal than simply posting individual photos.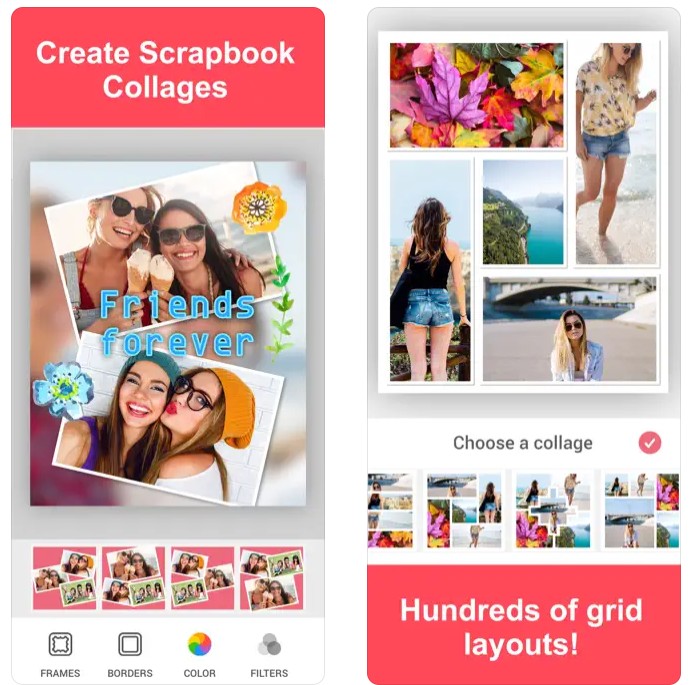 Pic Collage – Free photo editor art collage maker
"You can impress your mother, brag to your co-workers, and make your vacation look even better than it really was, all before you pack your suitcase to return home … It could be the fastest way you'll ever find to organize a batch of photos … Also, makes gorgeous emails and can turn your image into a real postcard." – LA Times and Newsday
PicCollage is a scrapbook application for those who want to create awesome scrapbooks on their phones. With its new layouts, stickers, backgrounds, and templates it is easy to unleash your creative skills. You can add text to your pictures, rotate, resize photos, delete recent changes.
You can share your cards with friends on social networks or print them at home. Join the community of over 130 million people who create scrapbooks using Pic Collage app.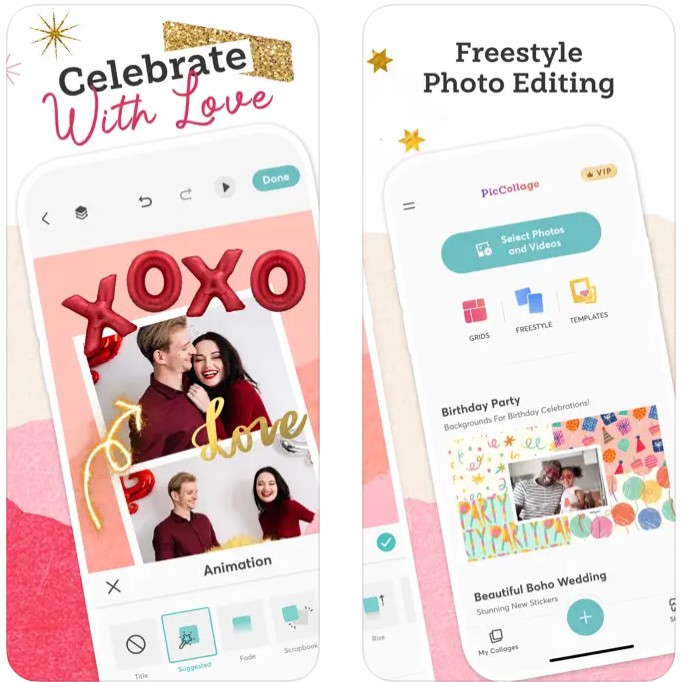 Pic Jointer – Photo Collage, Camera Effects Editor
Pic Jointer is a widely known photo collage app. It has already had over 30 million users in over 50 countries.
It is easy and interesting to make stylish scrapbooks with Pic Jointer on your Apple phone. Here are a big library of layouts and frames to make your photos brighter and outstanding. You can easily zoom, pan, mirror, or rotate each of your photos, adjust the border & corner of photos.
Also, you will find more than 30 filters, 50 backgrounds, 240 stickers, colorful texts, and more… Everything to decorate your photos!
Get this cool app right now! And share your masterpieces with friends!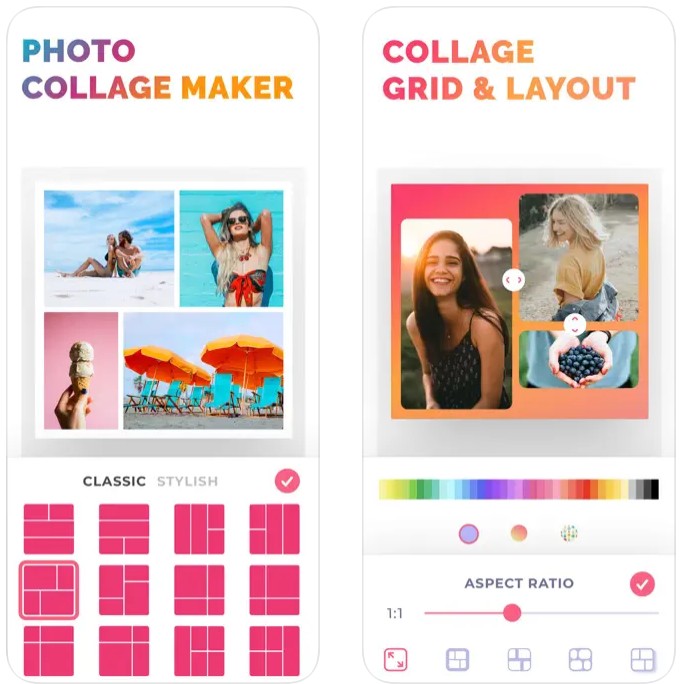 PicsArt AI Photo Editor
PicsArt AI Photo Editor is an all-in-one mobile app that allows you to enhance your photos with a variety of editing tools and features. The application uses artificial intelligence technology to automate some editing tasks and makes the process easier and faster.
With PicsArt AI Photo Editor, you can perform various editing tasks, including cropping, resizing, and adjusting brightness, contrast, and saturation.
The application also includes advanced features such as filters, backgrounds and effects that can turn a photo into a work of art.
Almost the biggest advantage of PicsArt AI Photo Editor is its user-friendly interface that allows even beginners to easily edit their photos like a pro.
The app also has a wide range of free tools and features, making it a great choice for those on a budget.
some users have reported dissatisfaction with the app's performance, citing issues with slow loading and crashes. In addition, some users have reported that the AI technology in the app does not always give the desired results, which is why the app has a manual editing feature.
Features of this application:
Wide range of tools and features
Large selection of options. Create, edit and draw in one app
Unlimited app usage options – you can create a beautiful collage or a funny family picture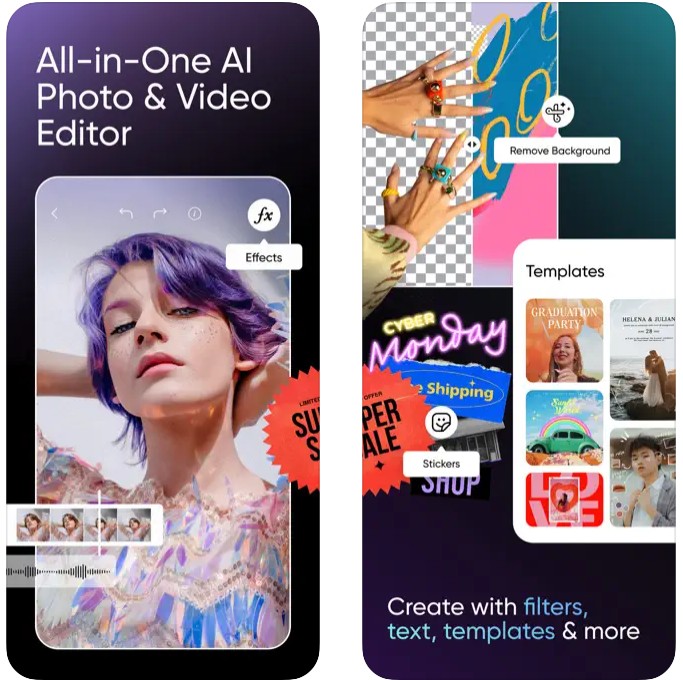 You may also like: 9 Free Story Album Apps for Android
Scrl Collages
Scrl Collages is an application thanks to which you can create amazing collages. With a user-friendly interface and a wide range of customization options, the app allows anyone to create collages and share them with their followers.
The app lets you choose from a variety of collage templates and layouts, as well as customize the color, font, and text overlay style.
It also offers various filters, stickers, and other design elements that you can add to create a unique and visually appealing collage.
One of the benefits of Scrl Collages is the ability to export high resolution collages, which ensures that the final product looks crisp and professional. The app also lets you save your favorite layouts for quick access, which can save you time when creating multiple collages.
While the app generally gets positive reviews, some users note that it can sometimes be a bit buggy and slow to load. Also, some users are reporting issues with in-app purchases, which can be frustrating.
This application will forever change the way you think about ordinary photos – now it's an art And who knows, maybe it will turn your Instagram into a masterpiece, or at least make your friends believe it!
Features of Scrl Collages app:
Create your own unique collage for social networks
Large selection of features
Clear and easy to use

Pixlr
Pixlr is not exactly the photo scrapbooking app, but honestly, there is not a lot of them on the market (especially the good ones). But this particular photo editor could become a great alternative to a photo scrapbooking app since it allows to edit photos beautifully and create albums as well.
The app has a bunch of pastel filters that will complete the overall atmosphere of your family photos. Moreover, here you can make amazing collages. And, unlike the regular scrapbooking apps, here you can make such adjustments, as photoshop or background correction.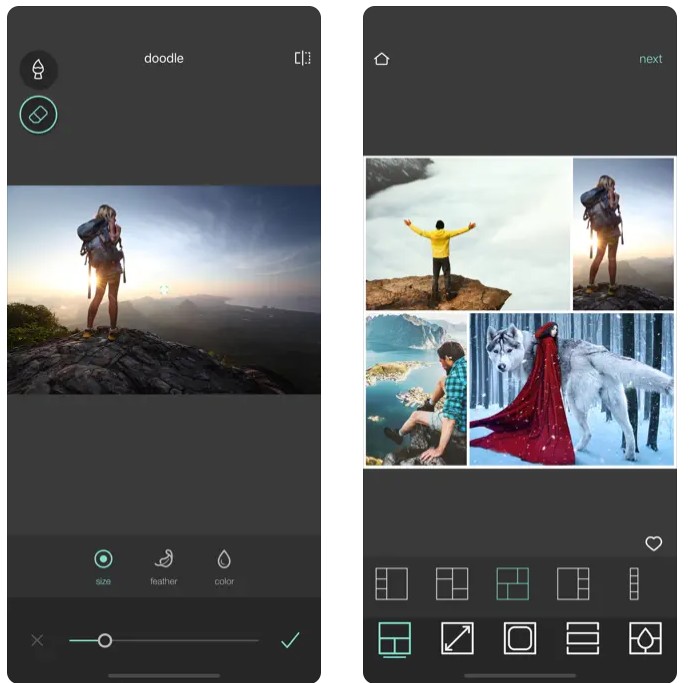 Photofy | Social Media Content Creation Tool
Photofy is a simple and fun way to create wonderful pictures. It is recommended by thousands of people who have already try Photofy. All the tools you need for creation are available: Filters, Light Effects, Photo Mirror, Fit, Text with 90+ free fonts, Meme editor, Collage maker with over 75+ free layouts, consumer and business templates and the world's largest collection of overlay content (50,000+ graphic elements).
Creating collages has never been easier! Create memorable photos with Photofy!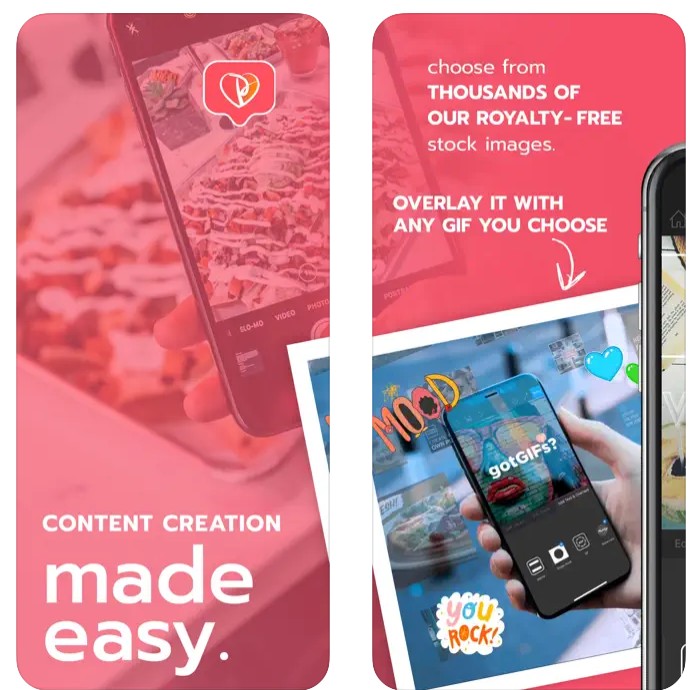 Babics
Babics is a photo editing app. This application offers various editing tools to improve the visual appeal of your photos. With Babics, you can easily adjust the brightness, contrast, and saturation levels of your photos.
In addition, the application has a variety of filters that add different styles to your images.
One of the main advantages of Babics over other similar photo editors is its user interface. Babics offers various customization options that allow you to fine-tune your edits and add a personal touch to your images.
some users expressed dissatisfaction with the app's performance, stating that it was slow and crash-prone. Others point out that the app is missing some advanced editing tools.
Create vibrant collages from your photos. Attach stickers, text, colorful filters and more to your photos. In the application you will find a wide choice to diversify your photos.
Babics editor features:
Wide range of photo beautification tools
Simple and easy to use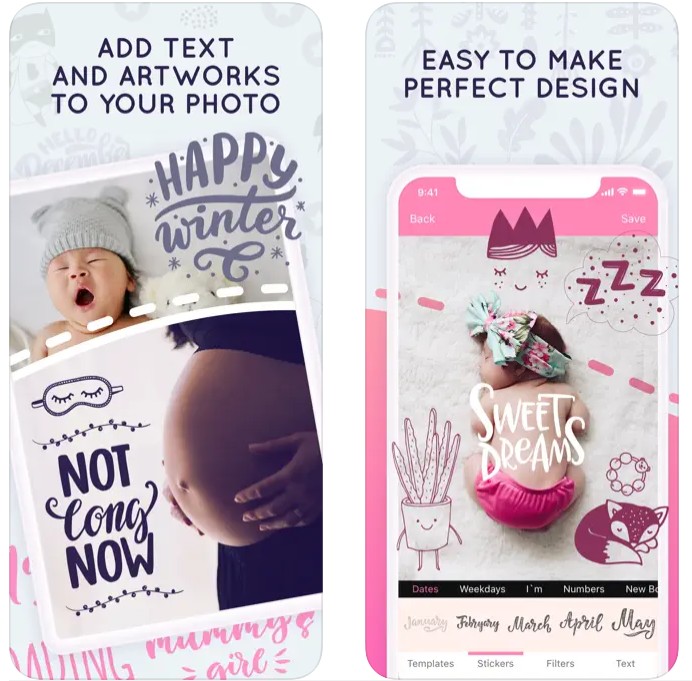 You may also like: 15 Free Apps to Hide Photos and Videos On iPhone & Android
DADA Collage Maker & Editor
DADA Collage Maker & Editor is an amazing photo editing app. It is a handy application that offers many features for photo editing and collage making. With DADA you can easily create beautiful and unique collages using your favorite photos.
The app offers a wide range of features including various collage templates, stickers, fonts and backgrounds. It allows you to edit and customize your photos in a variety of ways, such as cropping, rotating, and applying various filters.
One of the most significant benefits of the DADA app is its user interface, which is easy to use, making it accessible to everyone. Moreover, it offers various stickers, emoticons and backgrounds that make your collages more attractive
some users have reported issues with the app, including crashes and crashes. Some also complained about not being able to keep their jobs.
And if you want to have fun editing your photos, try adding funny stickers or emoticons to make your collages stand out!
DADA Collage Maker & Editor Features:
Wide library of stickers, frames and collage editing options
Simple and easy to use interface.
Create unique content with just a couple of clicks on your mobile device.