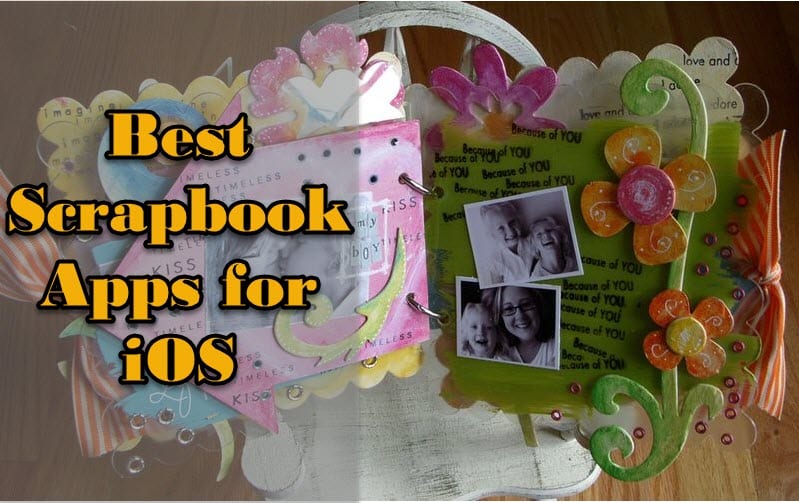 Scrapbooking is a kind of handmade art, which consists in creation and design of personal or family photo albums.
This kind of creativity is a way to store personal and family history in the form of photographs, newspaper clippings, drawings, notes and other memorabilia details, using a peculiar way of preserving and transmitting the individual stories. The basic idea of scrapbooking is to save photos in the long term for future generations.
In our digital area, there is no doubt that scrapbook applications for mobile phones appeared.  With the help of such apps, you can scrap using your phone.
So, for those who want to engage in scrapbooking, we have prepared an excellent material about the best scrapbook apps for iPhone users.
Digital Scrapbooking – Scrapbook Layouts & Ideas
Digital Scrapbooking is an amazing tool for digital scrapping. Just add photos and create unique cards here! Then you can share your scrapbooks with friends via Email, Facebook, Twitter, SMS or publish them on your Instagram account.
This app has a lot of interesting and useful features. How does it work exactly? So, after adding a photo you can choose from a variety of elements which you think suitable. Here are over 500 elements! Stars, bows, gifts, flowers, hearts, butterflies and other decorative elements…  All elements are handmade with amazing accuracy what makes your cards unique. Here are some other additional tools which will help you: dragging, rotating, zooming and more.
With the help of Digital Scrapbooking app, you will create your own cards for every special event and give pleasure to your friends and relatives sharing your cards with them!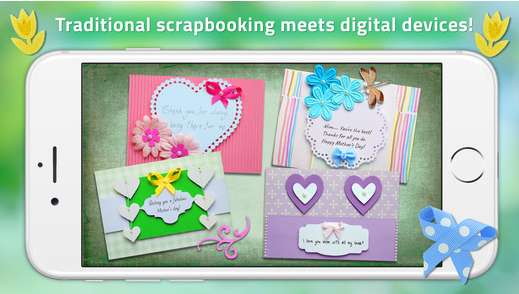 Price: free with in-app purchases
back to menu ↑
Scrapbook Collage Photo Edit.or & Combiner
Scrapbook Collage Photo Edit.or & Combiner is a high-rated scrapbook app which has already had 3 million users worldwide. It is an app for those people who want to share their bright moments of life with friends and family.
You can combine your pictures into beautiful collages with the help of in-app tools. Here are more than 120 free layouts, over 90 free beautiful pattern and colour borders including shadow, many free stickers, amazing photo effects to apply to individual photos. Also, you can add text to your collage choosing text style, colour and size.
You also can share your ready cards with your friends on Instagram, Facebook, Twitter or via Email. Your friends will really like the bright and colourful collages you make. It is much more personal than simply posting individual photos.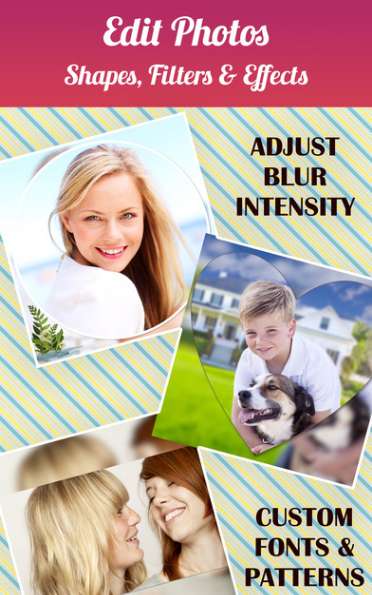 Price: free with in-app purchases
back to menu ↑
Pic Collage – Free photo editor art collage maker
"You can impress your mother, brag to your co-workers, and make your vacation look even better than it really was, all before you pack your suitcase to return home … It could be the fastest way you'll ever find to organize a batch of photos … Also, makes gorgeous emails and can turn your image into a real postcard." – LA Times and Newsday
PicCollage is a scrapbook application for those who want to create awesome scrapbooks on their phones. With its new layouts, stickers, backgrounds and templates it is easy to unleash your creative skills. You can add text to your pictures, rotate, resize photos, delete recent changes.
You can share your cards with friends on social networks or print them at home.
Join the community of over 130 million people who create scrapbooks using Pic Collage app.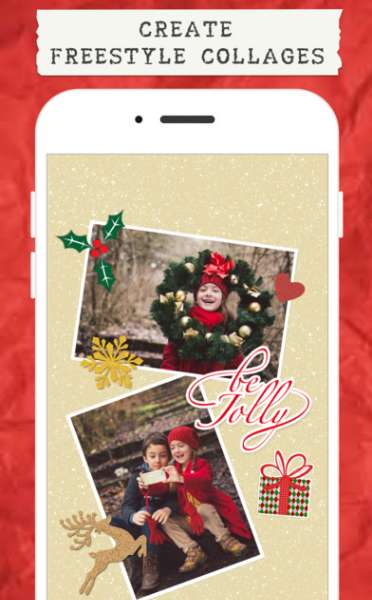 Price: free with in-app purchases
back to menu ↑
Coolibah – Digital Scrapbooking
Coolibah is a fun and easy-to-use digital app for scrapbooking. It is available for the iPhone, iPad and iPod touch. Coolibah is recommended by lots of users and will certainly become your absolute favourite! Here are over 850 kits from many of your favourite designers! It has a great collection of stickers, fonts, layouts and other decorative elements. It even includes a slideshow mode.
It is possible to add text to your pictures, drop shadows, use different frames and more. Here are a number of kits as well. Just experiment with all the tools given to you! Then you can share your creations with others by Email, Tumblr, Twitter, and Facebook.
Be creative and have fun!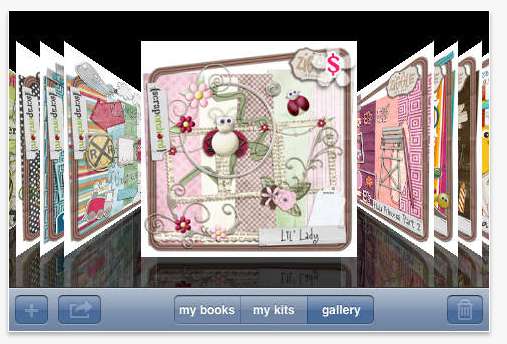 Price: free with in-app purchases
back to menu ↑
Pic Jointer – Photo Collage, Camera Effects Editor
Pic Jointer is a widely known photo collage app. It has already had over 30 million users in over 50 countries.
It is easy and interesting to make stylish scrapbooks with Pic Jointer on your Apple phone. Here are a big library of layouts and frames to make your photos brighter and outstanding. You can easily zoom, pan, mirror or rotate each of your photos, adjust the border & corner of photos.
Also, you will find more than 30 filters, 50 backgrounds, 240 stickers, colourful texts and more… Everything to decorate your photos!
Get this cool app right now! And share your masterpieces with friends!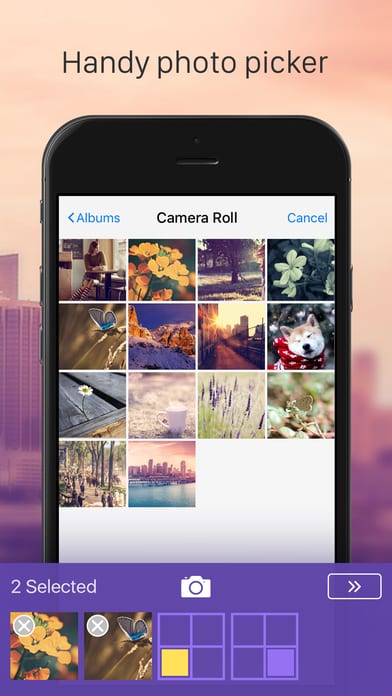 Price: free with in-app purchases
back to menu ↑
Snapbook – Photo Decorating
Snapbook is another scrapbooking app that worth to be mentioned in our top list. Having this tool in your pocket you will able to beautify your photos easily and fast. It is a super way to save the brightest moments of your life without spending hours and money on a physical scrapbook. Here are plenty of unique borders, frames, embellishments, and stickers, as well as kits.
Snapbook's various tools will help to make amazing cards. Here are plenty of unique borders, frames, embellishments, and stickers, as well as kits.
After saving your creations you can export them to a printer or share on your social networks.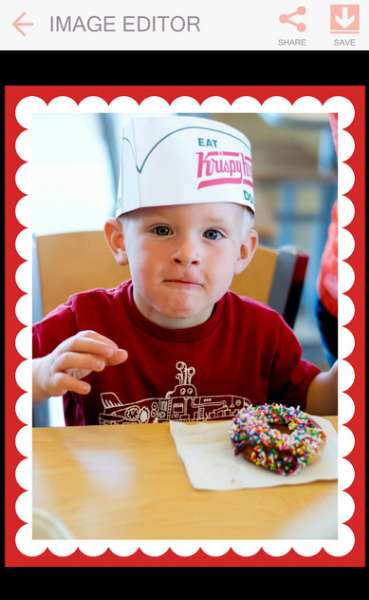 Price: free with in-app purchases
back to menu ↑
Scrap It HD
Scrap It HD is a great way to create the best scrap memories and share them with everyone. It is fun for people of all ages. This app has several categories: Scrap It HD, Summer Time HD, Baby Years, School Days, Halloween and Christmas.
With Scrap It, you will get a lot of useful tools in creation your pictures:
You can piece together your scrap creation, choosing from hundreds of professionally designed elements
You can pinch, zoom, move and rotate all of your embellishments.
You can organize your scrap pages into Scrapboards.
You can view your scrap pages in a slideshow. And many other useful things are available…
Start to express, create, and share with Scrap It right now!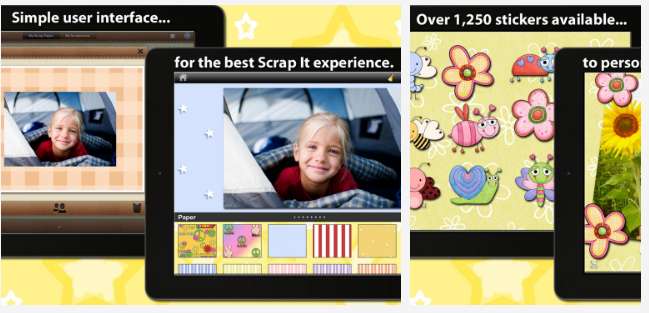 Price: free with in-app purchases
back to menu ↑
Keepsayk instant scrapbook® photo books
One of the most popular app for creation and printing scrapbooks is Keepsayk instant scrapbook® photo books. Create your personal or family scrapbooks using photos and even videos right from your mobile phone!
You can share your ready scrapbooks via SMS, Facebook, Pinterest or Twitter. Or you can privately invite selected family and friends to view a scrapbook on the web with a password you define. Also, it is possible to print a photo book.
Wedding photos, a travel diary, videos of the school play – everything you add to the Keepsayk app for iPhone is automatically arranged into elegantly simple scrapbooks. Try it right now!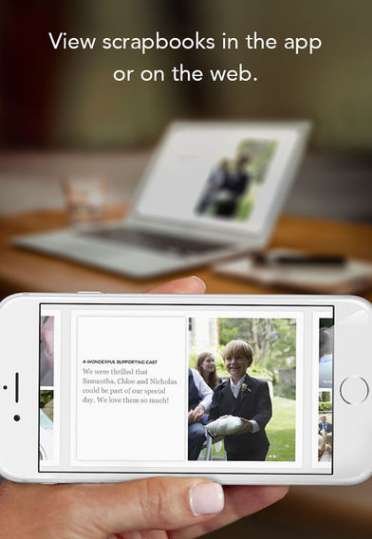 Price: free
back to menu ↑
Baby Tracker & Digital Scrapbook | Kidfolio Pro with Tooth Chart
Kidfolio Pro with Tooth Chart is a baby tracker and digital scrapbook for parents. It was included in our list as this app is a great tool to save the best memories about your baby growth.
Here are special filters and effects to make memorable events brighter. You can even make a timeline of your baby's magic moments.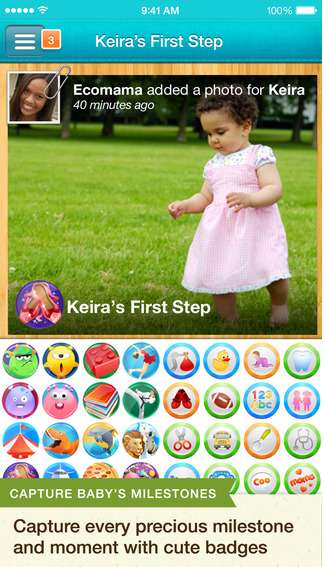 Price: free
back to menu ↑
Photofy | Social Media Content Creation Tool
Photofy is a simple and fun way to create wonderful pictures. It is recommended by thousands of people who have already try Photofy. All the tools you need for creation are available: Filters, Light Effects, Photo Mirror, Fit, Text with 90+ free fonts, Meme editor, Collage maker with over 75+ free layouts, consumer and business templates and the world's largest collection of overlay content (50,000+ graphic elements).
Creating collages has never been easier! Create memorable photos with Photofy!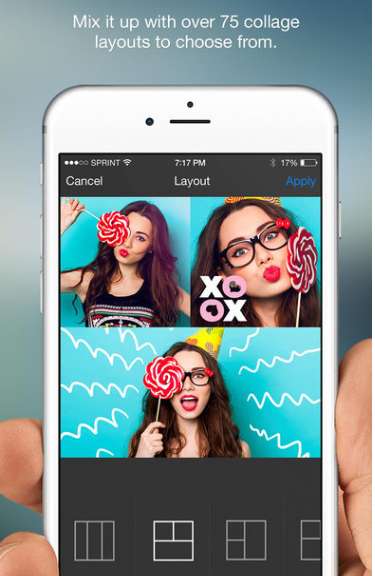 Price: free with in-app purchases
In this age of technology, when most of us make photos and store them on mobile devices, natural and logical way to create photo albums is too in electronic form. Then they can be viewed on a variety of devices, screens and can be printed, and "imposed" in the albums (or photo books).
I want to note that from an artistic point of view a digital scrapbooking is not inferior to the paper one. It also has space for imagination and the use of creative solutions. So, try any of the listed apps and get pleasure!
Are you looking for an app where you can create your own cartoon with your self-invented characters? If you have creative skills, these apps can help to create your own animated creations. We provide a list of 12 Best animation apps for Android & IOS.