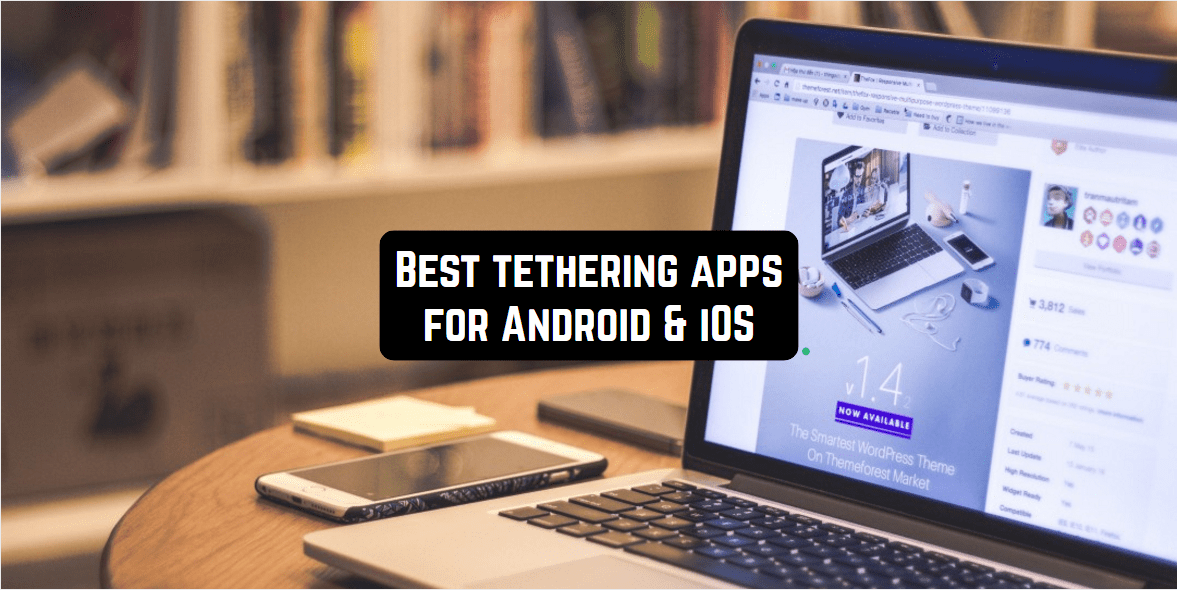 Tethering is a process of sharing the internet on your phone with other devices, such as laptops, PC and so on. This process in most countries is kind of illegal, but if you think about it, the reasons to ban sharing a limited packet of traffic or require a charge for it are kind of unreasonable.
Thankfully, today there are special apps that make tethering almost free (for iPhone) or completely free (for Android). Of course, only you are responsible for downloading these apps, it is your choice to do it or not, but this is a nice way to save up some money. Without further ado, let's contemplate the best tethering apps for Android and the only good ones for iOS.
Tethering apps for Android
PadNet+
PadNet+ is the most popular tethering app on Google Play – at least it has the biggest number of downloads. The app works in three modes – Wifi, USB, and Bluetooth. Have in mind that Android 7.0 or later versions don't support Wifi mode.
When you open PadNet, you see three check boxes – no shenanigans, an absolutely user-friendly display. You can change your hotspot's name and you can protect it with a password. What you also can do is to set a widget, which is very convenient. Download PadNet+ now and never pay for tethering again!
Peculiarities:
No rooting is required
Fast
Wifi, USB, Bluetooth modes
Free with a premium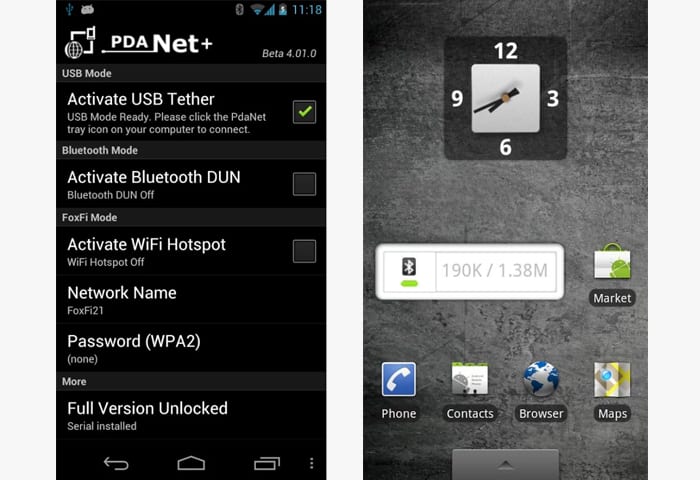 ClockworkMode Tether
ClockworMode Tether is a tether that will provide your computer (Windows, Mac, Linux) with the internet using a USB. Now, this one is not easy to get to work. First of all, it might take you some effort to download the app itself – now it's available on Google Play, but if there are problems there, you can download an APK file – the moment we checked it though, there weren't any problems, but who knows what can happen. Then, you have to get special software and drivers on your computer. Yes, it sounds like a lot to do, but the good thing is that it eventually works!
Anyways, if you happen to be in a situation with no internet on you PC, this is a very good option. Don't worry about software for computer – you can get it through your phone, just tap on the Help button in the app. So, a very reliable way to get things going!
Peculiarities:
No rooting is required
Only USB
Free trial for 13 days

Easy Tether Lite
Easy Tether app works with Bluetooth and with USB. Like the app above, it requires downloading special software on your PC, tablet, laptop, whatsoever. BUT the lite version of the app doesn't deal with secure sites, such as Gmail, online banking, Facebook, etc.
You can purchase the full version, of course, but it will cost you $10. Comparing to the money you spend monthly on your internet, it's not that much, but the app above, for example, costs about $5 (although it a bit differs from this one – like it doesn't have a Bluetooth mode). The name of the app doesn't lie – it is indeed easy to use. The choice is yours! Just one more great option.
Peculiarities:
No rooting is required
USB and Bluetooth modes
Free with a premium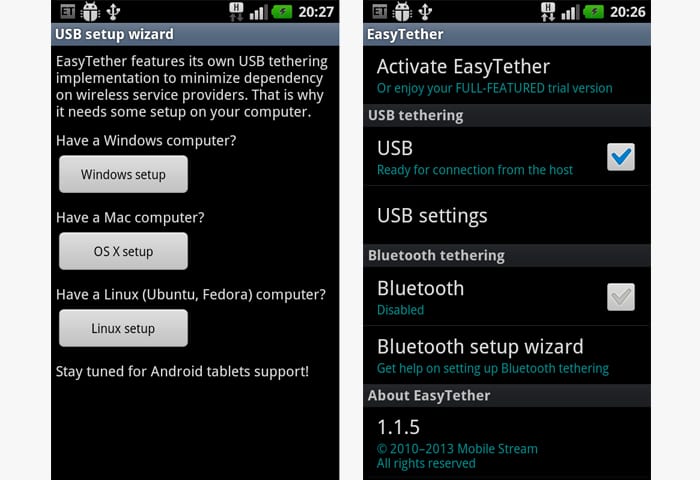 Tethering apps for iOS & Why it's risky to get them
You won't find these apps on App Store. It's practically impossible for developers to place a tethering app there. But you can download an APK file and make things work in this way. In order to that, though, your phone must be jailbroken. This can be dangerous because after jailbreaking iPhone becomes vulnerable to viruses – if you're curious why check out this article: Can iPhone get viruses? Few ways how to fix it.
If you're not scared, though – after all, the cases iOS became attacked by viruses are not numerous – you can try to go through this step and thereby prepare your phone for getting a tethering app. Which one? You can choose from the list below!
PDANet
PDANet for iOS is a bit different from PDANet+ for Android. The main difference is obvious – while the latter one is available on the official app store, the former one can be downloaded only as a third-party app.
The app has two modes, which are Wifi and USB. USB mode requires downloading desktop client, but it shouldn't be a problem. This is probably the safest app to use so that your carrier doesn't notice 'illegal' activity, but, nevertheless, its protection is quite weak. It's a well-known fact that WEP passwords can be easily hacked. Better than nothing though, right?
The app is free for the first 14 days of trial. After that, all the secure sites become unavailable for using through the app – in order to be able to do it, you gotta get a premium, which costs over $20 – once again, this is a ridiculous price comparing to the money you spend monthly on your internet. A good one to try!
Peculiarities:
Requires jailbreaking
USB and Wifi modes
14-day trial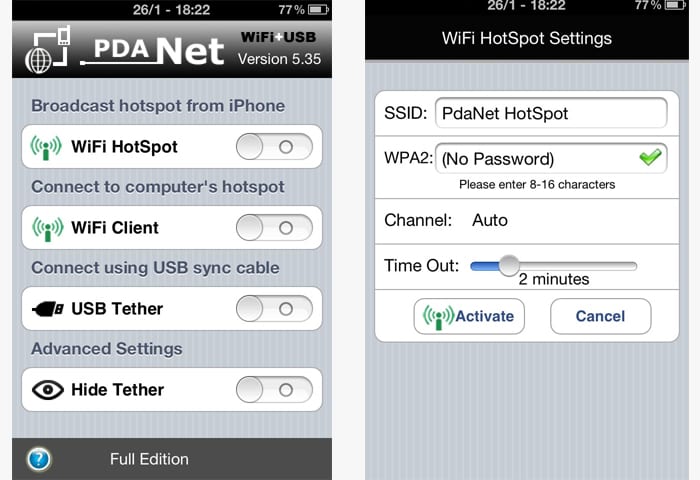 MyWifi
MyWifi is a tethering app with a great functionality. It has all the three modes – USB, Wifi, Bluetooth. There are lots of features and, in general, the app looks nice. But there is one big 'but' and that is that it can't hide your tethering activity. Your carrier might notice what you're doing and make you pay for that. If you don't think this possibility threatens you, then MyWifi is probably the best tethering app for you!
Peculiarities:
Requires jailbreaking
Fast
Wifi, USB, Bluetooth modes
Free trial for 3 days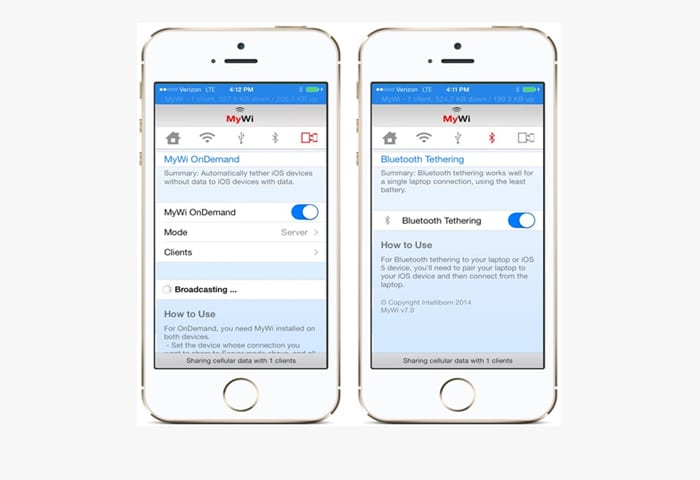 TetherMe
TetherME is the cheapest tethering app for iPhone. It costs less than $5 and offers quite a good functionality. The app can be downloaded from Cydia (the ones above can be too). It has all the three modes these apps can possibly have. The interface is highly understandable – everything's simple & clear. Some people say that carriers now are able to detect this app's activity, while others claim that this method works for them, so it depends only on your carrier. The app is solid good, definitely worth trying!
Peculiarities:
Requires jailbreaking
Wifi, USB, Bluetooth modes
Priced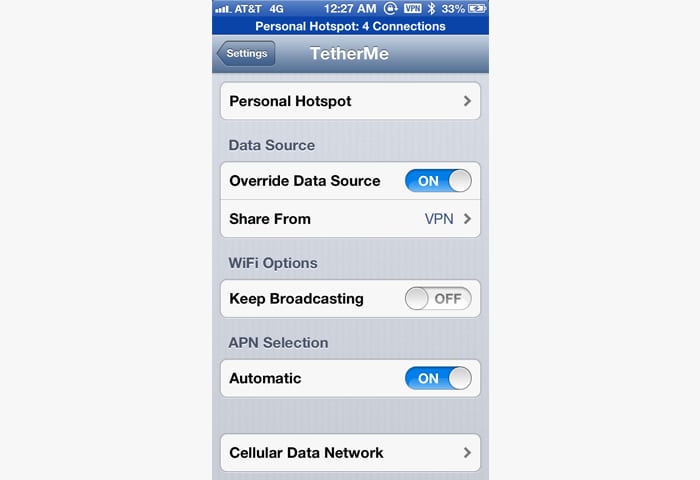 Barnacle Wifi Tether
Barnacle Wifi Tether is an open-source app, which means that it is absolutely free and made for common good. It's clear from the name that the app works just in Wifi mode. The only problem with this one is probably that it works only on rooted phones. If your phone is rooted, great – you can get this app right now. If not, you have two options – either to root your phone, which is a risky process, but it may worth it, or to choose some other app which works fine without rooting.
This small disadvantage creates the app's biggest advantage (as it usually happens) – the app doesn't need any additional software, drivers or anything like that. So, if you've already rooted your phone or are gonna do that, get this app and enjoy free tethering!
Peculiarities:
Requires root access
Wifi mode
Free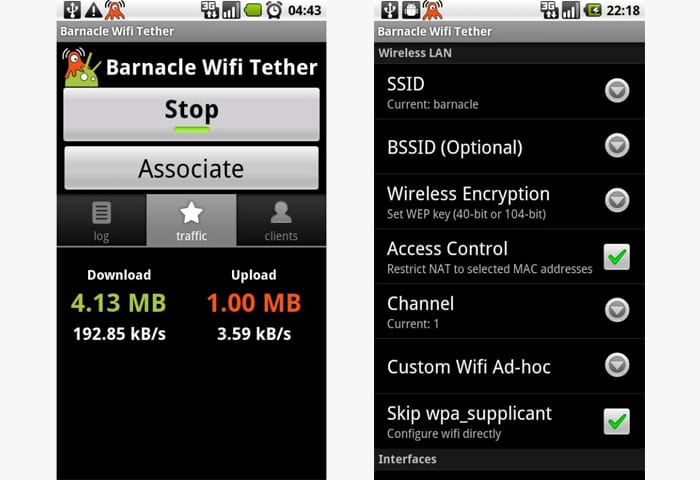 Wifi Tethering
This is one more open-source tethering app which requires root access. The app allows you to set a password, like almost all the other tethering apps, so nothing special. Whether to root your phone or not is your decision –  if it's positive, then you have this wonderful chance to get one of these free tethers!
Peculiarities:
Requires root access
Wifi mode
Free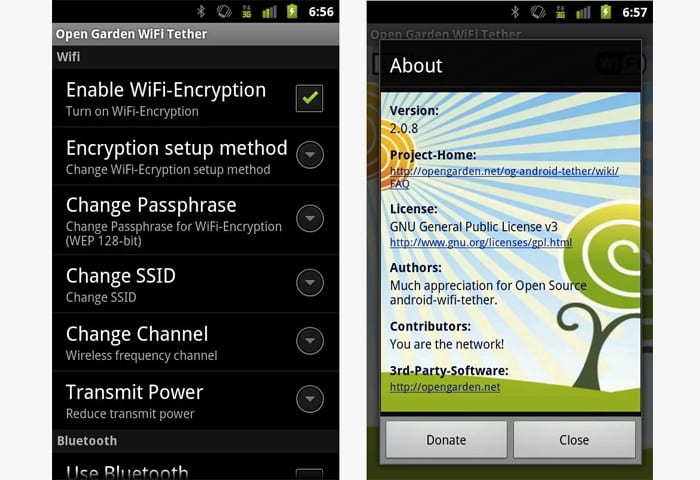 Tethering Shortcut
Tethering Shortcut is an Android tethering app that can work in two modes – USB and Wifi. The app is quite old but still good. It is absolutely free and, hopefully, will be the one that helps you share your phone's data with a computer!
Peculiarities:
No rooting is required
USB and Wifi modes
Free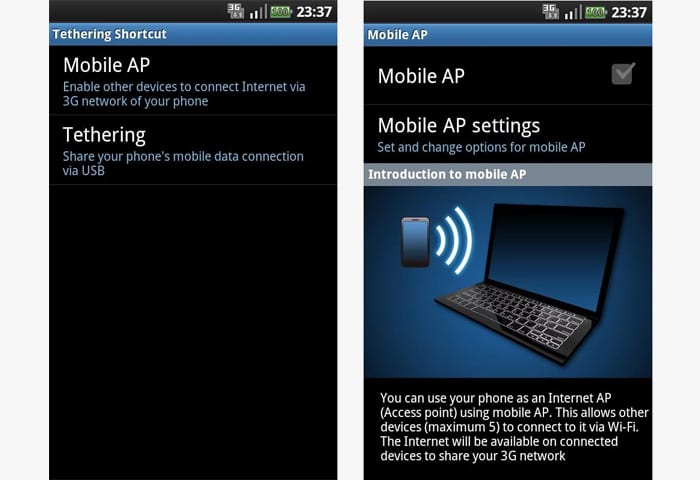 These were some of the best tethering apps for Android and for iOS. If you liked this article, share it with friends or on social media. Let more people know of the ways how to stop overpaying for the internet! Stay connected and, as always, be smart in choosing apps!