9 Best tethering apps for Android & iOS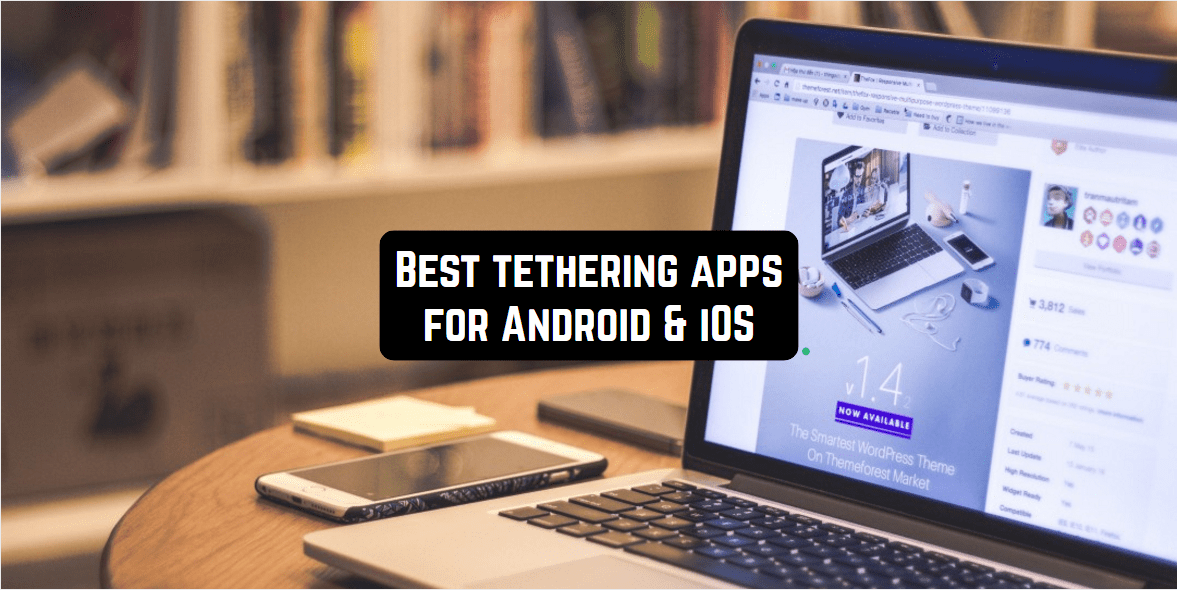 Tethering is a process of sharing the internet on your phone with other devices, such as laptops, PC, and so on. This process in most countries is kind of illegal, but if you think about it, the reasons to ban sharing a limited packet of traffic or require a charge for it are kind of unreasonable.
Thankfully, today there are special apps that make tethering almost free (for iPhone) or completely free (for Android). Of course, only you are responsible for downloading these apps, it is your choice to do it or not, but this is a nice way to save up some money.
You may also like: 11 Best Wifi signal strength apps for Android & iOS
Without further ado, let's contemplate the best tethering apps for Android and the only good ones for iOS.
PadNet+
PadNet+ is the most popular tethering app on Google Play – at least it has the biggest number of downloads. The app works in three modes – Wifi, USB, and Bluetooth. Have in mind that Android 7.0 or later versions don't support Wifi mode.
When you open PadNet, you see three checkboxes – no shenanigans, an absolutely user-friendly display. You can change your hotspot's name and you can protect it with a password. What you also can do is to set a widget, which is very convenient. Download PadNet+ now and never pay for tethering again!
Peculiarities:
No rooting is required
Fast
Wifi, USB, Bluetooth modes
Free with a premium

You may also like: 10 Best WiFi booster apps for Android
ClockworkMode Tether
ClockworMode Tether is a tether that will provide your computer (Windows, Mac, Linux) with the internet using a USB. Now, this one is not easy to get to work.
First of all, it might take you some effort to download the app itself – now it's available on Google Play, but if there are problems there, you can download an APK file – the moment we checked it though, there weren't any problems, but who knows what can happen.
Then, you have to get special software and drivers on your computer. Yes, it sounds like a lot to do, but the good thing is that it eventually works!
Anyways, if you happen to be in a situation with no internet on your PC, this is a very good option. Don't worry about software for computer – you can get it through your phone, just tap on the Help button in the app. So, a very reliable way to get things going!

Easy Tether Lite
Easy Tether app works with Bluetooth and with USB. Like the app above, it requires downloading special software on your PC, tablet, laptop, whatsoever. BUT the lite version of the app doesn't deal with secure sites, such as Gmail, online banking, Facebook, etc.
You can purchase the full version, of course, but it will cost you $10. Comparing to the money you spend monthly on your internet, it's not that much, but the app above, for example, costs about $5 (although it a bit differs from this one – like it doesn't have a Bluetooth mode). The name of the app doesn't lie – it is indeed easy to use. The choice is yours! Just one more great option.
Peculiarities:
No rooting is required
USB and Bluetooth modes
Free with a premium

Tethering apps for iOS & Why it's risky to get them
You won't find these apps on the App Store. It's practically impossible for developers to place a tethering app there. But you can download an APK file and make things work in this way. In order to that, though, your phone must be jailbroken.
This can be dangerous because after jailbreaking iPhone becomes vulnerable to viruses – if you're curious why check out this article: Can iPhone get viruses? Few ways how to fix it.
If you're not scared, though – after all, the cases iOS became attacked by viruses are not numerous – you can try to go through this step and thereby prepare your phone for getting a tethering app. Which one? You can choose from the list below!
WiFi Tethering /WiFi HotSpot
This app can provide WiFi from your phone to all the nearby devices using just a Bluetooth connection. This is a shortcut tool, and it can save more steps than traditional operations. Here you can call the embedded wifi tethering settings with few clicks and call the embedded Bluetooth setting screen quickly.
The app supports 2 SD mode. It might be a little bit complicated to use because of all the settings that you have to adjust before actually start using the WiFi, but it provides stable connections for all Android devices. Moreover, this app puts limitations on the data usage immediately so you wouldn't run out of it on your phone.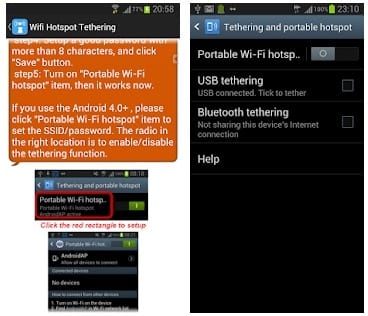 Tetrd
Another tethering app for Android which is the alternative to all the wireless apps – this one allows you to provide the internet from your device to your laptop using the USB cable. The advantage of such method is that it guarantees a more stable connection.
You can use this if your carrier or data plan doesn't allow you to enable the built-in tethering feature of your device. Moreover, here you will find such an option as a reverse tethering – it means you can transfer the Internet from your laptop to your smartphone as well.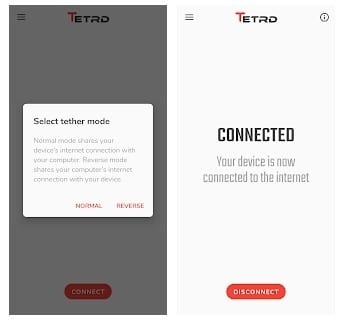 SecureTether
This is a Bluetooth tethering app, but it doesn't mean that here you will be able to provide only Bluetooth connection from your smartphone to your computer. On the other hand, it means, that you will be able to connect the internet on your devices using Bluetooth. There is no need in rooting of your phone or tablet for this app.
SecureTether also has a built-in strong firewall that helps protect your computer from hackers. When you are connected to the WiFi the program monitors all the incoming and outgoing connections to detect the spyware.
Another useful feature of SecureTether is it can block some heavy-weight websites or Windows updates if you are currently on data.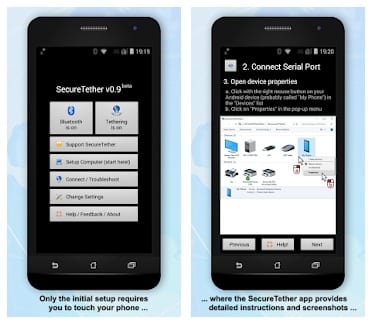 VPN Hotspot
This app is the two in one case. Now you can enjoy the anonymously browsing the Internet and provide WiFi to your laptop at the same time. You can use VPN Hotspot for connecting things that don't support VPN like Chromecasts behind corporate firewalls.
This app is even more useful if you use the VPN each time when you are in the Internet but the usage of this program slows down the work of the latter almost twice. Because here the VPN is "built-in" into the system you won't face such a problem. With the special settings, you can set the program to block all the unwanted/unknown users from the network.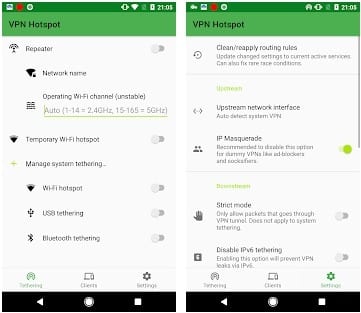 FoxFi
A purely technical tethering app that allows providing WiFi from your smartphone fast. This one is only for Android devices, so it has the typical Android-apps interface. The only thing that you need to know before launching FoxFi is that you will need to install the same app on your laptop/tablet, so those two devices could share WiFI. Overall, this app is extremely simple in usage.
You may also like: 10 Best WiFi booster apps for Android
TP-Link
TP-link is a famous company that is known for producing WiFI routers, so its appearance on this list is fully logical. If you already have one router like that at your house then it will be even easier for you to use this app. It is user-friendly, it's not the most simple app in the world, but all the features of it are useful.
With the help of TP-Link, you can easily provide the Internet to form your phone to your laptop/tablet. With the advanced security of this app, you will be able to block all the unauthorized devices from the network. In addition, there is such a thing as parental control.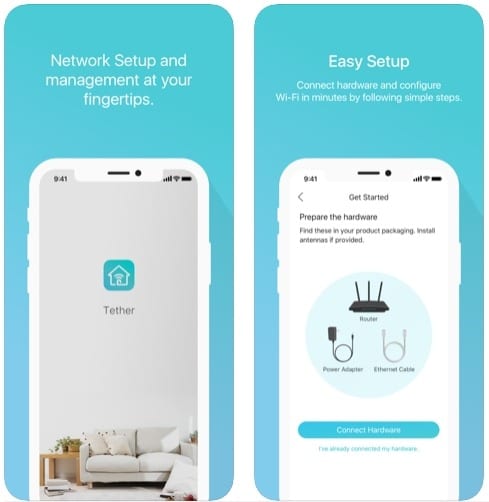 These were some of the best tethering apps for Android and for iOS. If you liked this article, share it with friends or on social media. Let more people know of the ways how to stop overpaying for the internet! Stay connected and, as always, be smart in choosing apps!